This article provides an overview of things to see and do in Yellowstone National Park and the surrounding area along with useful links to other websites for additional travel related information.
---
At a Glance
Yellowstone National Park contains some of the strangest and most interesting geological features found anywhere in the world. This vast caldera or volcanic basin is the remnant of a giant volcano that blew its top many millennia ago. The area still sits atop a hot spot in the earth's crust and provides us with a unique opportunity to view a fascinating assortment of highly active geothermal phenomena. It is one of the few places on our planet where hot water and steam come bubbling, fizzing, gurgling, hissing and even exploding out of the earth at thousands of colorful mineral-encrusted hot springs and vents. Cauldrons of mud bubble and splat their colorful liquid plasters to form large volcanic cones. Hundreds of geysers sleep in placid hot springs for hours or days, then at semi-regular intervals erupt into great plumes of hot water and steam rising hundreds of feet overhead before retiring to their tepid hibernation. You can find geysers in a few other locations around the world, but there are more active geysers in Yellowstone National Park than there are in every other location combined.
YELLOWSTONE NATIONAL PARK WEATHER

Yellowstone was the first National Park created by the U.S. government in 1876 to preserve the natural beauty of this strange and beautiful place. In addition to preserving its multitude of geothermal attractions, Yellowstone National Park serves as a refuge for a wide variety of native American wildlife. The last remaining herd of wild bison (buffalo) in the U.S. still peacefully roams the meadows of Yellowstone along with vast herds of wild elk, deer, moose, coyotes, eagles, bears and wolves. You can easily spot many of these wild creatures from your car as you drive through the gorgeous scenery of Yellowstone.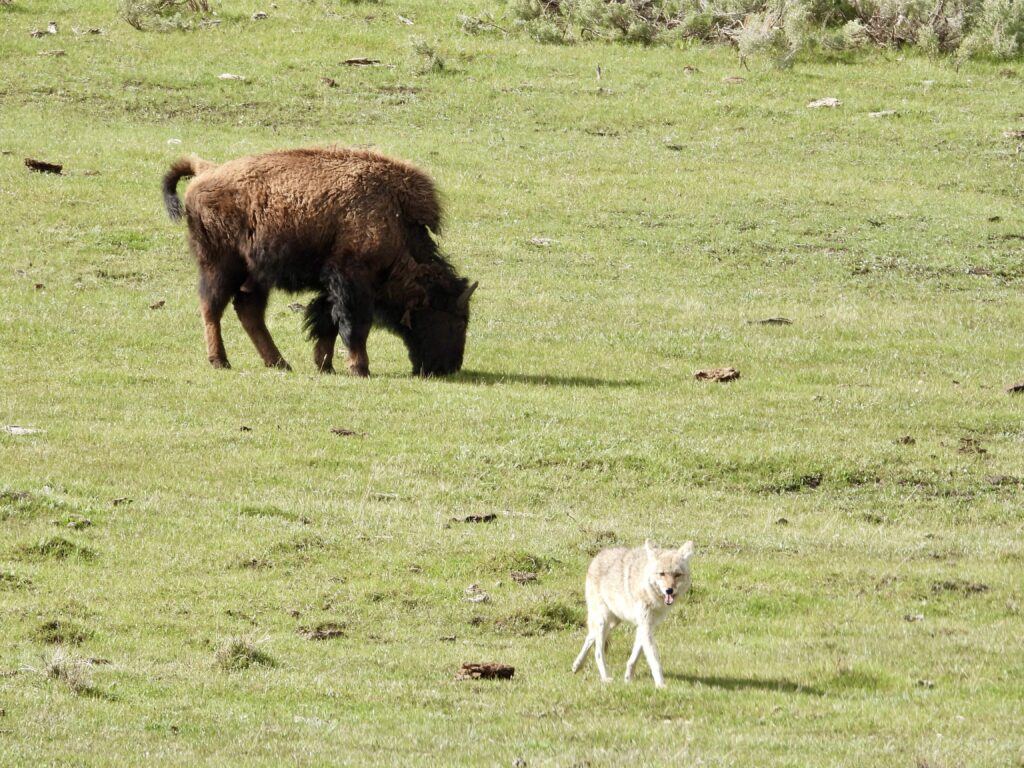 Don't have time to read the entire article or just want the abbreviated version? Check out our article, Top Five Places to Visit in Yellowstone National Park to find out the most popular places to visit.
Activities & Attractions
Sightseeing
Sightseeing is the number one attraction in Yellowstone National Park. As soon as you enter the park, you should slow down and drive carefully, because you will likely encounter other vehicles stopping in the middle of the road as they spot nearby wildlife. It may be a herd of elk grazing beside the road, a coyote prancing through a car park or even a gigantic bull bison meandering down the middle of the highway. The local wild animals are so accustomed to visitors that they no longer fear humans. Unfortunately, this can be dangerous when naïve tourists approach within a few meters of a 2000 pound (1000 kg) bison. Yellowstone National Park is not a zoo and the animals are not tame. You must exercise caution when approaching the wild animals.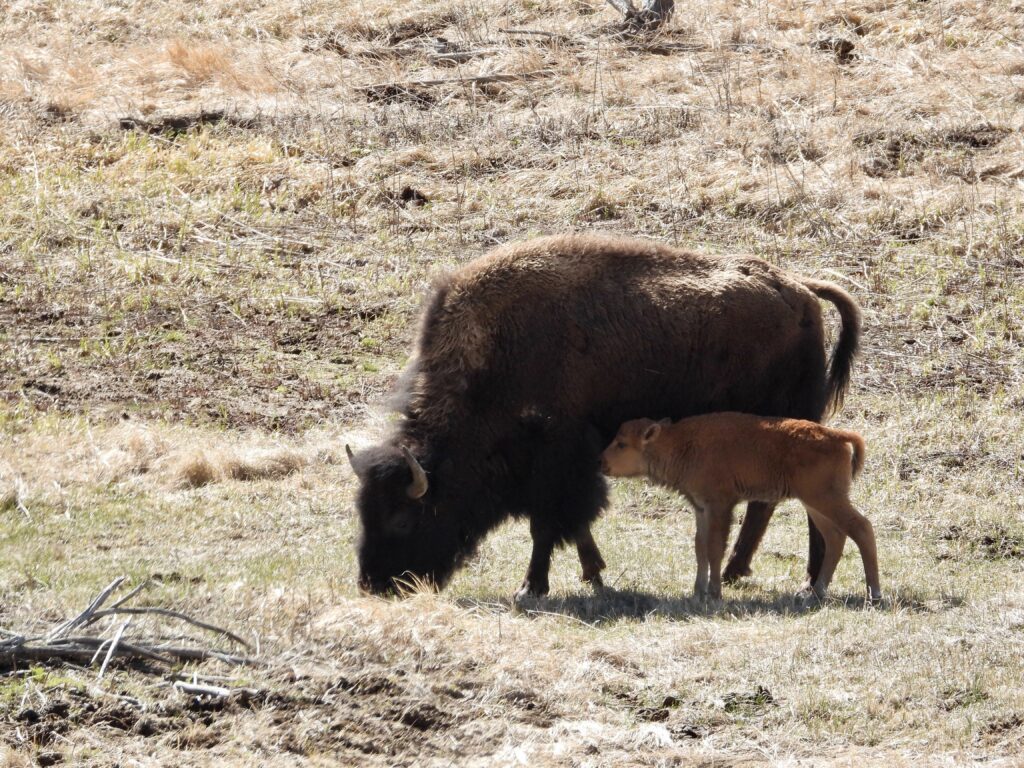 The scenery is also amazing in this vast park ranging from rambling rivers to snow caped mountain peaks, large lakes to tall forests and steamy geyser basins to wide open valleys. This park, at 2.2 million acres, is extremely large and can seem daunting when first trying to plan what to see. However, the park roads basically consist of an upper and lower loop forming a figure eight (8) with access into these loops from the north south east and west. Either loop can easily take an entire day to explore and some people may even try to drive the grand loop, which consists of both the upper and lower loop without the cut through in the middle. Click here to see a visitor's map of the park to better understand the road layout.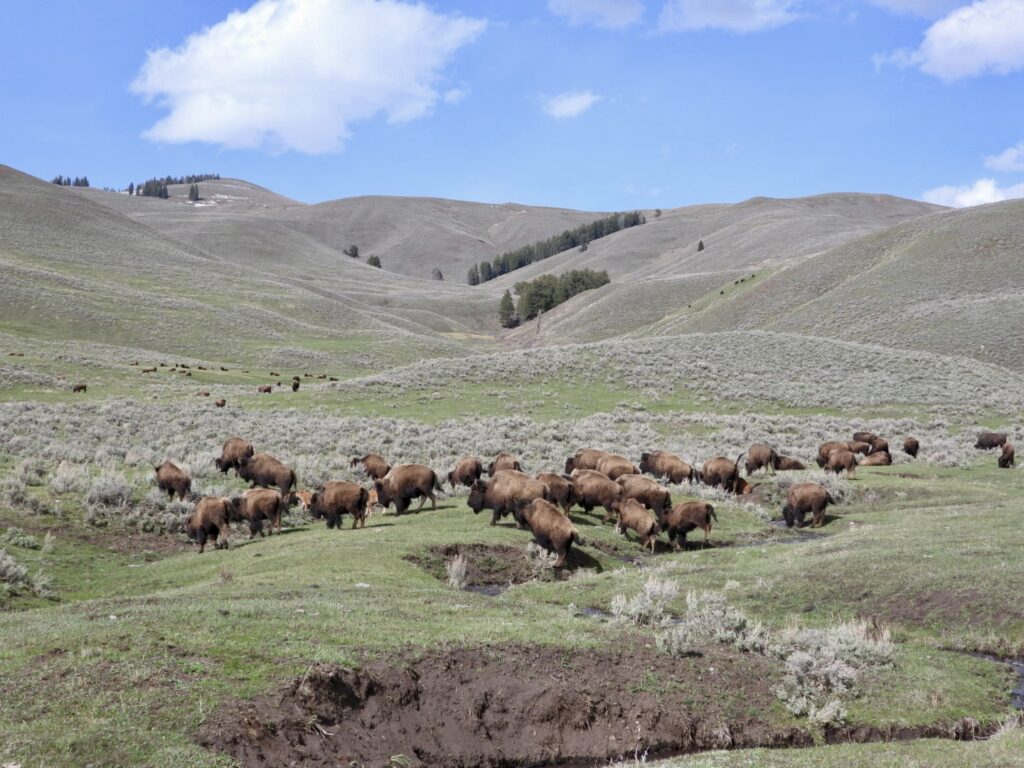 Geothermal Features
The geothermal features are everywhere. As you drive throughout the park, you can see plumes of white steam rising from the fields, from the hillsides, from the edges of the lakes even from the bottoms of the rivers. Along the western half of the loop roads, there are eight geyser basins with as many as a dozen geysers and a hundred hot springs in each of them, but numerous other geothermal features are scattered throughout the entire park. The mud volcanoes and sulphur springs are concentrated near the eastern part of the loop and the gigantic buildups of calcium deposits known as the Mammoth Hot Springs are close to the northern entrance.

Many of the geothermal features are located between the Old Faithful area and the Madison area. Starting at the Old Faithful area and heading north there is the Upper Geyser Basin, Black Sand Basin, Biscuit Basin, Midway Geyser Basin and Fountain Paint Pot. From the Madison Area to the Norris area there is the Artists Paintpots. The large burbling Mud Volcano located between the Lake Village / Fishing Bridge area and the Canyon Village area is also worth seeing. Many of the walking trails and boardwalks through geothermal features are fairly flat and easy to get around and wheelchair accessible.
Bison are often roaming around these areas so be aware as they can run up to 30 mph. Sometimes you just have to wait for a while to let the bison pass or just turn around and backtrack. Even though you may see many tourists walk right by a resting or grazing bison you may be the last one to catch their eye and annoy them enough to react.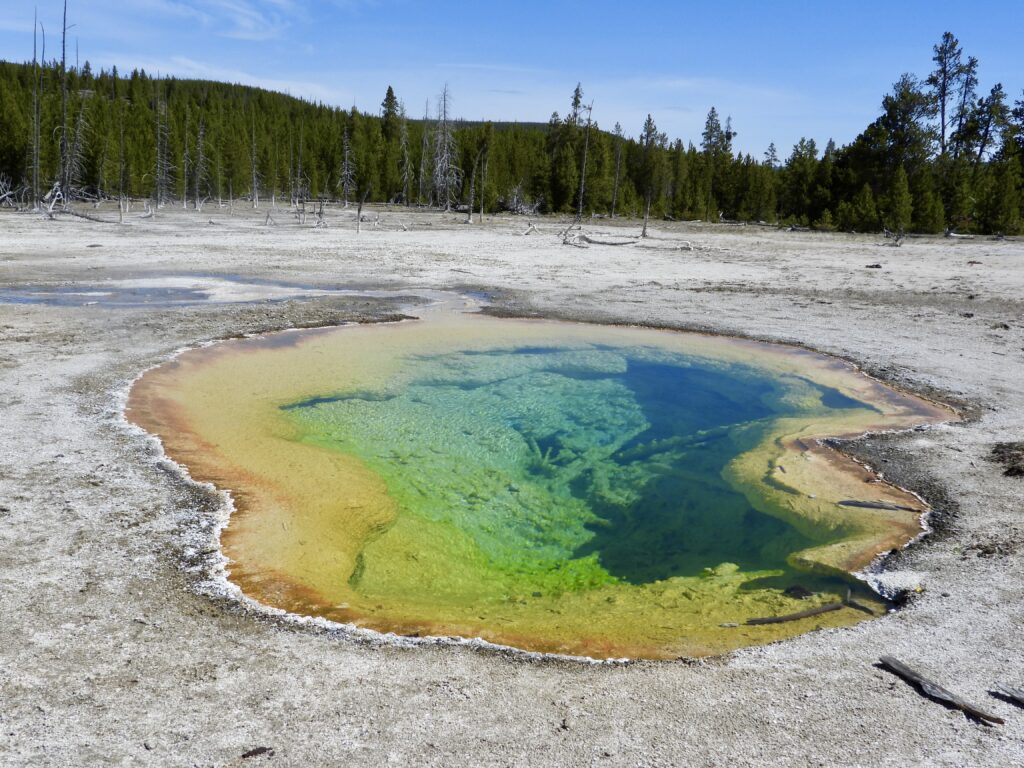 Other Activities
Not all of the scenic attractions in Yellowstone are geothermal. Near the eastern juncture of the two loop roads, the Yellowstone River has carved a magnificent gorge with two spectacular waterfalls through the multihued rock. It is known as the Grand Canyon of the Yellowstone and is a favorite spot for photographers and sightseers. The surrounding rim of the ancient Yellowstone caldera is composed of many mountains rising to over 9,000 feet (3,000 m), and they provide plenty of alpine scenery and mountain hiking. The river valleys with their flat-bottomed meadows and vast wetlands are favorite haunts for the herds of bison and elk while the lakes and ponds provide ample forage for moose.
Other activities in Yellowstone include hiking, backpacking and camping. There are campgrounds near each of the eight service areas within the park, plus a few in the more isolated areas. Hundreds of miles of hiking trails wend their way through the forests, mountains and plains of Yellowstone. Many of the trails are equipped with wilderness camping shelters for backpackers. Yellowstone Lake and Lewis Lake have boat launch ramps for boating. The Mammoth, Canyon Village and Tower Roosevelt Service Centers have riding stables where you can rent horses and participate in guided trail rides.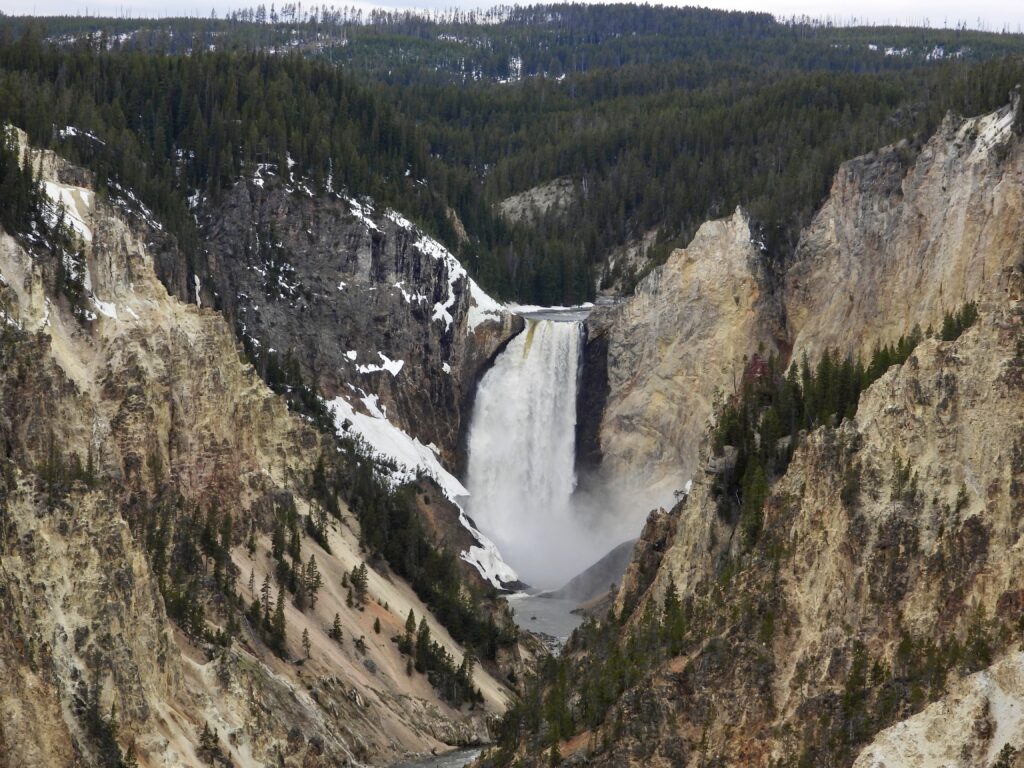 Winter in Yellowstone
During the winter months, Yellowstone Park turns into a surreal wonderland of snow covered landscapes interspersed with boiling hot springs, columns of billowing white vapors and rivers of steaming waters. Herds of bison seek refuge from the arctic winds in the warm mists surrounding the tepid waters. You can visit this strange and beautiful land during the winter months, but you cannot drive your car there. Most roads in Yellowstone Park are closed from November through March. Fortunately, you can still gain access to the park via snow coach, snowmobile and on skis or snowshoes. Tour guides operating out of West Yellowstone, Jackson, Dubois, Flagg Ranch and a few other locations offer trips into the park. The biggest concentration is located in West Yellowstone. In order to protect the fragile environment and the wildlife, the National Park Service strictly limits the number of visitors and the number of snow vehicles entering the park. Be sure to make reservations before attempting a winter-time visit to Yellowstone.
Getting There
Yellowstone National Park is located in the northwestern corner of Wyoming along the borders of Montana and Idaho. It is not quite in the middle of nowhere, but it comes pretty close. Yellowstone is 75 miles (121 km) north of Jackson, Wyoming; 50 miles (80 km) west of Cody, Wyoming; 75 miles (121 km) southeast of Bozeman, Montana and 100 miles (161 km) northeast of Idaho Falls, Idaho. Each of those cities has an airport that can take you within a few hours drive of the park, but you definitely need a car to see all the attractions.
From Jackson
Jackson Hole Airport (JAC) is small, but has several major U.S. carriers operating flights in and out of it. It is just over an hours drive north on Highway 191 to the south entrance.
From Cody
Yellowstone Regional Airport (YRA) is also very small with only United Airlines offering two flights a day between there and Denver, Colorado. It is just over an hours drive on Highway 14 to the east entrance and another 50 minutes to the Lake Yellowstone / Fishing Bridge area.
From Bozeman
Bozeman Yellowstone International Airport (BZN) is the largest airport out of these four and offers the most flight options. It is just under 2 hours drive heading west on Interstate 90 then south on Highway 89 to the north entrance or about 1 hour and 45 minutes heading south on Highway 191 to the west entrance.
From Idaho Falls
Idaho Falls Regional Airport (IDA) is not very large, but has several major U.S. carriers operating flights in and out of it. It is just over 3 hours drive west on Highway 26 to Highway 31 then north on Highway 191 to the south entrance or about 2 hours drive north on highway 20 to the west entrance.
Where to Stay
At the western entry to the park, the town of West Yellowstone offers a nice selection of accommodations, stores, service stations and restaurants. At the northern entrance, the tiny town of Gardiner offers a few such amenities. Fortunately, the Park Service has provided a good selection of lodgings, restaurants, convenience stores and service stations at various locations within the park. Aside from that, there are not many signs of civilization in this part of the country.
Where to Stay or Camp in and Around Yellowstone National Park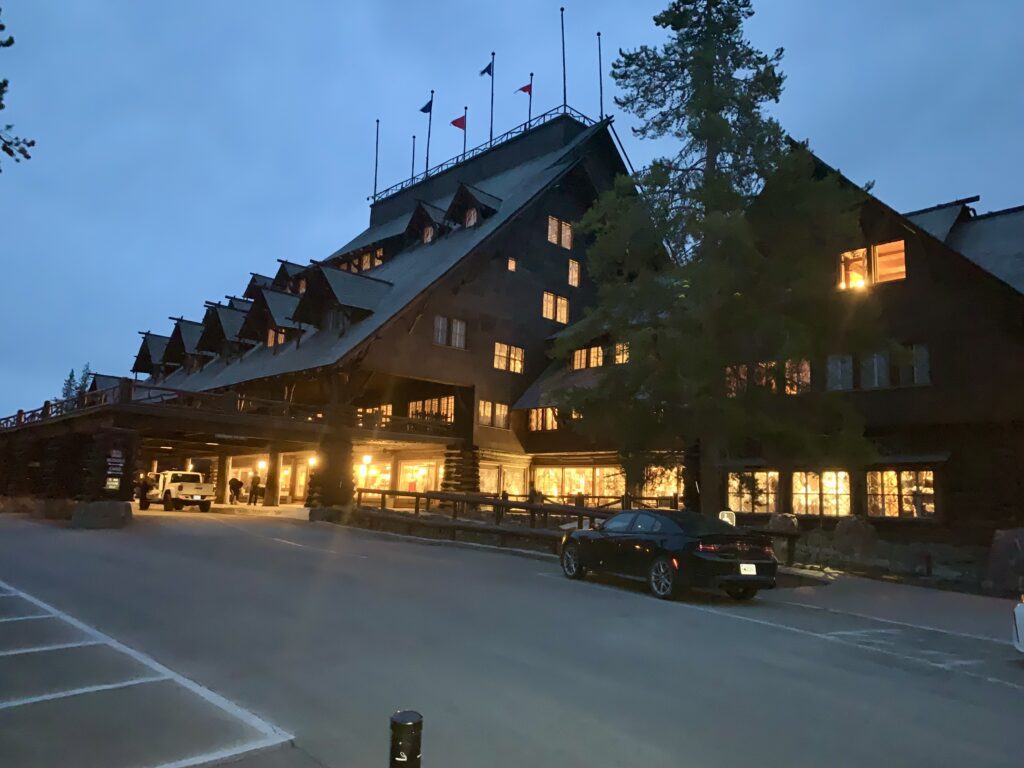 Additional Resources
Travel Wyoming is Wyoming's official tourism guide and has lots of great information about Yellowstone National Park is the surrounding area.
Visit Montana is Montana's official tourism guide and has lots of great information about Yellowstone National Park is the surrounding area.
Nearby Attractions
Grand Teton National Park northern border is located adjacent to the southern border of Yellowstone National Park.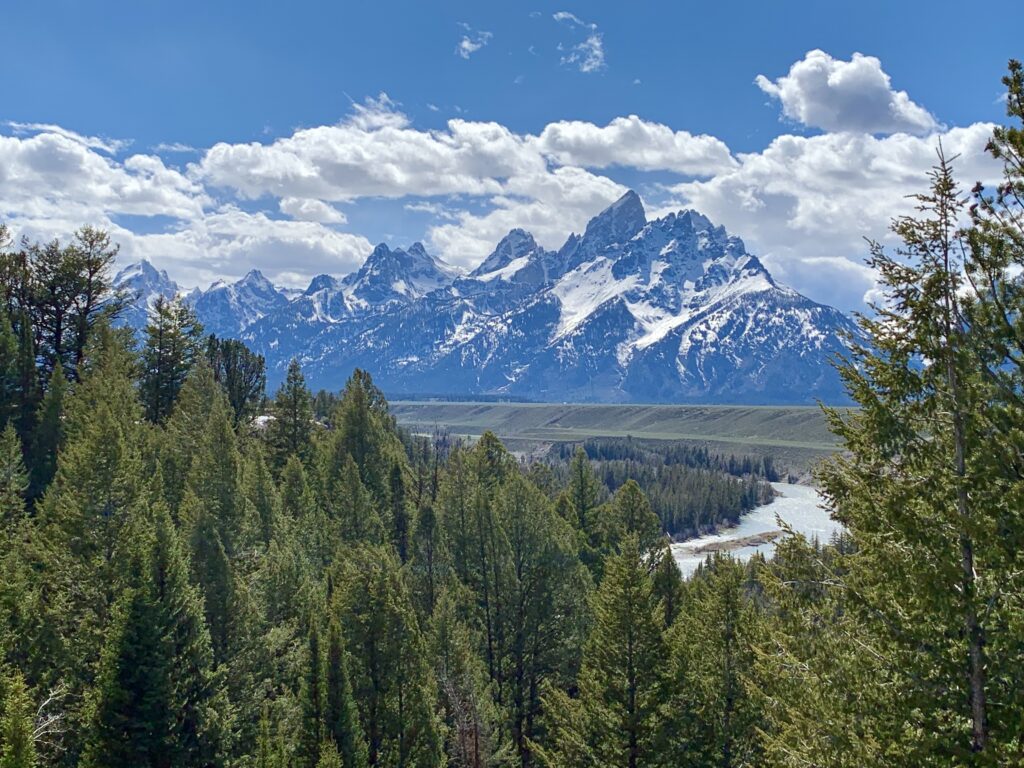 The town of Jackson and the Jackson Hole Ski Resort are located just south of Grand Teton National Park in Wyoming.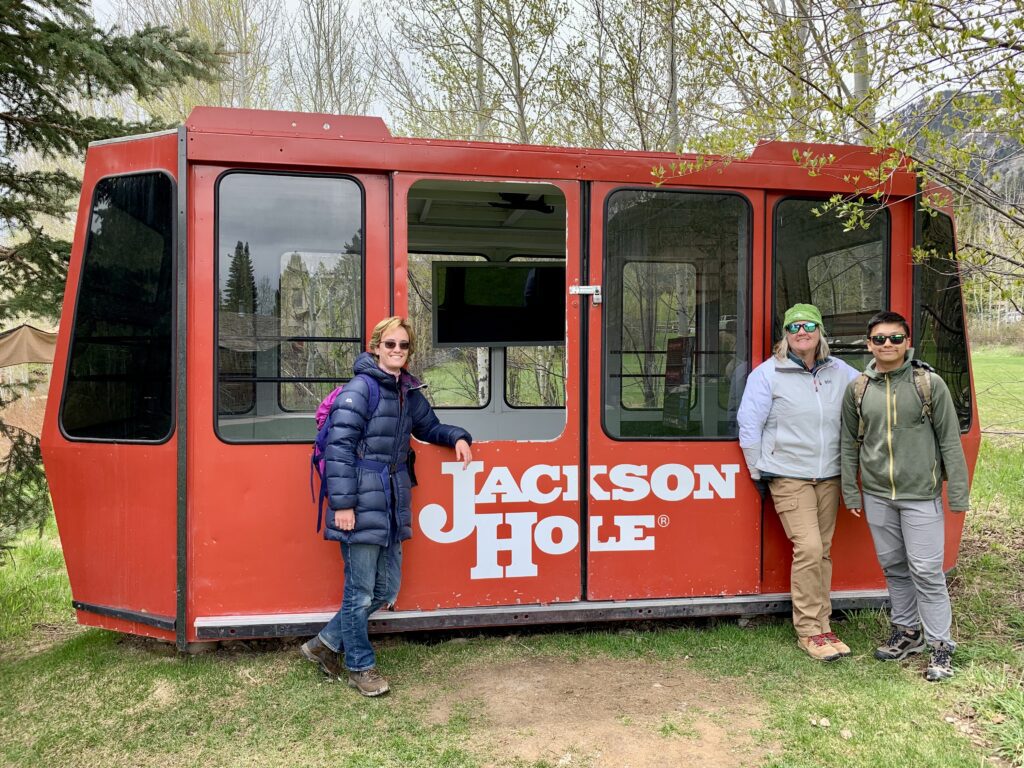 Big Sky Ski Resort, one of the largest ski resorts in the U.S., is located 30 miles (48 km) north of West Yellowstone in Montana.