This article provides an overview of things to see and do as well as places to stay in Badlands National Park and the surrounding area along with useful links to other websites for additional travel related information.
---
At a Glance
When driving across South Dakota on Interstate 90 you can't miss all of the bill boards advertising Wall Drug, which is located in the town of Wall, South Dakota and is just north of Badlands National Park. This park is located 1 hour east of Rapid City, 4 hours west of Sioux Falls and is directly south of the town of Wall, home of Wall Drug. Badlands National Park is comprised of 244,000 acres of mix-grass prairie contrasted with the stark barren rock formations rising up and out of the prairie. Accessing the park from Interstate 90 and driving along Route 240 takes you along the top of and through the rock formations while driving along Route 44 to the south of the park highlights the contract between the grasslands and the jutting rock formations.
As Badlands National Park is conveniently located near Interstate 90 it is very easy to access. Whether you are spending a day driving through on Route 240 or spending a few days camping, hiking and exploring the park you will not be disappointed.
Activities
Scenic drives, wildlife viewing and hiking are the most common activities here. If you're lucky you may even discover a fossil while exploring as erosion from wind and rain can uncover fossils that were previously undiscovered. If you find something that looks like a fossil take lots of photos and get GPS coordinates if possible then report it to the rangers at the visitor center or the fossil lab. We found a partially exposed skull of an Oreodont embedded into the rocks not far from the Door, Ladder and Notch Trails parking area.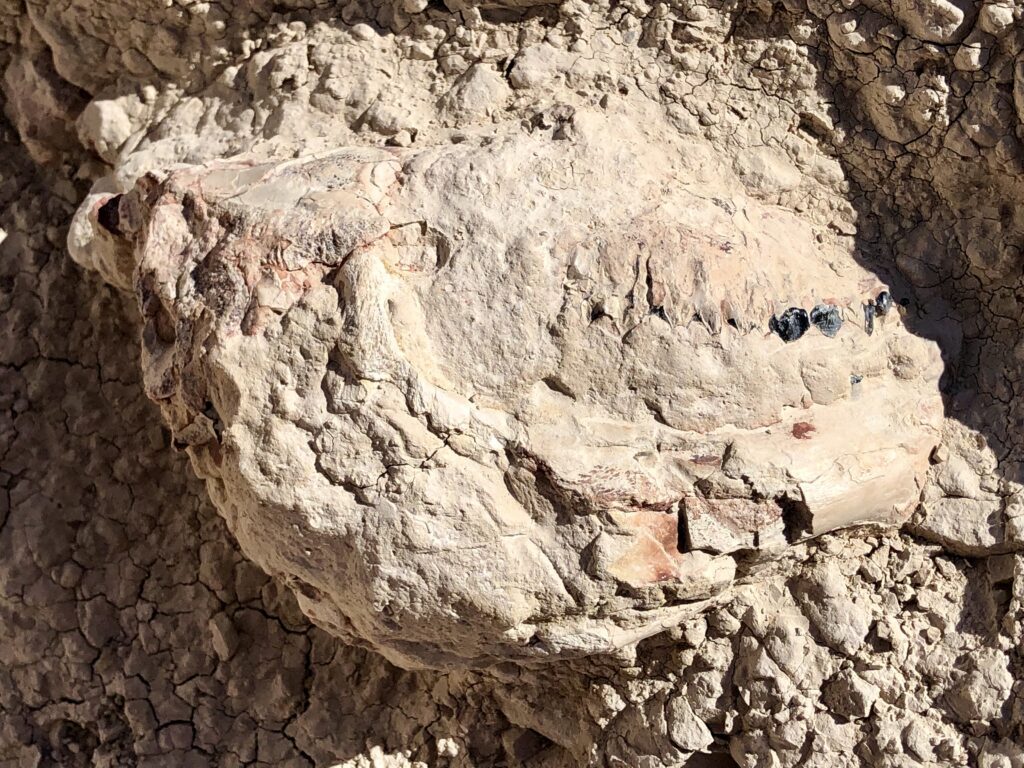 Scenic Drives
A popular scenic drive is to take Route 240 through the park and stopping at the scenic overlooks for one specular view after another. This drive can be made into a loop by incorporating a visit to Wall Drug and using Interstate 90 to complete the loop. You can add a slight detour by taking Sage Creek Rim Road out to Sage Creek Basin Overlook and stopping at Roberts Prairie Dog Town to see the cute little prairie dogs darting in and out of their holes. This is also a good area to spot bison especially in the morning or evening. The Delta-09 Minuteman Missile Silo, Delta-01 Launch Control Facility and Minuteman Missile National Historic Site are all located along this section of Interstate 90. You'll need to make reservations in advance if you want to tour the silo and launch control facility, but the historic site has a small museum that is well worth a visit even if you don't do the tour.

Another scenic drive that gives you a view from below the towering rock formations is Route 44, which runs east-west and offers views of the southern facing rock formations and prairie leading up to them. This drive can either be done as an out-and-back or make into a loop using Interstate 90 and incorporating Wall Drug and the Minuteman Missile National Historic Site as well as Rapid City depending on how big a loop you want to drive and what you want to see.
Wildlife Viewing
There is a greater variety of wildlife in this desolate looking landscape than you might expect. Bison, big horn sheep and prong horn roam the grassland areas of the park and are best spotted on the Sage Creek Rim Road in the morning or evening. Prairie dogs are easy to spot at Roberts Prairie Dog Town also located on Sage Creek Rim Road. There are also various types of birds, reptiles and insects as well as a few types of amphibians. Bats and ferrets also call this park home, but are more difficult to spot.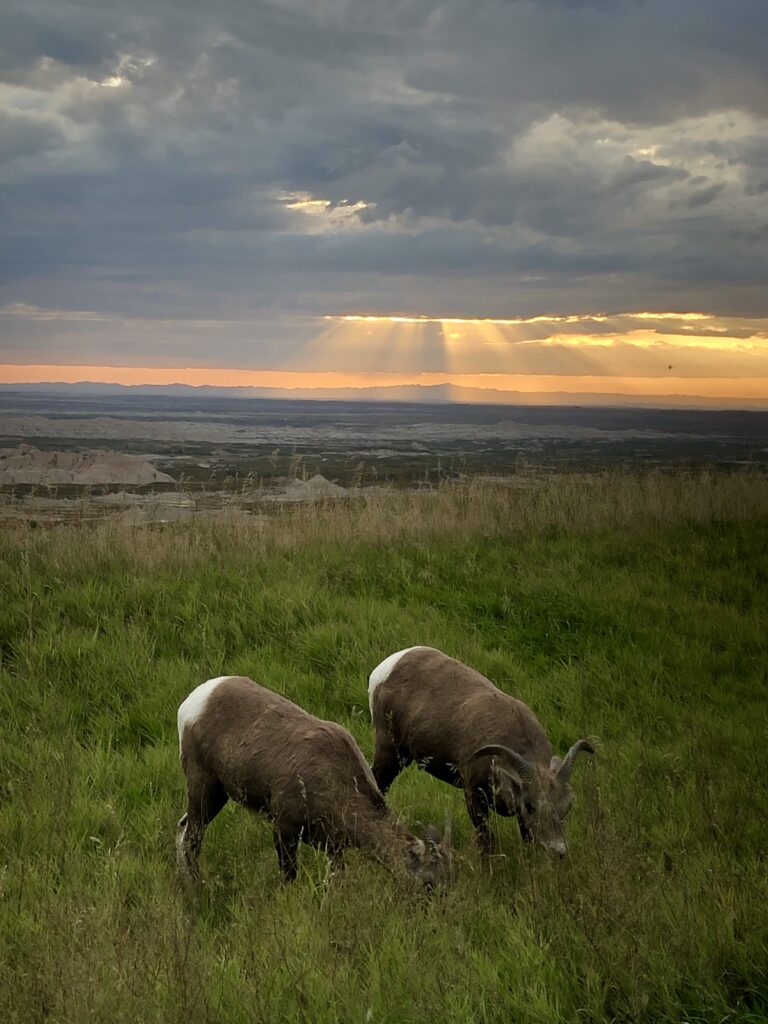 Hiking
There aren't a ton of hikes to do here, but there are a few short flat easy hikes like the Door and Window Trails that take you to scenic views of the sprawling valley below. The Cliff Shelf Trail is a little more difficult because there are some stairs involved. The Notch Trail is not very long, but is a lot of fun as long as you are not afraid of heights and can handle some scrambling. Castle Trail and Medicine Root Loop are two of the longest trails in the park at 10 miles (16 km) and 4 miles (6.4 km) respectively. This park also has an open hike policy meaning that anyone is free to explore off trail and hike anywhere in the park without being confined to marked trails.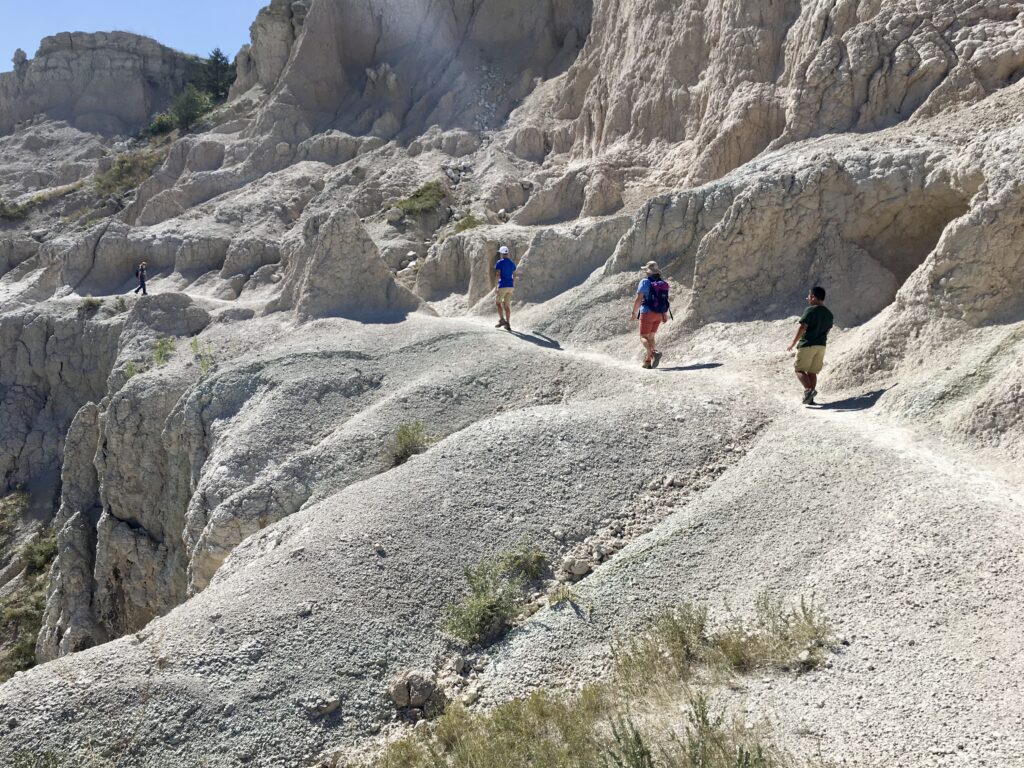 Getting There
Badlands National Park is located just south of Interstate 90. Route 240 runs roughly parallel to Interstate 90 going through the park and Route 44 runs east-west along the southern edge of the park and cutting through the park just north of the town of Scenic. The nearest large city with an international airport is Denver, Colorado and the Denver International Airport (DEN), which is about a 6 hour drive from the park.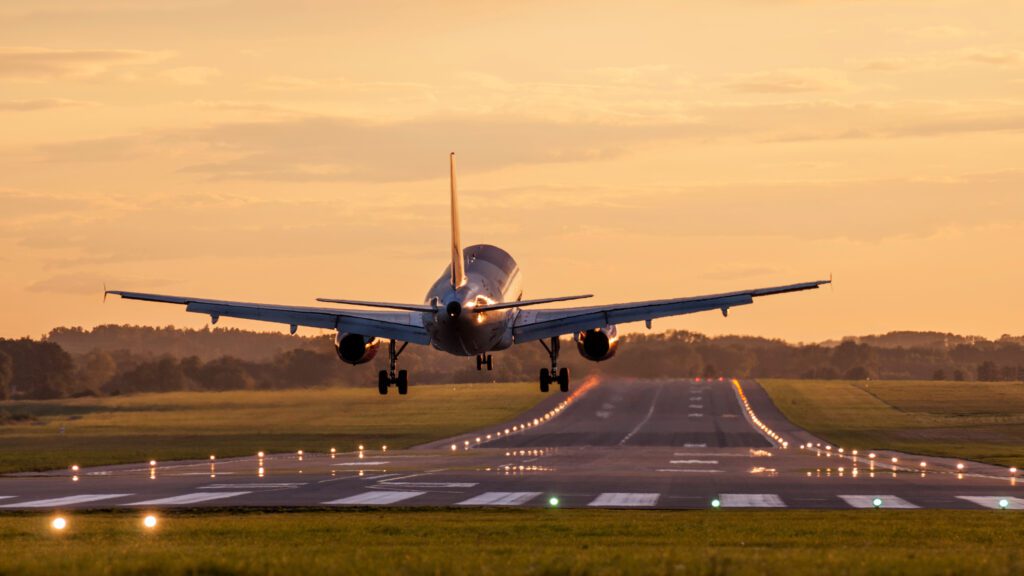 Where to Stay
In the Park
The Cedar Pass Lodge offers rustic cabins and also has a restaurant and gift shop.
The Cedar Pass Campground has both tent sites and RV sites. Some RV sites have 30/50 amp electric only hookups. There are also hot water showers, flush toilets and water nearby. Reservations are recommended especially for the electric hookup sites in the summer months and can be made here. This campground has nice views of the rock formations, but feels like you're just camping in an open field.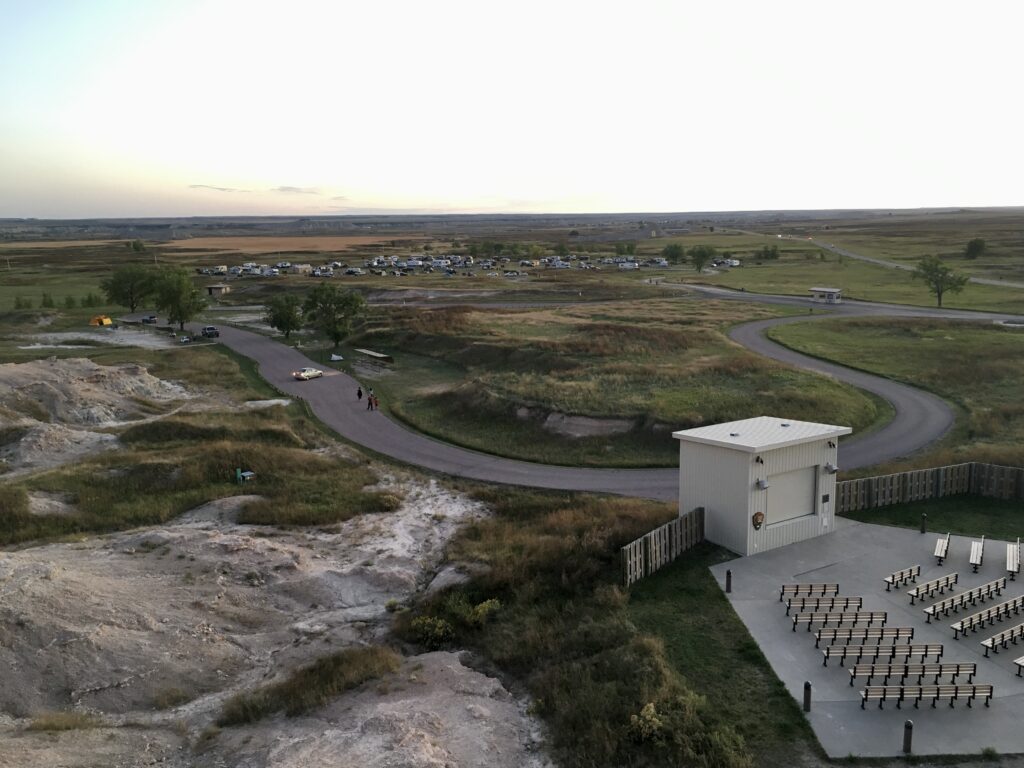 The Sage Creek Campground is free and operates on a first-come first-serve basis. RVs and trailers greater then 15 feet (4.6 meters) are prohibited from using this campground.
Nearby
The Badlands Inn, offering budget hotel rooms, is also operated by the same company who operates the Cedar Pass Lodge and Campground, but lies just outside the park on Route 377.
The Badlands/White River KOA is a nice option, especially if you're looking for full hookups. They have tent sites, RV sites and cabins and are located just south of the White River on Route 44 about 4 miles (6.4 km) and 7 minutes south of the town of Interior.
There are quite a few places ranging from more expensive glamping and ranch stay experiences to budget hotels and motels along Interstate 90. Rapid City offers a wide array of lodging and dining options and is only 1 hour away from the park.
Additional Resources
Recreation.gov – Badlands National Park has additional information about this park including maps, pictures, rules, fees and facility information. You can also book certain accommodations and pay certain fees here.
Black Hills & Badlands SD has a good visitors guide with information about tours, things do see and do, accommodations, getting there and many other bits of useful information.
Travel South Dakota also has a good visitors guide with information about tours, things do see and do, accommodations, getting there and many other bits of useful information.
Nearby Attractions
Custer State Park is about 1 ½ hours from Badlands National Park.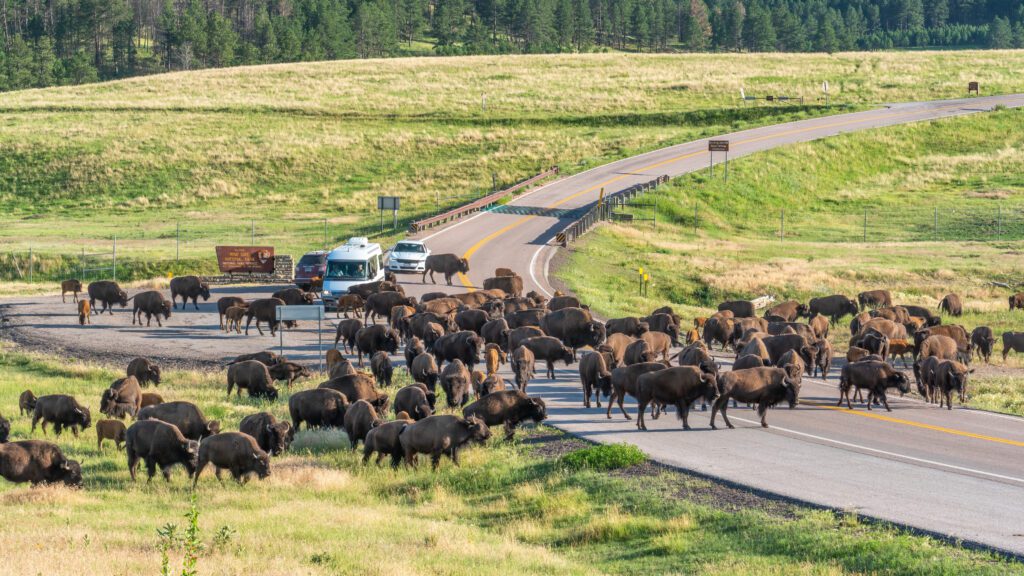 Mount Rushmore National Memorial is about 1 ½ hours from Badlands National Park.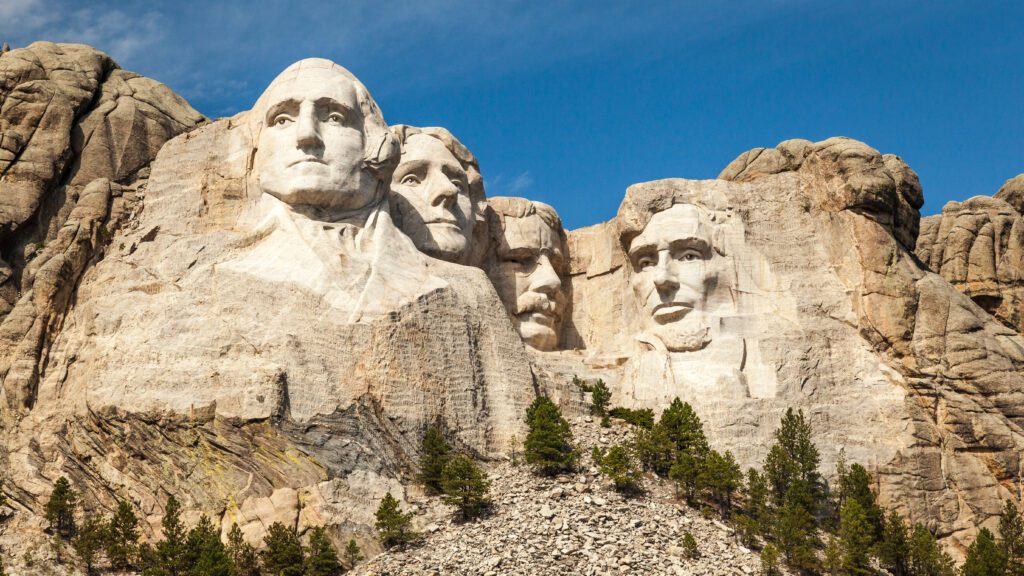 Related USATourist Articles
Hiking the Notch Trail in Badlands National Park, South Dakota