This article provides an overview of things to see and do as well as places to stay in the Death Valley National Park and the surrounding area along with useful links to other websites for additional travel related information.
---
At a Glance
Death Valley National Park is located about 200 miles (330 km) northeast of Los Angeles, California along the eastern border of California and Nevada. It is less than 50 miles (265.5 km) east of the Sierra Nevada Mountains and lies wholly within its rain-shadow desert. Moisture coming off of the Pacific Ocean surrenders its precipitation to the upper elevations of the Sierra Nevada peaks, so very little moisture reaches Death Valley.
Death Valley is nearly 100 miles (165 km) long and varies in width from 6 miles (10 km) to over 15 miles (25 km). It is sheltered on both the East and the West by 5,000 (1500 m) to 10,000 foot (3000 m) high mountains. The floor of the valley receives less than two inches (5 cm) of rain per year. Clear blue skies without a cloud are normal in all seasons of the year.
Popular activities here include hiking, backpacking, scenic drives, 4 wheeling, road and mountain biking, horseback riding, photography and bird watching.
One of the hottest places in North America
Since the valley is secluded between high mountain ridges, it is well sheltered from any cooling breezes. The nearly incessant sunshine typically heats the valley floor and its rocky walls to high temperatures. During July and August, daytime temperatures of 130 degrees Fahrenheit (50 degrees Celsius) are not uncommon, while it seldom cools below 100 degrees Fahrenheit (38 degrees Celsius) at night. The best season to visit Death Valley is in December or January when daytime temperatures are typically a very pleasant 65 to 70 degrees Fahrenheit (18  to 21 degrees Celsius).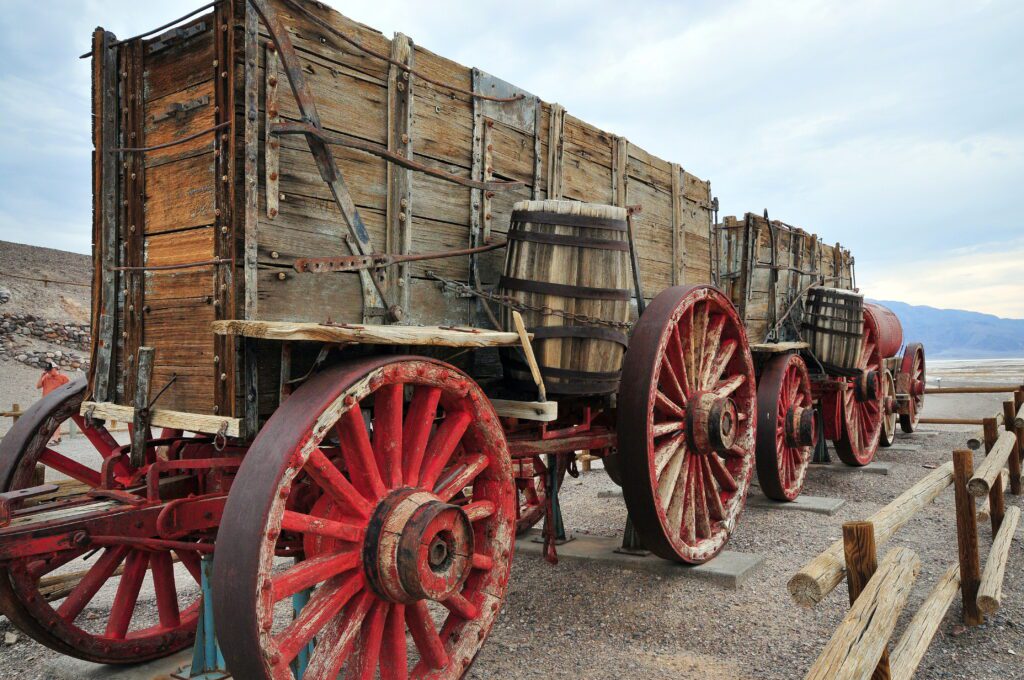 Several bands of migrant Native Americans have long used this valley as their winter residence, migrating to higher altitudes during the hot summer months and returning to the warmer valley during the winter. A small Shoshone Native American Reservation is currently located at Furnace Creek.
History
Death Valley received its name in 1849, when a wagon train of overland immigrants headed for California became lost in the valley for several weeks. They had to burn their wagons and cook their oxen to survive. At least one of them perished in the valley. When they finally hiked their way out, one of the women reputedly said, Goodbye Death Valley, and the name stuck.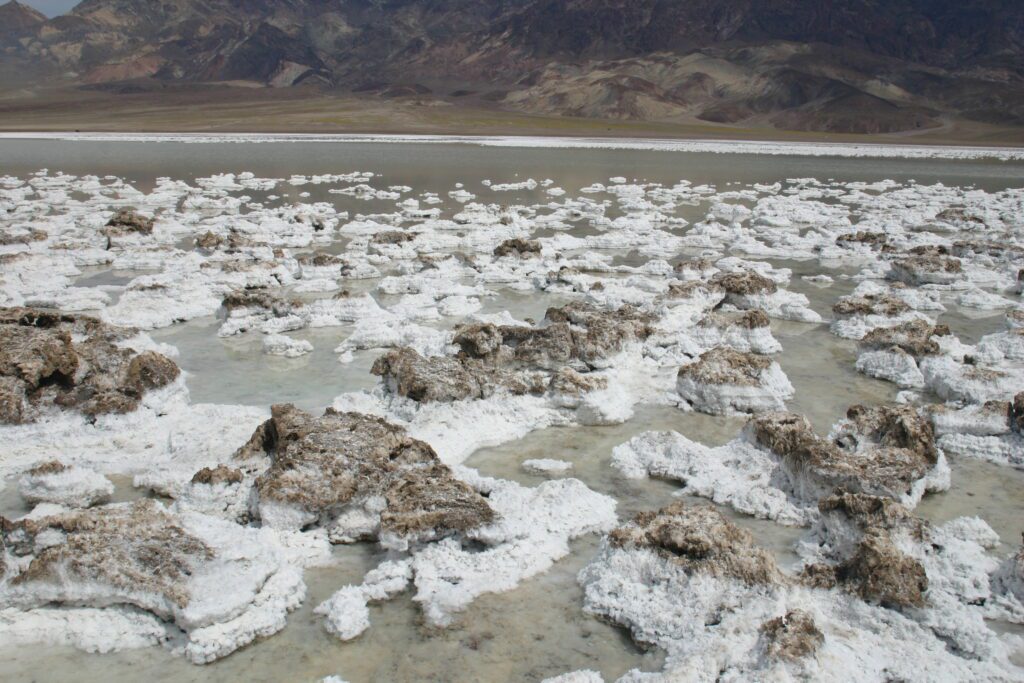 Afterwards, Death Valley was probed by intrepid prospectors seeking gold, silver and other valuable minerals. It eventually supported several borax mines that used huge wagons drawn by teams of twenty mules to haul the refined mineral 165 miles to the nearest railroad. These operations eventually proved uneconomic and were abandoned.
Activities
Near Furnace Creek
Drive out to the Harmony Borax Works, where you can see the remains of the old borax processing building and a 20 mule team wagon. Its only 1 mile (1.6 km) north of Furnace Creek on Route 190 in the morning before it gets too hot. Then go back to Furnace Creek, have lunch at the The Ranch at Death Valley and visit the Borax Museum in the afternoon.
Drive south on Route 190 stopping at Zabriskie Point to take in the view. Then take a drive through 20 Mule Team Canyon on an unpaved, but well maintained road through the badlands of Death Valley. Then continue south until you reach a right turn that will take you up to Dantes View.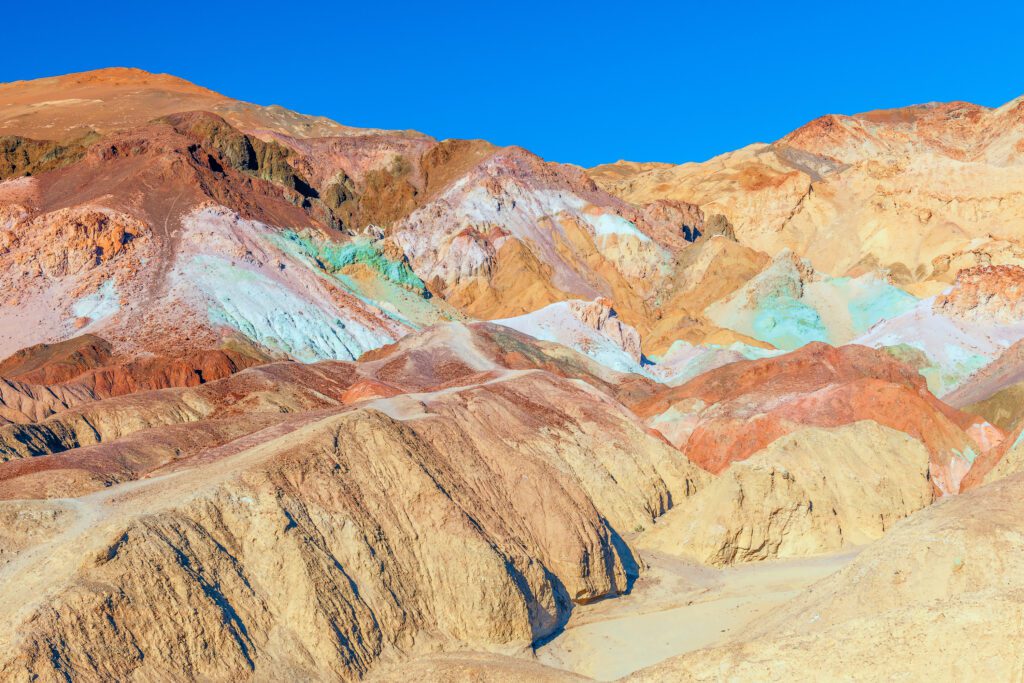 Drive south on Badwater Road until you reach the left turn onto Artists Palette Drive. Follow this 9 mile drive taking in the landscape and stopping at Artists Palette view point for pictures. Once the loop is completed continue heading south and look for the Devils Golf Course on your right where rock salt eroded by wind and rain forms a serrated landscape on which only the devil could play golf. Now continue south until you reach Badwater Basin, which is the lowest point in North America at 282 feet (86 m) below sea level. The surreal landscape of the wide open salt flats with the mountains off in the distance is amazing.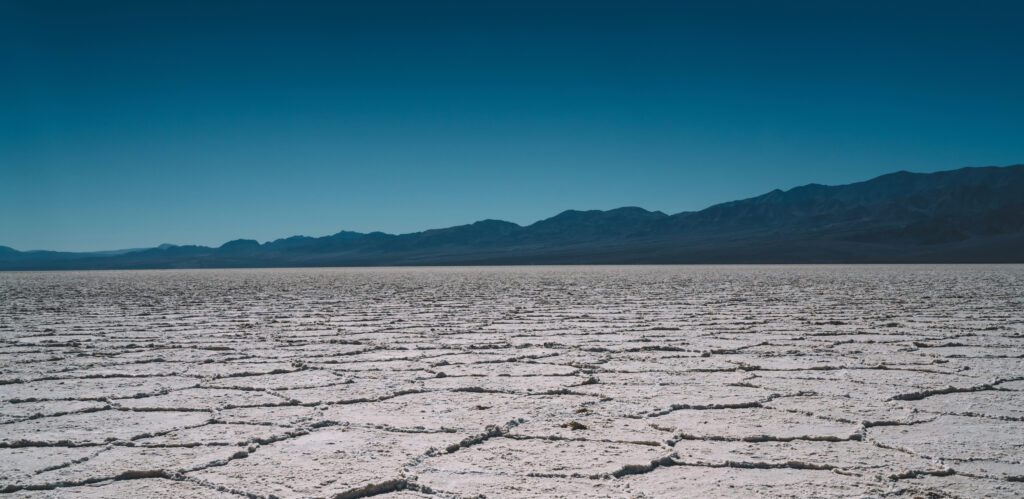 Near Stovepipe Wells
The Mesquite Flat Sand Dunes are just to the east of this area and are well worth a visit, but be careful as the sand be reach temperatures hot enough to melt rubber and plastic sandals. This is a great place to watch the sun rise or set. The hike to the top of the tallest dune is about 2 miles long round trip and you have to find your own route as the dunes are always shifting.

The Mosaic Canyon Trail is a really cool tight 4 mile (6.4 km) out and bank canyon trail. There is some scrambling and a few tight fits involved, but it's a really fun hike.
Drive south west on Route 190 then take a left on Emigrant Canyon Road and follow it to the end where you will find Charcoal Kilns, Thorndike primitive campground, Mahogany Flat primative campground, Telescope Peak Trail and Wildrose Peak Trail.
Farther Afield
Ubehebe Crater is at the north end of North Highway, a few miles north of Grapevine and the Route 267 intersection. This crater is the remnants of an explosion caused by rising magma coming into contract with groundwater some 2,000 years ago.
Father Crowley Vista Point overlooks Rainbow Canyon, a colorfully layered landscape created by lava flows and volcanic cinders is located at the western end of Route 190 on the edge of the park a short distance past Panamint Springs.
There is plenty more to explore in this park especially if you have a high clearance vehicle although a capable 4 wheel drive would be even better as there are a number of unpaved back roads that lead to some unusual places like The Racetrack, where rocks as large as 700 pounds seem to move across the desert on their own or some of the more difficult to get to sand dunes.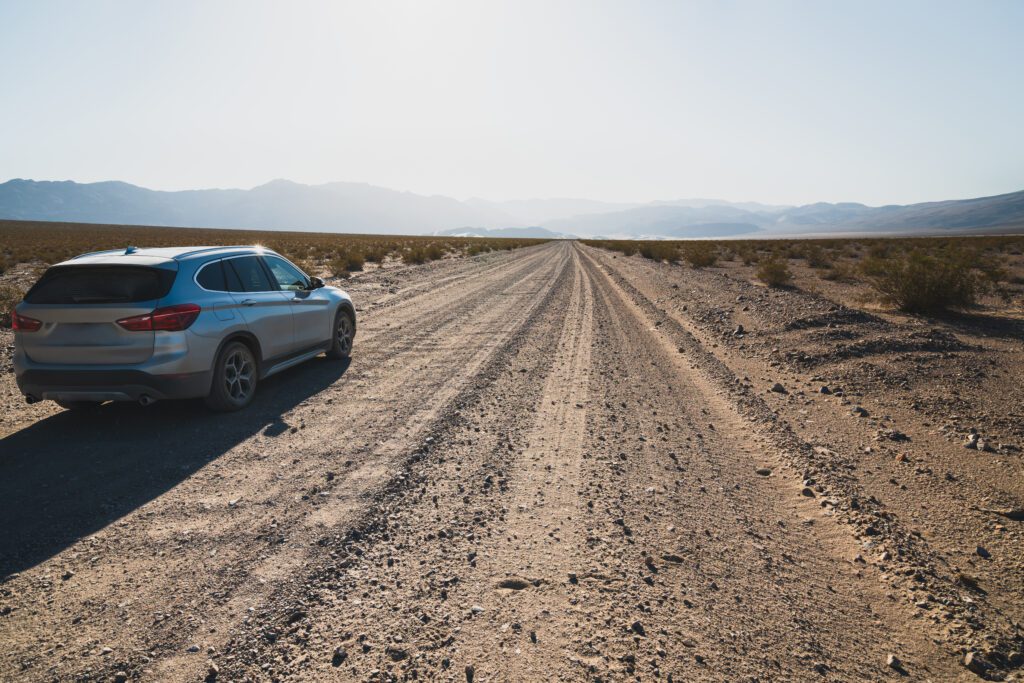 Getting There
The two nearest cities with major international airports are Los Angeles, California with Los Angeles International Airport (LAX) to the west of this park and Las Vegas, Nevada with the Harry Reid International Airport (LAS) to the east of this park.
From Los Angeles
Take Route 395 north along the eastern side of the Sierra Nevada Mountains, then turning east on Route 190 into Death Valley. It is about 220 miles (354 km) and will take at least five hours.
From Las Vegas
You can drive from Las Vegas to Death Valley in just a bit over two hours by going through Pahrump and Death Valley Junction to Route 190.
Either way, make sure you have a full tank of fuel and plenty of drinking water before you venture into this desolate land.
Death Valley Junction is a nearly abandoned borax mining town with a population of only 3. It is home of the famous Amargosa Opera House resurrected by the New York ballerina Marta Bennet who fell in love with this almost ghost town in 1966. She reconstructed the theater with her own hands, and has conducted weekly theatrical performances in the desert for over forty years.
Where to Stay
The only facilities located within Death Valley National Park are located at Furnace Creek and at Stovepipe Wells. Fuel, accommodations, food and limited supplies are available at both locations, but the prices can be rather high. Outside of the park, the nearest accommodations, food and fuel are at Panamint Springs, just outside the Western entry and in the Amargosa Valley about 35 miles (56 km) east of the park. A much wider selection is available in Pahrump 60 miles (96.6 km) southeast of the park.
Furance Creek Area
The Oasis at Death Valley is a privately owned historic inn providing first class resort accommodations.
The Ranch at Death Valley is a privately owned motel and also provides dining, shopping and gas station facilities.
The Panamint Springs Resort is a private resort offering accommodations, camping, dining and gas station facilities.
Furnace Creek Campground is a NPS campground with limited full hook-up sites for RVs.
Stovepipe Wells Area
Stovepipe Wells Village is a privately owned facility offering resort accommodations, limited RV camping with full hookups, dining, shopping and a gas station.
Camping is available at various locations in the park. Some of the campsites are closed during the hottest months, but a few are open year round. Camping in Death Valley during the summer can be quite challenging when you realize that butter, chocolate and even wax candles often liquefy at daytime temperatures.
Additional Resources
Recreation.gov – Death Valley National Park has additional information about this park including interactive maps, directions, accommodations and points of interest. Reservations and other fees can be purchased through this site as well.
California's State Tourism Site: Visit California – Death Valley National Park.
Nevada's State Tourism Site: Travel Nevada – Death Valley National Park.
Related USATourist Articles
Driving Tour of Death Valley's Titus Canyon