This article is a first-hand account of a day spent on Florida's Space Coast. We first went to see an early morning SpaceX rocket launch then went to the Kennedy Space Center Visitor Complex for the rest of the day.
---
The Plan
The launch window for the SpaceX rocket launch at Cape Canaveral was from 7:00am to 9:00am and we knew it was about an hours drive from our vacation villa in Kissimmee, Florida to get there so we had to get up at 4:30am, but it would be worth it to actually see a live rocket launch in person! We had planned to see the rocket launch then get breakfast somewhere while we waited for the Kennedy Space Center Visitor Complex to open at 9:00am. We would spend the whole day exploring the exhibits and touring the old space shuttle era launch control facilities then head back to our villa and find a nice place to have dinner. The Kennedy Space Center Visitor Complex is a fantastic place to visit for people of all ages, especially if you're a space buff. There is so much to see and do you won't be able to do it all in a single day, but that just gives you a reason to return again.
The Rocket Launch
It was still dark outside when we headed north on Interstate 4 then on to Route 528 East, which took us over to the Atlantic Coast of Florida. We then took Route 407 north to Interstate 95 north and finally got on Route 406 east into Titusville and drove straight to the coast.  Once we found Space View Park we drove around the block and found a place to park along the street, used the restroom at a nearby fast-food place then walked over to Space View Park.
We arrived a bit early just as the sun was coming up. There was a man sitting there with a speaker broadcasting audio from the control room so we could listen to the count-down live. Looking out over the Indian River we could see the rocket sitting upright on its launch pad as well as the NASA assembly building with its giant U.S. flag painted on its side. We brought binoculars to get a better look at everything. Clouds of white smoke started leaking out from different places on the rocket as they began the fueling process. This is because the fuel this rocket uses is super cooled using liquid hydrogen, which quickly evaporates when it hits the air. As we approached the 2 minute mark you could feel the excitement in the air. Unfortunately, something went wrong in the last 2 minutes and they had to stop the countdown and, shortly thereafter, they scrubbed the launch until the next morning.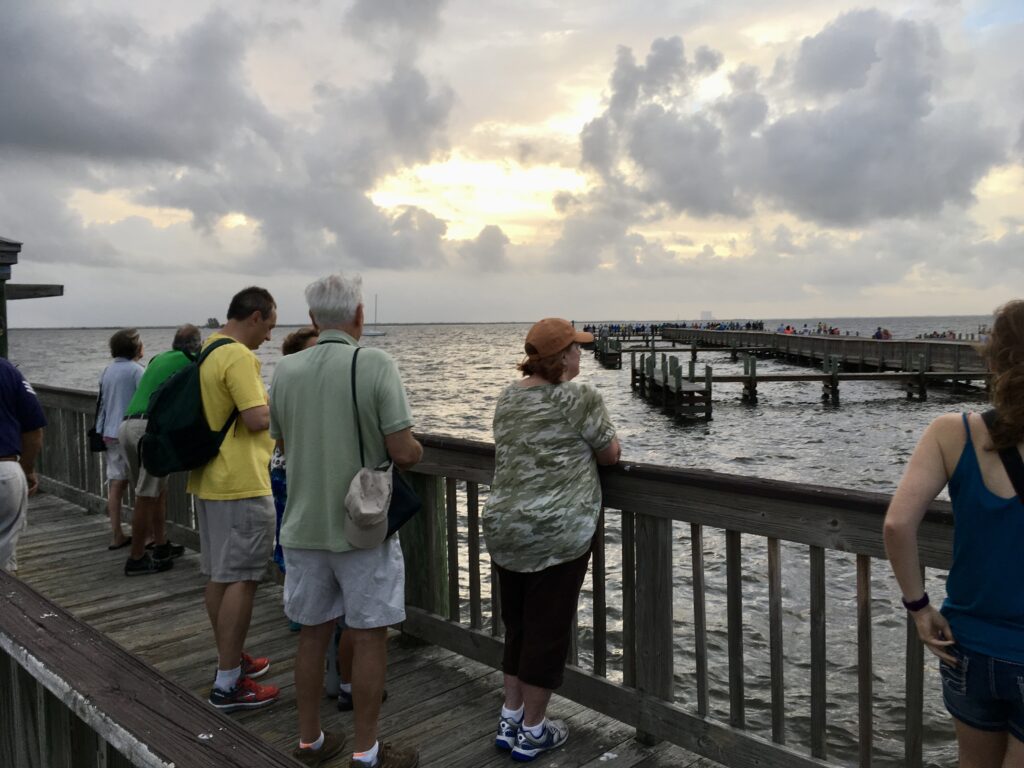 It was still early and we had some time to kill before the Kennedy Space Center Visitor Complex opened so we drove south on Route 1 until we found a diner where we had a liesurely breakfast. As it approached 9:00am we drove to the entrance of the Kennedy Space Center Visitor Complex where you can purchase tickets. However, we had already purchased ours on-line because we also purchased an additional tour of the old space shuttle launch control facility.
Kennedy Space Center Visitor Complex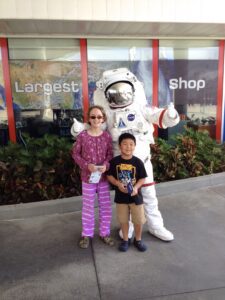 Entering the Visitor Complex
As we entered the visitor complex we couldn't miss the Rocket Garden directly in front of us, which contains a number of rockets that you can stroll through and read about. Here's a link to a helpful map of this large complex. We saved this attraction for later and proceeded straight back to the Kennedy Space Center Bus Tour as this activity tends to have much shorter lines in the morning. The bus tour will take you out to get a closer look at one of the launch pads and the vehicle assembly building while an expert provides information about everything you are going to see as well as answering any questions. Our add-on tour of the old space shuttle launch control facility was great, but this exact tour is no longer available as I believe that NASA has refitted this control room for one of the new launch systems they are developing. Exhibits and add-on experiences do change periodically, but you are sure to find something of interest.
The Apollo/Saturn V Center
Our bus tour ended at the Apollo/Saturn V Center, which houses the Race to the Moon Mission Area and is home to a real Saturn V rocket laid on its side with detailed information about each stage of the rocket as well as various side exhibits. The Saturn V rocket, at 363 feet (111 meters) is really really big. We spent a couple hours here checking out all the exhibits, watching the Apollo 8 and the Firing Room show, watching a recreation of a Apollo 11 Moon landing at Lunar Theater and eating a quick fast-food lunch at the Moon Rock Cafe before taking the bus back to the main visitor complex.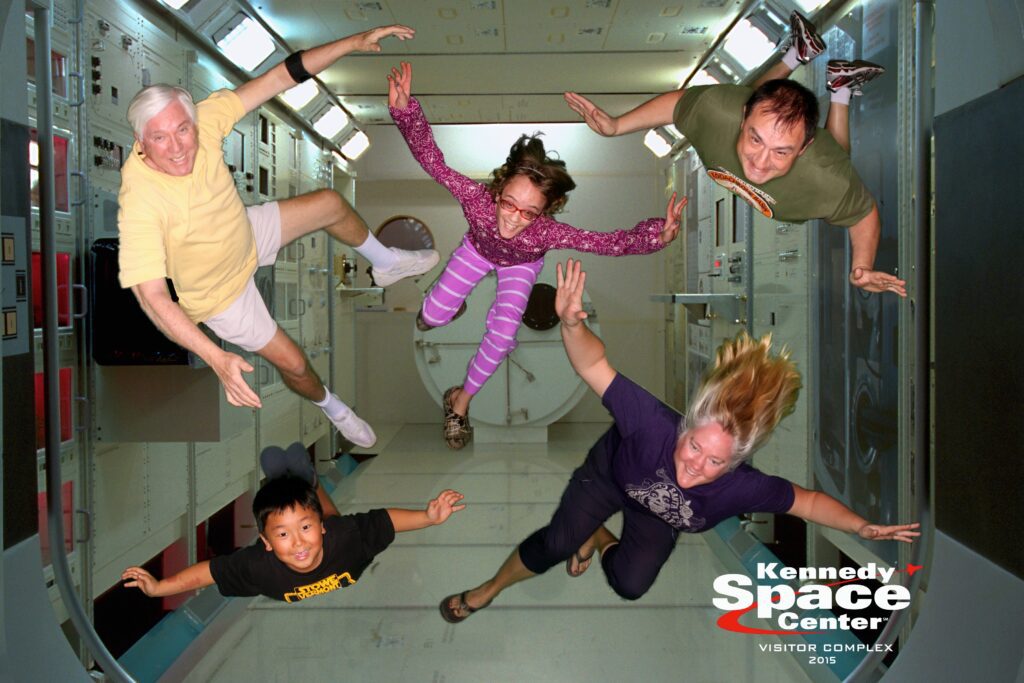 Space Shuttle Atlantis
After getting off the bus we headed over to the Space Shuttle Atlantis building containing the Shuttle: A Ship Like no Other Mission Zone, which has the giant space shuttle fuel tank and solid rocket boosters in front of it. Here we watched a short video then walked into the massive room were the Atlantis is, tilted to the side with its cargo bay doors open. NASA's space shuttle program operated for an amazing 30 years before retiring the shuttles. We explored all of the exhibits in this building, road the re-entry slides and experienced the sights, sounds and sensations of blasting off aboard a space shuttle in the Shuttle Launch Experience, which is not as scary as it sounds. If you've ever rode the Mission to Mars ride at Disney's EPCOT you'll have no trouble with this one.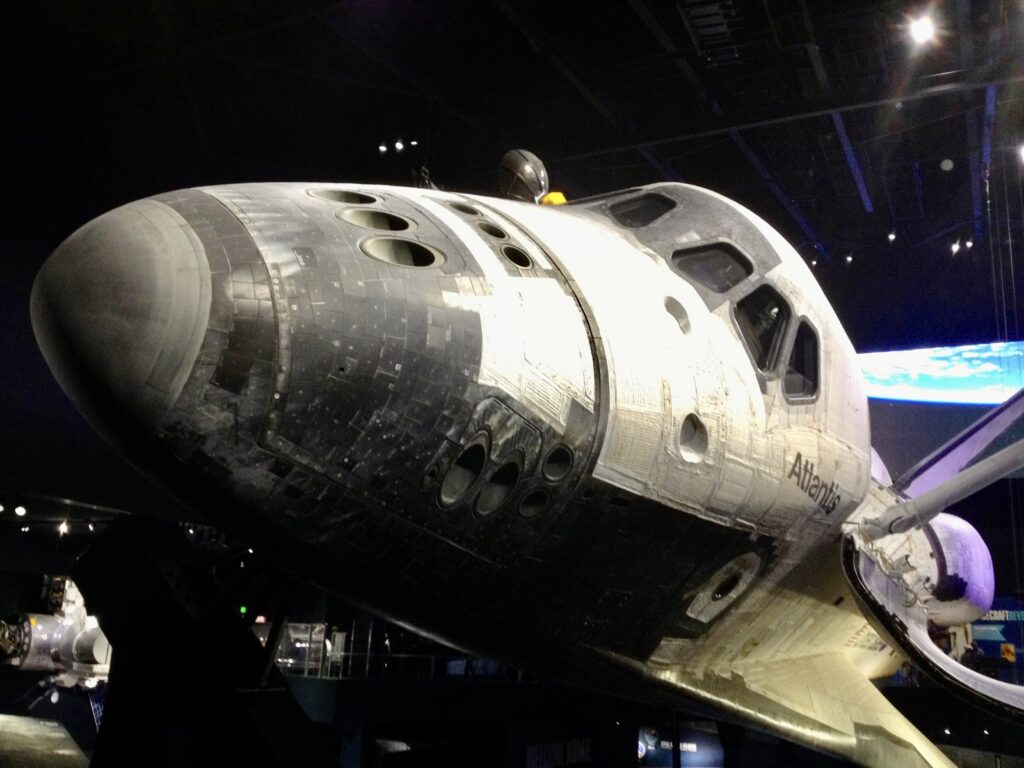 The IMAX Theater and Rocket Garden
When we finished with the Space Shuttle Atlantis building everyone was getting a bit tired so we went to the IMAX theater to sit and watch a movie for a bit. They rotate different space related IMAX movies through this theater so be sure to check their website for what's playing when you plan to visit.
After the movie it was getting close to closing time and we were all getting pretty tired from walking all day so we took a stroll through the Rocket Garden then headed back to the car and drove back to our villa. We missed a number of exhibits including Spaceport KSC, Journey to Mars and Gateway: The Deep Space Launch Complex as well as a number of other interesting add-on experiences we could have done, but this just gave us a reason to return here next time we're in the area.
The next morning we got up and watched the SpaceX launch countdown on their YouTube channel and the lunch was successful! Too bad we couldn't have seen it in person, but we had a wonderful day at the Kennedy Space Center Visitor Complex anyway.
Additional Resources
NASA's Website for the Kennedy Space Center
Related USATourist Articles
Florida Travel Guide