This article discuses several popular hikes and mule ride tours from the South Rim of the Grand Canyon in Arizona.
---
Approaching from the south, you first drive for hours across desolate high-country range with rolling grassy hills, some isolated trees and an occasional horse or cow. The Ponderosa pines start a few miles south of the park, and you soon find yourself driving through dense forest. A sign reads, "scenic lookout", so you park and walk a few yards through the bushes. Suddenly, there it is, and it takes your breath away!

The Grand Canyon stretches 12 miles (19.3 km) before you to the further rim, and as far as you can see on either side. The land at your feet drops almost straight down for over 3000 feet (914.5 m) and then several thousand feet more into the serpentine canyons below. This vast gorge is filled with rocky buttes, sheer limestone cliffs, and deep canyons all arrayed in a rainbow of colors.
Most visitors only see the canyon from lookout points on the South Rim, but to really experience its natural beauty, you need to descend into it.
Bright Angel Trail to Plateau Point (Out and Back) Hike
This trail follows a break in the canyon's cliffs as it approximates a route used by Indigenous Americans for thousands of years.  Stunning views of the canyon accompany you as you navigate the trail's switchbacks. You can hike about halfway down and back in one day. Bright Angel Trail to Plateau Point is about 12 miles round trip with a 3000 foot (914.5 m) descent and a long, hard 3000 foot (914.5 m) climb back to the rim. The trail is broad and well maintained, but you might have to share it with an occasional mule train. Watch what you step in! It takes about 7-8 hours of hiking at a leisurely pace. Start early in the day and take food and water!  Lots of water! The temperature in the canyon may be 20 to 30 degrees Fahrenheit hotter than on the rim. Most months, drinking water is available along this trail. Camping facilities and toilets are available at Havasupai Gardens Campground 4.5 miles (7.25 km) from the rim.  Bear in mind that Bright Angel Trail is one of the most popular trails in the park, spring and fall are less busy than summer.  If that is not an option, early in the morning tends to be less crowded.  Also, the crowds tend to thin out, the further down the trail you go.
Do not attempt to hike all the way to the bottom of the canyon and back in one day! It is a 20 mile (32.2 km) round trip with a 5000-foot (1.5 km) descent and a long hot 5000-foot (1.5 km) climb back to the rim.
South Kaibab Trail to Phantom Ranch to Bright Angel Trail Hike
This is a Rim to River Hike, you start and finish on the South Rim, but descend to the Colorado River at the bottom of the canyon and overnight at the Phantom Ranch. It requires at least two days to hike to the bottom of Grand Canyon and back. On the first day, you should hike down the South Kaibab Trail to Phantom Ranch. This trail is steeper than Bright Angel and has no water supply, but does offer some spectacular scenery. It is easier to hike down this trail than climb up. Take about 4 liters of water per person and some food! Phantom Ranch has very limited accommodations, offering dormitories and cabins, so be sure to check their website if you wish to stay there. You must have reservations in order to stay and, due to its' popularity, they also run a lottery system. If you can't get a reservation at Phantom Ranch, or simply wish to camp outdoors, you can stay at the Bright Angel Campground, which is only a ¼ mile (½ km) from Phantom Ranch. However, you will need a backcountry permit.  Here's a great article on how to obtain one.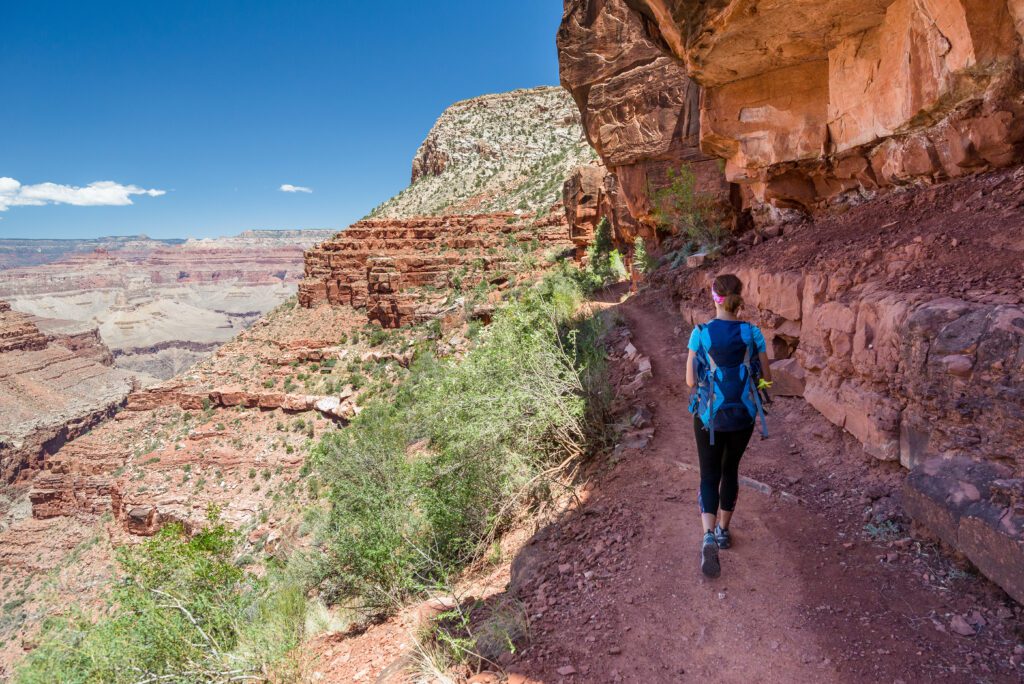 You have to make dinner reservations to eat at Phantom Ranch.  You can sit down to a well earned feast of either a steak dinner, stew dinner or vegetarian dinner. Dinner seating times are 5:00pm (17:00) for the steak dinner and 6:30pm (18:30) for the stew and vegetarian dinners. Make sure you're on time as they won't let you in if you're late. If you didn't make dinner or breakfast reservations you'll either have to fend for yourself or make due with the snacks and beverages sold at the canteen along with stamps, T-shirts, postcards, headlamps, first-aid supplies and other necessities.
The next morning, a hearty breakfast is served at 5:00am (05:00) for early seating and 7:00am (07:00) for late seating from April 1 to October 31 and 5:30am (05:30) for early seating and 7:00am (07:00) for late seating from November 1 to March 31 for guests who have made reservations. Now you can hike up Bright Angel Trail to the rim. Take some water and food! A hiker lunch can be reserved in advance from the Phantom Ranch and limited supplies are available at the ranch canteen. Bright Angel trail is less steep and easier to climb than South Kaibab. It is also sheltered from the sun part of the way and usually has drinking water available.
Mule Rides
If you lack the stamina to hike the canyon, you can go on one of the canyon's world famous mule rides. The park currently offers two mule tours: a 2 Hour Canyon Vistas Mule Ride and Overnight Rides to Phantom Ranch.  The 2 Hour Vistas Mule Ride takes up to 20 riders and travels along the East Rim Trail. This tour covers about 4 miles (6.5 km) in 3 hours and will stop at least 6 times along the trail to provide interpretive information about the canyon. The Overnight Ride to Phantom Ranch includes the mule ride down and back up the canyon as well as all meals. However, it may not include transport of your bags and additional duffel service may need to be purchased.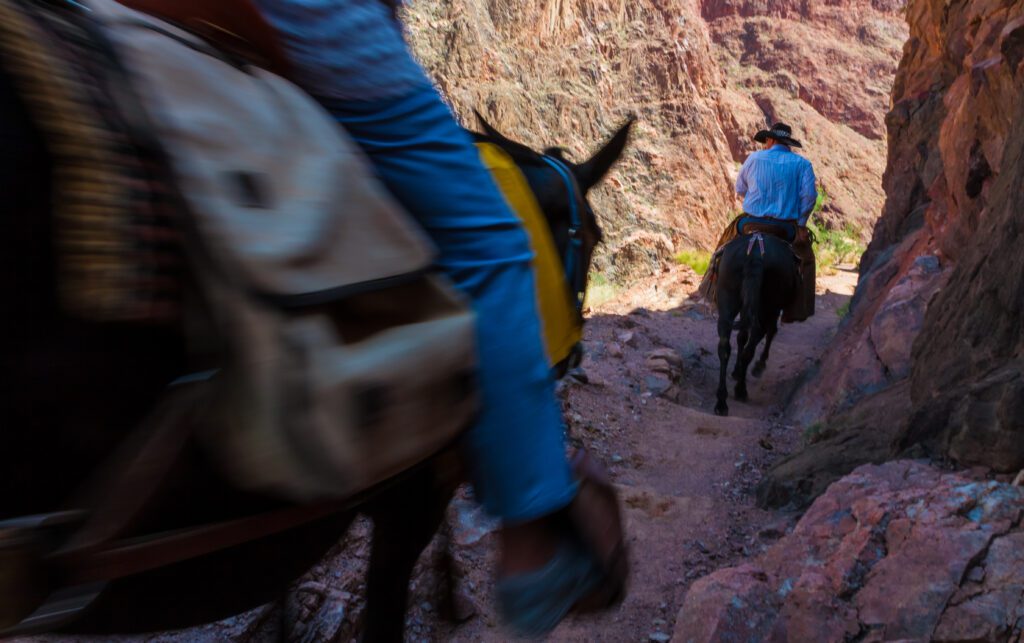 All riders must meet certain criteria or will not be allowed to ride.  Criteria includes: over 9 years of age, under 200 pounds (91 kg or 14 stone) fully dressed, and at least 4'9″ (1.5 m) tall. Make sure you check the parks website for all of the rules and restrictions. Mule rides save your feet but leave other parts of your body very sore.
More Information
If you prefer a more rugged and wild adventure, there are guided hiking trips into the less frequented parts of the canyon. Some of the links listed below will inform you of a some Grand Canyon area outfitters and guides. Do not attempt the wilderness trails without a professional guide unless you are very experienced with desert hiking.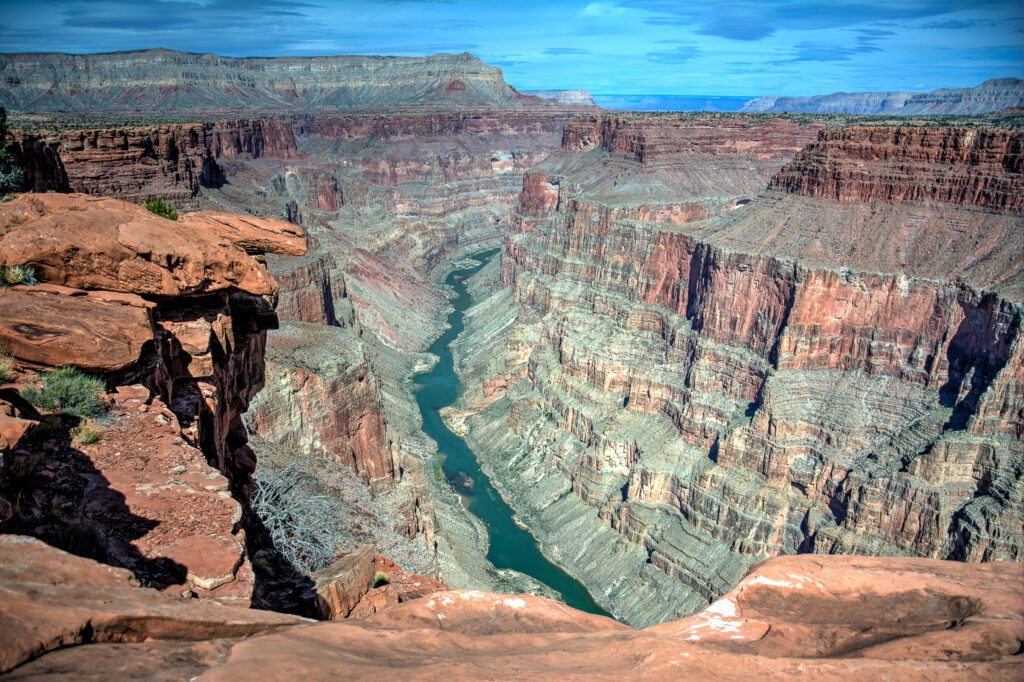 The best times to hike the canyon are in April, October or November. In the winter months you will require cold weather gear. Avoid July and August as temperatures at the bottom of the canyon can reach 120 degrees Fahrenheit (50 degrees C) in mid-summer and water will be scarce. Hiking can be very dangerous at such times.
The official website of the Grand Canyon is an excellent source of information about the Grand Canyon including listings of the facilities and accommodations. It does not offer on-line reservations but it gives you all of the important telephone and fax numbers.
The Grand Canyon Field Institute offers some interesting educational opportunities including wonderful outdoor classes that permit you to explore facets of the canyon while learning.
The Grand Canyon Trust provides lots of information to help you plan your trip to this magnificent place.
Additional USATourist Articles
Arizona Travel Guide