This article provides an overview of things to see and do in Baltimore, Maryland along with useful links to other websites for additional travel related information.
---
At a Glance
Known, as Charm City, Baltimore, Maryland is situated along the shores of the vast Chesapeake Bay nearly 200 miles (over 300 km) inland from the Atlantic Ocean. It is located approximately 35 miles (60 km) northeast of Washington DC and 75 miles (125 km) southwest of Philadelphia, Pennsylvania. With its' iconic Domino Sugar sign and a neon Natty Boh mascot twinkling from the historic National Bohemian building, Baltimore is quirky, full of character and boasts many historically significant attractions.  Let's not forget that this is the city that gave birth to the legendary John Waters, writer and director of Hairspray, which is set in Waters' hometown of Baltimore.  Whether you come to enjoy baseball or football in the stadiums, pick Maryland blue crabs steamed with Old Bay, eat chicken and waffles at Lexington Market, visit Fort McHenry, or hop on and off the water taxi exploring neighborhoods old and new, Baltimore is a fun city break.
The Inner Harbor
The Inner Harbor is the sightseeing hub of Baltimore and is lined with museums, shops and restaurants. Hugging the waterfront, the brick lined promenade of the Inner Harbor boasts shops, restaurants, museum and hotels.  This is also where you can hop onboard the water taxi or harbor cruises.  Docked along the Inner Harbor piers, you will also find: the USS Constellation (the last all-sail war ship built by the navy); the USS Torsk (a World War II vintage submarine); the lighthouse ship Chesapeake and the US Coast Guard Cutter Taney. They are all open to the public for tours. The National Aquarium, the Maryland Science Center,  the Reginald F. Lewis Museum of Maryland African American History & Culture,  Port Discovery Children's Museum, and the World Trade Center of Baltimore are also in the Inner Harbor area.
The Old Neighborhoods
The city of Baltimore has many old ethnic neighborhoods. Little Italy, is located just a few blocks east of downtown. It offers many Italian restaurants, groceries and pastry shops. It is only a 15-minute walk, a 5-minute cab ride or a 10-minute water taxi ride from the center of downtown.  It is not far from the Reginald F. Lewis Museum so can be combined with a visit there.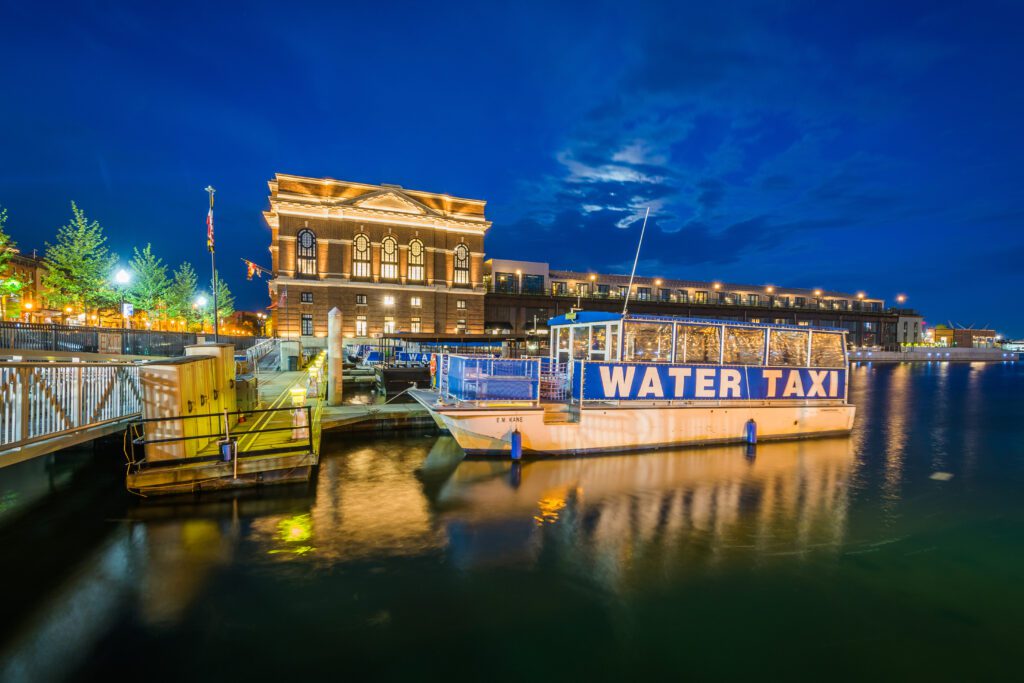 The historic shipyard neighborhoods of Fells Point and Canton are located about 3 miles (4.8 km) east of downtown along the harbor basin. As you wander around the area you see a mix of quintessentially Baltimore row houses, some sporting the painted screens that are now seen as a Baltimore folk tradition, and homes that have been newly gutted and renovated.  There are many great restaurants such as the famous-for-its-mussels Berthas, or just grab a bite at  Broadway Market.  Live music is a regular feature at many of the bars in the Fells Point area.  If vinyl is your thing, check out the The Sound Garden record store, once voted the 2nd best record store in the USA by Rolling Stone Magazine.  You can get to Fells Point or Canton via a 10-minute taxi ride or a 15-minute water taxi voyage.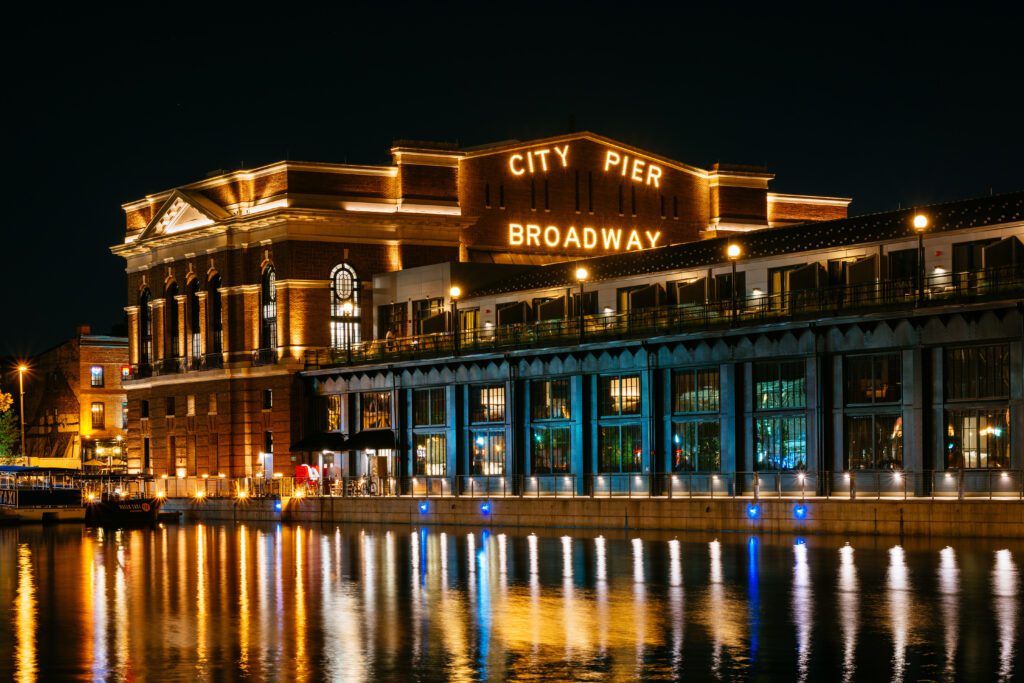 The Federal Hill district of Baltimore lies just south of the Inner Harbor. Its most prominent feature is the low hill situated directly south of the harbor. From its' summit in Federal Hill Park, you get a great panoramic view of the entire city. You can reach it by walking less than a mile south along Light Street past the Maryland Science Center. The surrounding neighborhood is composed of neatly refurbished brick and stone fronted town houses, with small shops, restaurants, stores and neighborhood bars. The Cross Street Market offers a wide array of food from crab cakes to poke bowls and has live music several times a week.
Mount Vernon and Mid-Town Belvedere are also great neighborhoods for less touristy dining and shopping. You can reach these neighborhoods by driving north on Charles St. from the Inner Harbor area. Some attractions in this area include the Walters Art Museum, the Baltimore Symphony Orchestra and the Maryland Opera.
Harbor East is one of the newer areas to be developed and is just east of the Inner Harbor, between the Inner Harbor and Fells Point. It is known for its upscale hotels, shops and restaurants.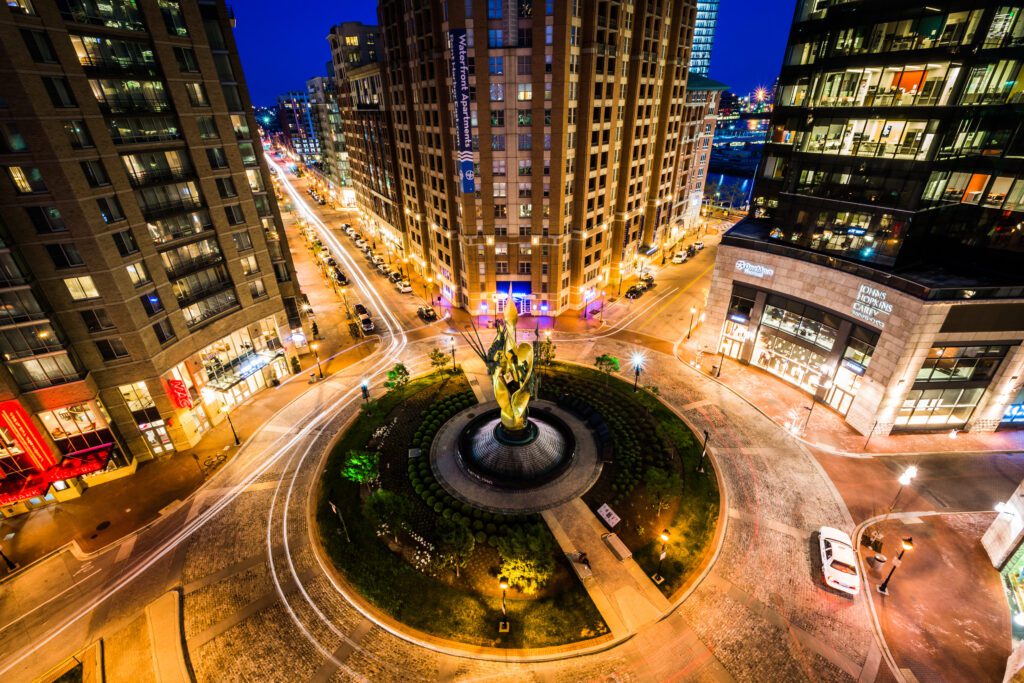 Other Attractions
Fort McHenry National Monument and Historic Shrine, was valiantly defended during the Battle of Baltimore on September 13-14, 1814, which inspired Francis Scott Key to write the poem that became the U.S. national anthem. "The Star Spangled Banner".  It is located at the tip of Locust Point at the end of E. Fort Ave. You can also get to it via the Baltimore Water Taxi purple route, which runs between Fell's Point and Fort McHenry, but only runs during the summer months.
A visit to Baltimore wouldn't be complete without trying Maryland Blue Crab, which gets its' name from the blue coloring on its claws, but once its cooked the entire crab turns red. The two most popular ways to eat Maryland crab is at a crab feast and in a crab cake. A crab feast involves sitting down at a table with a paper table cloth, a bucket for the shells and other waste, a plastic bib, a knife and a shell cracker. Oh, and a roll of paper towels.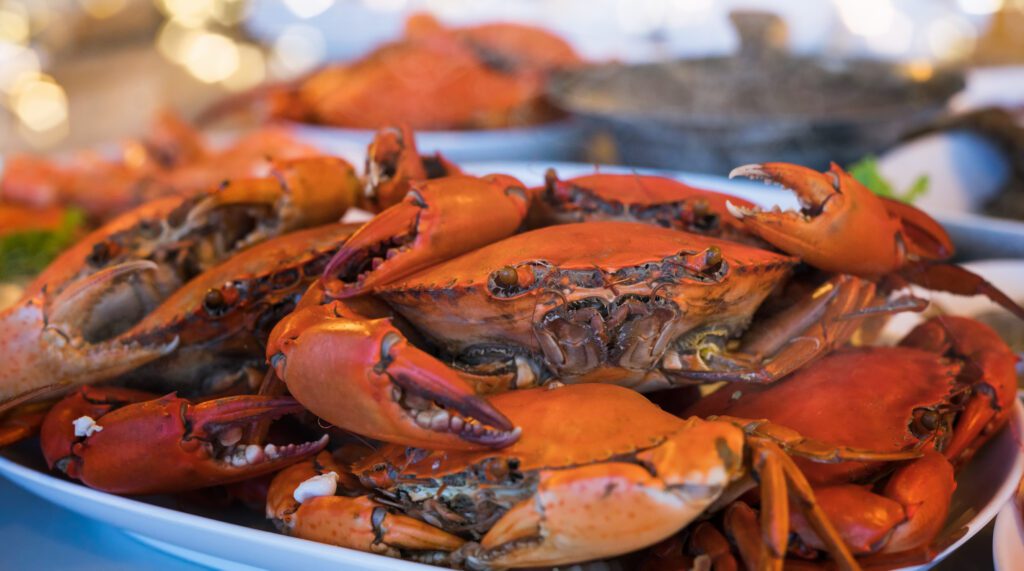 Typically the crabs are steamed in water with lots of Old Bay seasoning although some restaurants have their own special twist on this process. When they're ready they will be dumped in the middle of the table and everyone digs in and stats "picking crab". Crab cakes are a different experience since the crab meat is already picked for you, mixed with breadcrumbs, herbs and seasonings and either fried or broiled, then served with a platter of side dishes or on a sandwich with coleslaw and fries.
I can recommend Obrycki's, but there are a number of places serving Maryland crabs in and around town. It you are looking for a place with some atmosphere try Captain James Seafood Palace, with its' building that looks like a ship or The Rusty Scupper for a nice view of the Inner Harbor.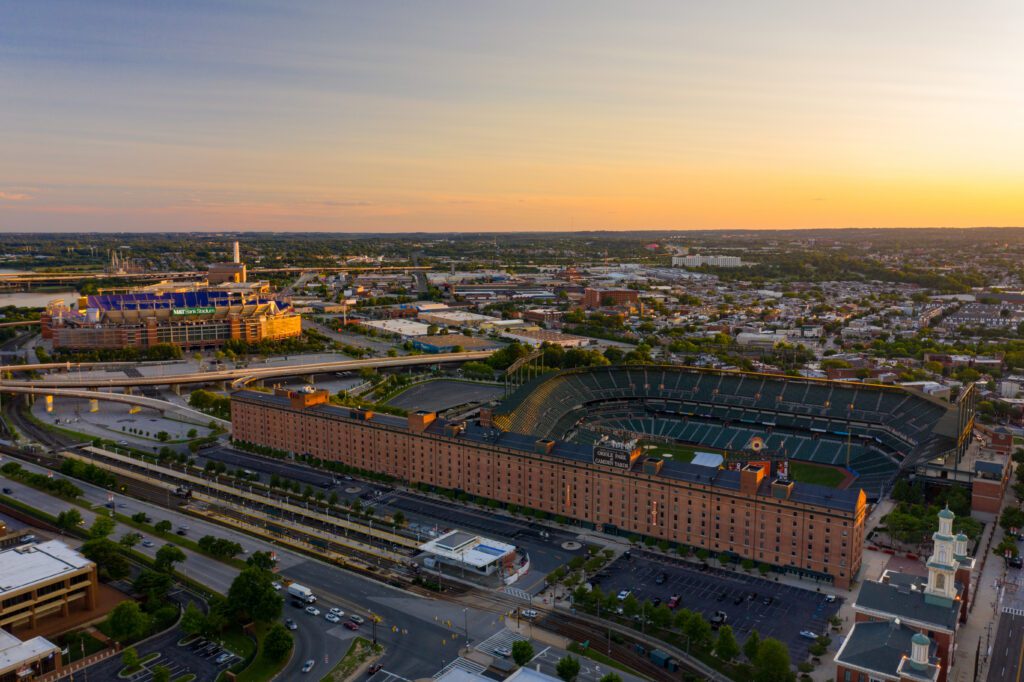 Baltimore has an MLB baseball team, the Orioles, who play their games at the beautiful Camden Yards stadium just a few blocks from the Inner Harbor. They also have a NFL football team, the Ravens, that play in M&T Bank stadium just south of Camden Yards. The famous thoroughbred horse racing track, Pimlico Race Course, home of the world famous Preakness is also nearby.
Getting There
By Air
You can fly into Baltimore Washington International Airport (BWI) which is only a half-hour drive south of downtown. There are plenty of public transportation options from BWI to downtown Baltimore.
By Car
You can drive to Baltimore from New York City or Philadelphia by taking Interstate 95 south. It is only 4 hours from New York City and only 2 hours from Philadelphia. From Washington DC it is less than 1 hour north on Interstate 95 or a bit longer if you take the Baltimore Washington Parkway or old Route One.
By Rail
AMTRAK's east coast line connects Florida to New England and stops at both BWI and Baltimore's historic Penn Station. The MARC Train runs during commuter hours on weekdays between Baltimore and Washington DC.
Additional Resources
VisitBaltimore.org is the official travel site for Baltimore.
ExploreBaltimore.org provides information about things to do, tours and trails, news and history of this city.
Nearby Attractions
Annapolis, capitol of the state of Maryland and one of the oldest cities in the USA, is located just 25 miles (40 km) southeast of Baltimore. It is a lovely little city located in a picturesque setting on the Chesapeake Bay with some of the best preserved 18th and 19th century architecture in the country. It is home of the U. S. Naval Academy and home of St. John's College, originally founded in 1696. This historically significant attraction is only a 30-minute drive from downtown Baltimore.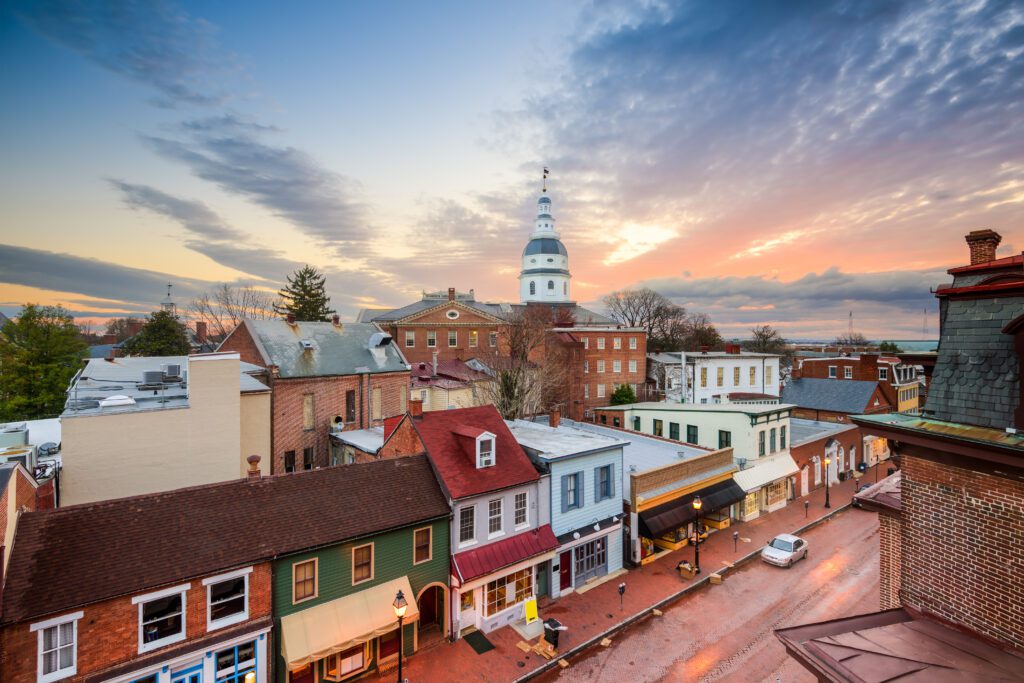 Ellicott City is a charming village with a restored historical district located just a few miles south of the Interstate 695 beltway around Baltimore. The central business area has a selection of quaint shops, art galleries and restaurants.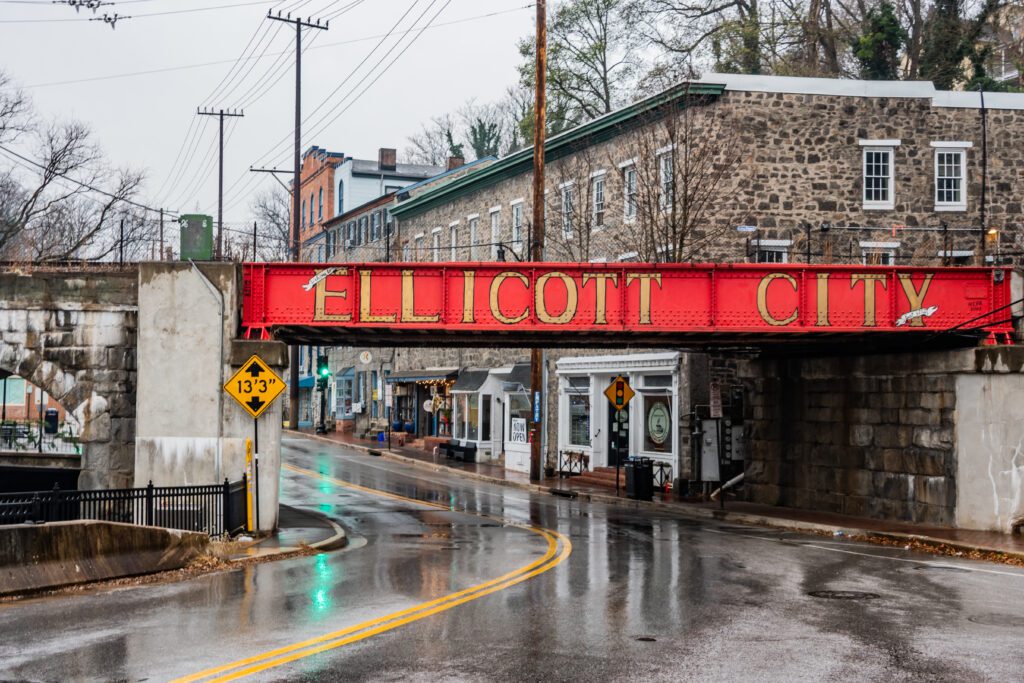 Washington DC, our nation's capitol, is less than a one-hour drive south of Baltimore. You can take the MARC or the AMTRAK trains to Union Station, you can drive to one of the park and ride lots in the DC suburbs or you can drive all the way to downtown Washington. There are so many monuments, museums and historical attractions in the city that I will not attempt to list them all. It is one of the best tourist destinations in eastern USA.