This article describes how to plan a trip to Disney World in Orlando, Florida and provides useful tips and links to other Disney planning resources.
---
Introduction
So you want to start planning a trip to Disney World Orlando, but aren't sure how to start? This article will describe what you need to do and when you should do it so that you can make the most of your magical Disney visit. If you are not familiar with Disney World Orlando you might be wondering, why do I need to put so much effort into planning my trip? Why can't I just turn up, purchase tickets and go have fun?
There are several reasons for this:
Since Disney re-opened from the COVID-19 closure they have required visitors to not only purchase a ticket, but to also make a reservation for a specific park on a specific day in order to enter that park.
The parks have been very busy over the past year so booking early will ensure you can not only get into the parks, but have the best chance of obtaining the dining reservations, lightning lane passes and other extras you might want.
Visiting Disney is not cheap so you will want to plan ahead to ensure you get your money's worth.
Disney Orlando is big, consisting of four theme parks, two water parks, many resort hotels and Disney Springs.
Research Phase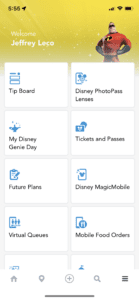 Start your planning by visiting the Disney World Orlando website, setup an account and download the MyDisneyExperience app to your smartphone. Here you will find lots of information about the Disney parks, resorts, restaurants, rides and much more. If you are not familiar with Disney Orlando I would start by looking at a map of Disney World. This will give you an idea of where everything is in relationship to each other. You will also find information about all of the free transportation options available in and around Disney Orlando here. Check out our article Orlando and Kissimmee, Florida Trip Planning Resources for our favorite websites, blogs and YouTube channels to find the latest information about Disney. Disney also has a website dedicated to planning your trip.
Check to see how busy the parks you wish to visit are by searching the internet for "Disney crowd calendar" and view several different pages to get a feel for what to expect when you wish to go. General rules are holidays and weekends are more crowded than other times. The slowest month is usually September. Thanksgiving, Christmas / New Years and US Spring Break (March/April) are the busiest. Hurricane season is from June to November and can impact your trip without much notice. Visiting Disney when the parks are less busy not only makes your park experience much nicer, but it will also cost you less as everything from park tickets to lodging will be a little cheaper than on more popular dates.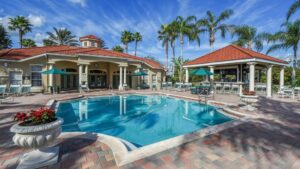 We suggest planning for an entire day in each park that you wish to visit, including water parks, as you can easily spend 12 to 14 hours in a single park and still not see and ride everything. For example, if you just wanted to visit all 4 Disney parks we recommend staying in Orlando for 5 days plus two travel days. This will give you one day in each park and a day in the middle for a much needed down day to spend at the pool.
Start planing your budget for the trip by estimating the costs of park tickets, transportation, food and lodging. Park ticket prices can be found on Disney's website, airline ticket prices can be found at your favorite travel booking site, and lodging prices can be found at various places depending on where you want to stay.  This includes Disney's site, travel booking sites, AirBnB, VRBO and, of course, our affiliated site: YourFloridaVacationVillas.
Once you've completed the research phase, you should know what dates you plan to travel, how many days you plan to stay, which theme parks you want to visit, what restaurants you want to try and how you will get to and around Disney once you arrive.
Booking Phase
Complete at least three months prior to departure.
We recommend booking your lodging three to six months prior to departure. The majority of people tend to book their trips from just after New Years in January to the end of April in any given year so if you book your lodging the prior year before Christmas you will most likely be able to get the accommodations you want. If you are more flexible you can always wait until after April and try to get a better deal, but you may have to settle for whatever is available rather then the specific place you had in mind. Most lodging cancellation policies allow for a full refund, if canceled within a reasonable time frame, so you can always try to move the dates or cancel completely if you find that your accommodation booking doesn't work with your airfare.  Be sure to check the cancellation policy before making any bookings.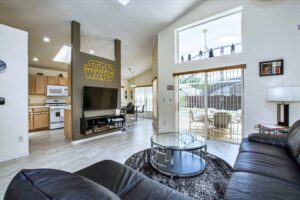 If booking a Disney resort we recommend booking directly with Disney. You may be able to save a bit of money by using Costco Travel or AAA, but may also be limited to the specific packages they have to offer.
If booking with a hotel we recommend any reputable booking site.
If booking a house we recommend our affialiated company at YourFloridaVacationVillas. If you feel more comfortable booking through AirBnB or VRBO our affiliated villas are available there as well, you will just pay a bit more because AirBnB and VRBO charge additional fees. If you want to read more about renting a house check, out our article "Why Rent a House or Villa When Staying in Kissimmee or Orlando, Florida?" or go to "Our Florida Neighborhoods" to read about the neighborhoods in which our villas are located.
If you are traveling from outside the United States, travel agents in your country may have access to special packages or deals that are not available in the United States, which may be more economical than those I've stated above.
Complete at least one month prior to departure.
We recommend booking your airfare and Disney park tickets at least one month prior to departure as Disney park tickets are non-refundable and most people book the cheaper non-refundable airline tickets so you want to be sure you will be able to travel. We recommend purchasing Disney park tickets directly from Disney, as Disney does not offer any discounted tickets through other retailers. You will definitely want to stay away from all of the "cheap Disney tickets" places around Kissimmee and Orlando as these places usually don't offer legitimate tickets. The only exception to this is, if you are traveling from overseas, you may be able to get special package deals to Disney that are not available from within the U.S., but make sure they are a reputable company. We typically only purchase park tickets without the park hopper option as each park can easily take the entire day to explore.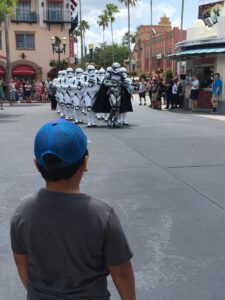 When you purchase Disney park tickets you can buy a single day ticket all the way up to a 10 day ticket. The more days you purchase the cheaper the price per day cost. However, if you purchased a 3 day ticket and decided to add on an extra day, Disney will allow you to extend your ticket at the multi-day discounted rate anyway as if you purchased a 4 day ticket in the first place. Adding extra days as you need them once you are at Disney could ensure you don't buy too many days up front and then don't use them all. This is how the "cheap ticket" places get their cheap tickets; they purchase tickets from Disney guests who didn't max out their number of days then add on the extra days and sell them to the public. However, Disney is aware of this and does not allow tickets to be re-sold or re-used like this except under certain circumstances (i.e. possibly between family and friends). Disney discourages this by scanning your fingerprint the first time you enter one of their parks. Every subsequent time you enter a Disney park, your fingerprint gets scanned again along with your ticket and, if they don't match, you  may have to sort it out at guest services or could be denied entry entirely.
You should also make your park reservations at this time as well. This means that you will have to decide which parks to visit on which days. An internet search of "Disney crowd calendar" will give you sites that break down each Disney park's crowd size for days of the week. We try to visit the most popular parks on the least busy days of the week. For example, if we were going to Disney for five days, on a Monday through Friday, we would break it down as follows.  We would reserve Hollywood Studios for Monday or Tuesday as this park has been the busiest ever since Star Wars: Galaxy's Edge opened; the beginning of the week us usually less busy than later in the week and on weekends. We would also try to do Magic Kingdom earlier in the week. We usually go to EPCOT last, as this park has lots of space and doesn't feel as crowded as the other parks. If you have children, especially younger ones, it is nice to schedule at least one down day in the middle of your visit as going to a park a day can be over-stimulating for them. The adults may also want a rest as well since you will be doing a lot of walking (Disney parks cover a lot of ground!). You may want to go to one of the many water parks in the Orlando area or just chill out by your swimming pool.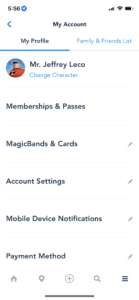 Once you have your park tickets and reservations, make sure they are linked to your Disney account so that you can start using Disney's Genie to plan each day in the parks. Each person who has an account should add all of the other people in your party to their "Friends & Family" list under their profile as well. You will definitely want to make dining reservations for any sit-down restaurants at which you want to eat. You can also start to plan out each day and make a list of your top rides in each park so that you know which Lightning Lane passes to get if you plan on purchasing Genie+. Even if you don't purchase Genie+, getting to the park at opening time and going straight to your top two or three rides first, provides the best chance of encountering shorter wait times. Check out our article "Minimizing Wait Times at Walt Disney World, Universal Studios and SeaWorld" and if it's an extra special occasion check out "Be a VIP in Orlando and Kissimmee, Florida!" and go to the Disney section.
Once you've completed the booking phase you should have taken care of the following:
Booked and reserved lodging
Booked travel & transportation (i.e. airlines, cars, buses, etc.)
Purchased park tickets and made reservations, including any sit-down dining options
Set up a Disney account and downloaded and configured the MyDisneyExperience app (i.e. linked tickets, added friends & family, started planning each day with Genie, etc.).
Fun Phase
After all that research, planning and booking you're finally here in Florida and ready to hit the parks!
Complete each morning before going to each park.
If you wish to purchase Genie+ you should do so now. If you are staying at a Disney resort or one of their affiliate hotels, you can start reserving Lightning Lane passes, either A La Carte or using Genie+, two hours before the park opens. Otherwise, you will have to wait until the park opens to do this.
Allow time to travel to the park. Disney buses can get crowded and can be slow as they make multiple stops, so allow for additional travel time. If you are driving to a park, allow for time to park your car and to make your way to the entrance. Another option is to book an Uber, Lyft or private Disney car to take you to the park.
Things to do once you are in the park.
If you've purchased Genie+, remember that you can get one additional Lightning Lane pass every two hours from the time you got the last pass.  Remember to keep checking to see if a pass is available for something that you want to ride, but that didn't make the top three rides that you booked first. This also goes for A La Carte Lightning Lane passes.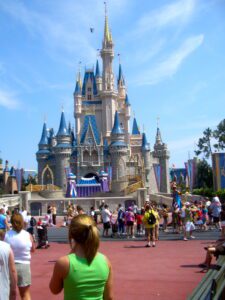 If you want to eat at one of the quick service restaurants, but don't want to wait in line you can order your meals before hand using the MyDisneyExperience app and pick up your meals when they're ready. Be sure to order early as some of these places may have long wait times, especially when the parks are busy.
The MyDisneyExperience app provides you with lots of useful information like a park map and ride wait times. However, sometimes the actual wait times aren't current. If there is a ride you really want to do, but the app says the wait time is really long, it's worth going to the ride entrance to see if the wait time posted at the entrance is really as long as the app says. You might get lucky and find the actual wait time to be shorter and hop on.
All this planning can sound daunting but, especially if you can only travel during peak times, it will help you make the most of the money you are spending to go to Disneyworld.  If you can travel in off peak times, you will have more latitude to just 'wing it'.
Either way, enjoy yourself! A day at a Disney park can be crowded, hot, humid and tiring. You've spent all this money, but your kids are having melt-downs and you're arguing over whether to wait 45 minutes to ride Space Mountain or have an early lunch. This is the time to stop, take a few breaths and remind yourself that this is supposed to be fun. Perhaps compromise, ride the Carousal of Progress, get a cold drink and a snack. It typically has very short wait times, is air conditioned and can provide some time for everyone to chill out (and is still one of our 'cheesy' favorites). Then go for lunch, regroup and decide what everyone wants to do for the rest of the day. Remember, it's only as hard as you make it, so make it enjoyable. After all, you're at the most magical place on earth!
This article was originally published on the Your Florida Vacation Villa Blog and is being republished here with their permission.