This article provides an overview of things to see and do in Sarasota, Florida along with useful links to other websites for additional travel related information.
---
At a Glance
The City of Sarasota and the surrounding area are known as the cultural hub of Florida. An abundance of sun, sand and water provide a stunning backdrop to museums, botanical gardens, wildlife sanctuaries and professional theater, dance, art and music. Officially recognized as having the finest, whitest sand in the world, beach life couldn't be better than here.
Year-round outdoor recreation and water sports abound, as the Gulf of Mexico, Sarasota Bay, the Myakka River, Lemon Bay, and the Inter-coastal Waterway surround the area. The average daily temperature range is from 72 degrees Fahrenheit (22 degrees Celsius) in January to 91 degrees Fahrenheit (33 degrees Celsius)  in August, which is one reason why this area is so popular with tourists at any time of the year. In any month, there are usually 22 sunny days, a real cure for the gloom of winter.
Attractions
Ringling Museum Complex
The John and Mabel Ringling Museum of Art and the Circus Museum are located at the intersection of US 41 and University Parkway just south of the Sarasota-Bradenton International Airport. The main building of this Venetian palace is Ca d'zan, the former winter home of the Ringlings, with 2-story vaulted ceilings, a crystal chandelier from the Waldorf-Astoria Hotel in New York City and wall hangings depicting figures from mythology. The Ringling Museum is best known for its 17th-century Baroque paintings in one of the world's most important collections. For a visual treat, take the opportunity to tour the outside of this unique and dramatic complex with its tropical palm trees, manicured lawns, and location on the bay.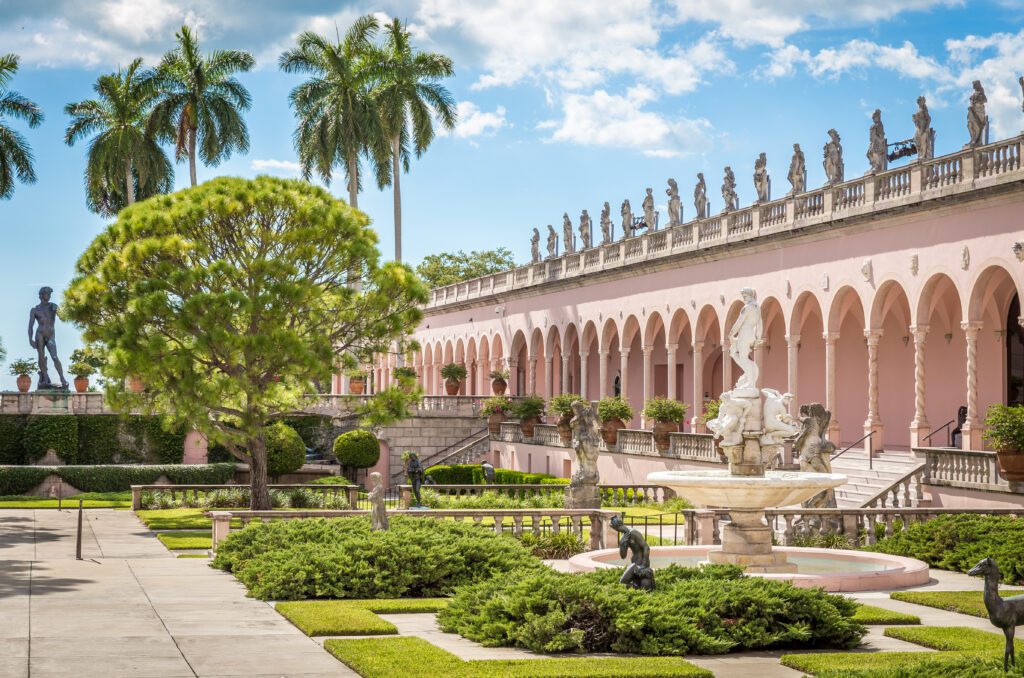 Are classic cars more your speed? Then don't miss the Sarasota Classic Car Museum, just south of the airport and across the street from the Ringling Museum on US 41. This is the third oldest car museum in the United States. Three cars owned by the Ringling family now reside here.
Marie Selby Botanical Gardens
Experience nature in full bloom at Marie Selby Botanical Gardens, a 9.5-acre tropical oasis on the sparkling shores of Sarasota Bay. Here you will encounter the world's most spectacular living collection of rare tropical plants in open-air and under-glass displays, including more than 6,000 orchids and 3,600 bromeliads in incredible living color. More than 150 scientific expeditions to rainforests around the world have contributed to their collection of more than 20,000 living plants, truly a wonder to see.
Save Our Seabirds Sanctuary
Appreciation of the natural environment abounds in this tropical palm-treed community. The theme of the Save Our Seabirds Sanctuary, formerly known as Pelican Man's Bird Sanctuary, located at 1708 Ken Thompson Parkway, is conservation and protection of birds along with providing a home for injured, rehabilitated and rescued birds. Many native Florida birds as well as migratory birds from all over the world can be seen at this wildlife retreat.
Mote Marie Laboratory and Aquarium
Next door to the bird community is the Mote Marine Laboratory and Aquarium, the Center for Shark Research and the Sarasota Bay National Estuary Program, located at 1600 Ken Thompson Parkway on an eleven-acre site fronting on Sarasota Bay. The marine aquarium has over 200 species of fish and invertebrates. The Mote Laboratories also conducts research and rehabilitation programs for marine life.
The Barrier Islands
Anna Maria Island is a bit to the north of Sarasota and just west of Bradenton, but its a very popular island to visit with a seven mile strip of beautiful white sand beaches that are home to resorts, restaurants and shopping.
Longboat Key is just to the south of Anna Maria Island and is the longest island in this area. Similar to Anna Maria Island, Longboat Key also has beautiful white sand beaches that are home to resorts, restaurants and shopping as well as waterfront golf.
Lido Key is directly west of Sarasota and is a relatively small island that also has beautiful white sand beaches that are home to resorts, restaurants and shopping as well as a labyrinth of mangrove tunnels that you can explore with a kayak.
Siesta Key is just southwest of Sarasota and also has beautiful white sand beaches that are home to resorts, restaurants and shopping.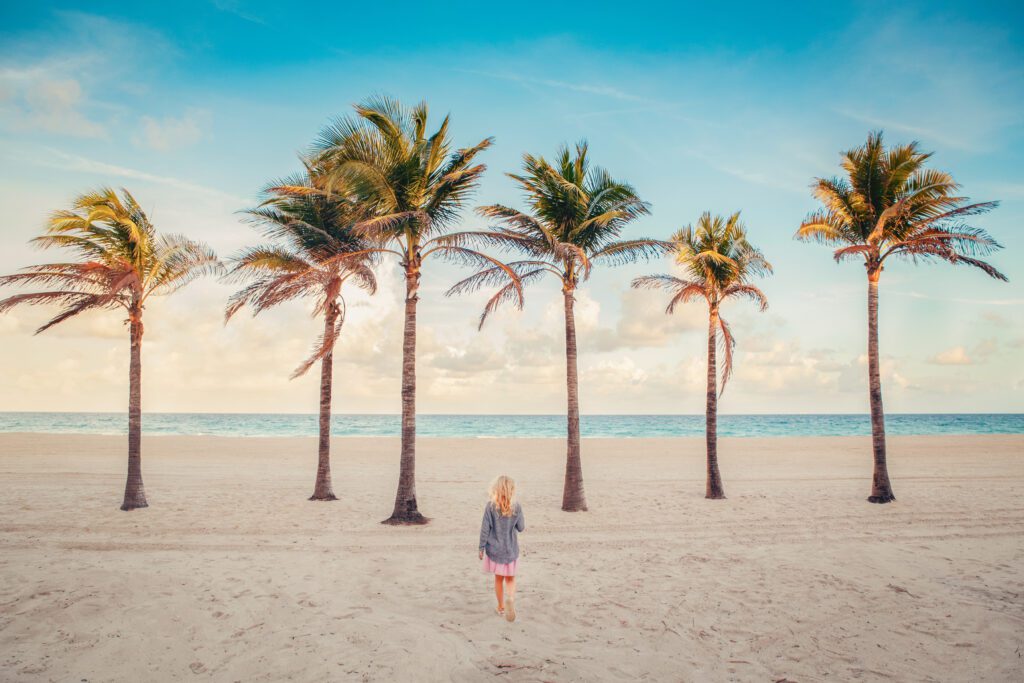 Getting There
By Air
There are two international airports near the City of Sarasota: Tampa International Airport (TPA), which is one hour north of Sarasota and Sarasota-Bradenton International Airport (SRQ), which is just northeast of town. There are buses, taxis, limousines and car rental services at both airports to get you into the city.
By Car
Sarasota is just west of Interstate 75, which is the main north-south highway on Florida's west coast. It is also just south of Interstate 275 if you are coming from St. Petersburg or Clearwater.
Additional Resources
Florida State Tourist Office (Visit Florida – Sarasota)
Related USATourist Articles
Florida Travel Guide