This article provides an overview of cruising Alaska's inside passage along with our own personal experiences on the two inside passage cruises we have done including choosing a cruise line, typical itineraries and ports of call, shore excursions and other add-ons.
---
Alaska, and in particular the inside passage, has become one of the most popular cruising destinations in the world. We've done two inside passage cruises now with two different cruise lines and they were both fantastic. We would even consider doing another one because there are still so many sites and places that we did not see. What makes the inside passage different from most other cruises, except for a Norwegion Fjords cruise, is that you almost always have land in sight and, sometimes closer then you'd expect. You can look for whales out of one side of the ship and grizzly bears out of the other.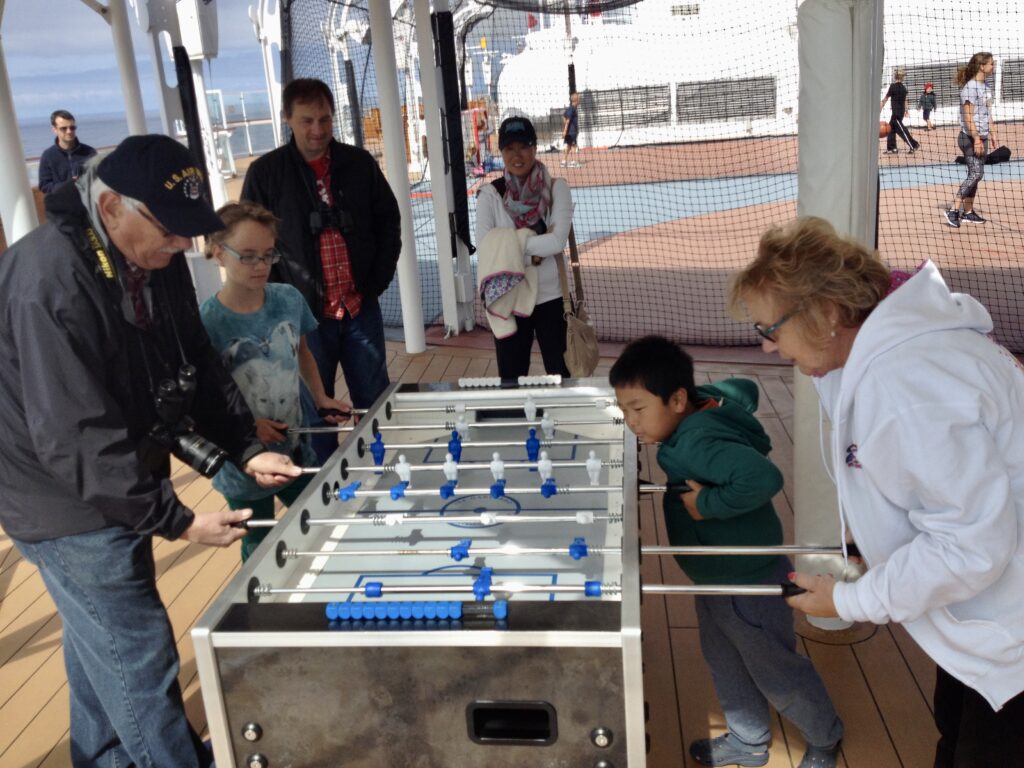 We did our first Alaska cruise near the end of August with extended family members and kids ranging from 7 to 11. We choose the Disney Cruise Line because we had taken a short Disney cruise to the Bahamas, really enjoyed it and thought it would be the best fit for our family. August is normally more rainy, but we really got lucky as most of the days were warm and sunny. Our second Alaska cruise was done is early May and, once again, we had some extended family with us, but now with older kids. We chose Princes Cruise Line this time as we had done a Princess cruise previously and really enjoyed it.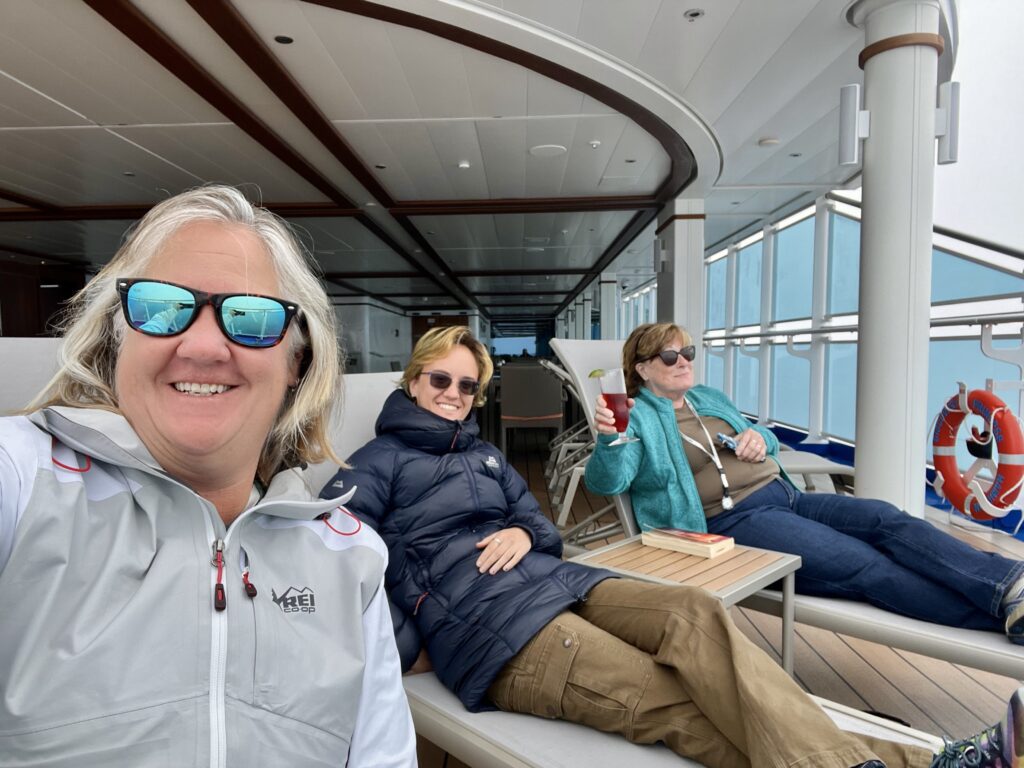 Choosing a Cruise Line
There are many cruise lines offering Alaska cruises, from smaller boutique ships to main stream lines and everything in-between. Here are the 3 main differences you'll find between cruise lines: size of ship, price and itineraries (ports of call). In general, the smaller the ship the more expensive it will be, but they may offer different itineraries and ports of call than the more standard ones offered by the main stream cruise lines. However, even the large cruise lines don't operate their largest ships on this route due to the size limitations of the ports and terrain of this area.
When selecting a cruise line one important consideration is whether you want to cruise into Glacier Bay National Park & Preserve as they only give permits to certain cruise lines every year so if you want to see this amazing place from the comfort of your cruise ship make sure the cruise line you choose the right line.
Typical Itineraries and Ports of Call
Juneau, Ketchikan, Skagway, Sitka, Victoria B.C., Glacier Bay or Endicott Arm with Dawes Glacier or Tracy Arm with Sawyer Glacier are all typical options for Alaska's Inside Passage itineraries. The number of ports of call depend on the number of nights you are sailing and cruises typically only include one fjord and glacier tour so if your itinerary includes Tracy Arm you will probably not be going to Glacier Bay or Endicott Arm.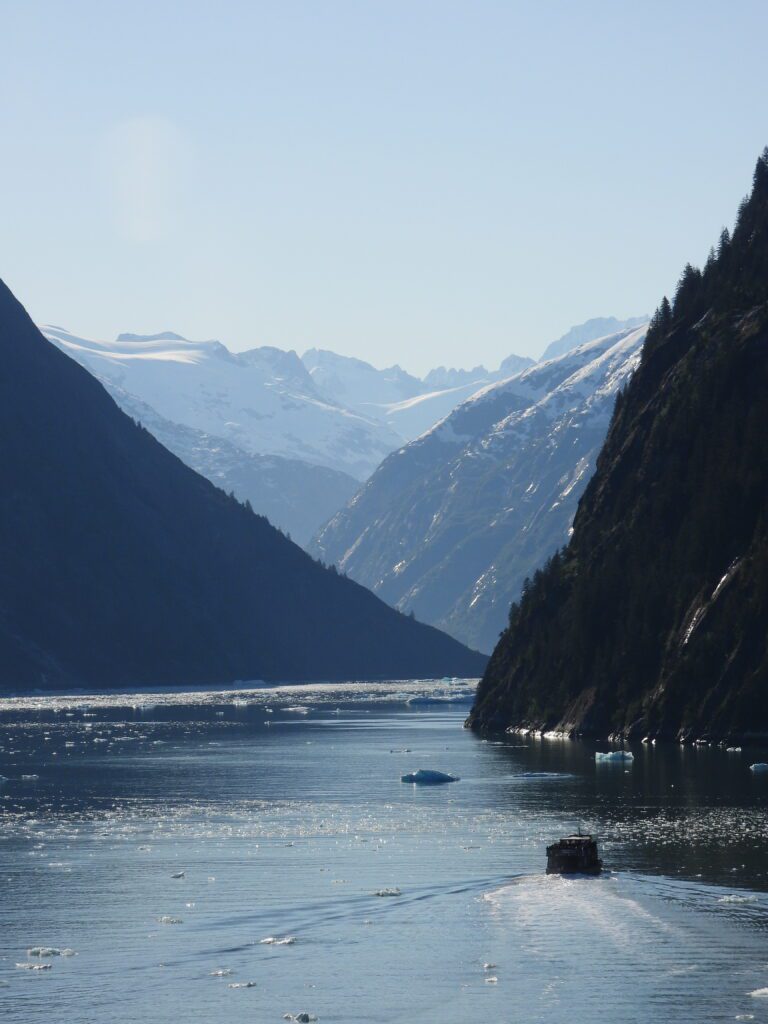 Both of our inside passage cruises had the same ports of call: Skagway, Juneau and Ketchikan. The only differences were the order in which we went to each port and the fjord and glacier that we visited. Our first cruise with Disney went to Tracy Arm and the Sawyer Glacier while the second Princess cruise went to Endicott Arm and the Dawes Glacier. However, we didn't actually get to see the Dawes Glacier because there was still too much ice in the fjord for our ship to get close enough. The fjord was still specular to see, but if you want to make sure you see a glacier it is best to go later in the season or go to Glacier Bay, which is much larger then the fjords.
One Way or Round-Trip
There two basic types of Alaska cruises: One Way and Round-Trip. Round-trip cruises are typically 7 nights while one-way cruises may be a bit longer.
One Way
A typical one way cruise will take you from either Seattle or Vancouver, through the various inside passages, stopping at various ports of call and ending at Whittier near Anchorage from where you will fly home. This trip can also be done in the opposite direction, flying into Anchorage, cruising out of Whittier, through the inside passage, stopping at various ports of call and ending at either Vancouver or Seattle.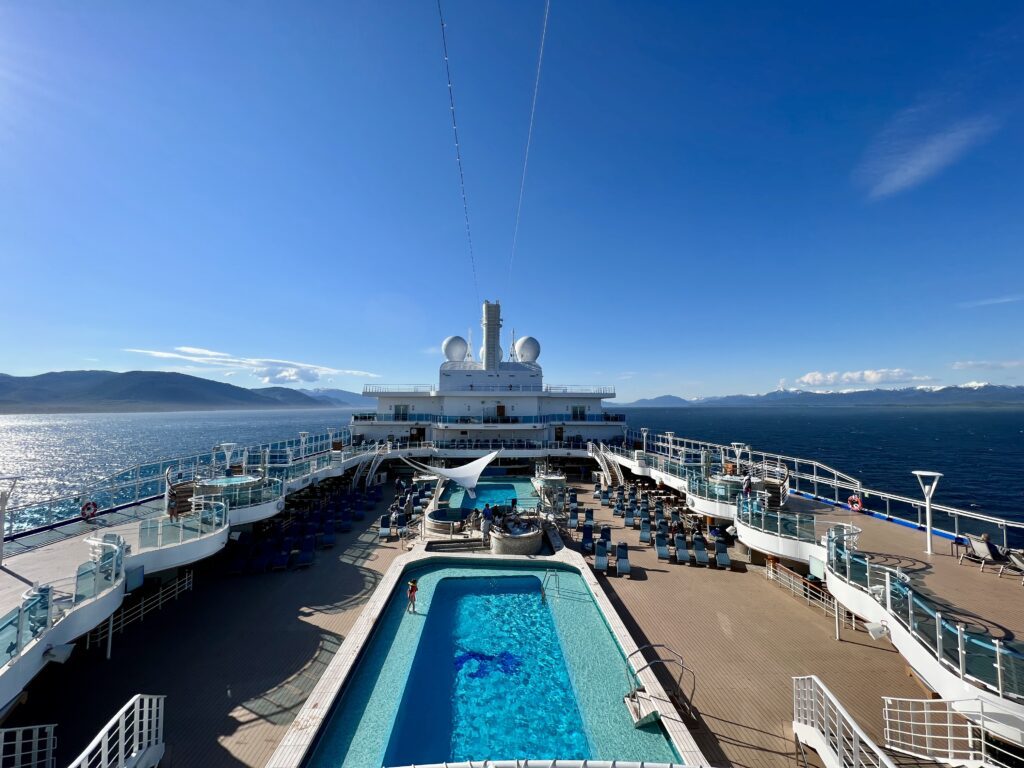 Round-Trip
Round-trip cruises typically leave from either Vancouver or Seattle, cruise up the inside passage stopping at various ports of call, up to Skagway or Glacier Bay then back via the sea or up to Skagway or Glacier Bay via the sea then back through the inside passage, stopping at various ports of call then back to your embarkation city. Both of our cruises were round-trip, but our next one will probably be a one-way and incorporate a trip to Denali National Park & Preserve.
There are cruises that leave and return to other United States west coast cities, but they take longer to reach the inside passage.
Shore Excursions and Other Add-Ons
There are lots of different shore excursions to do in Alaska. Some of the more popular ones are taking a helicopter or plane ride to see a glacier, wildlife spotting trips from a boat or sea plane, native alaskan cultural experiences and salmon bakes.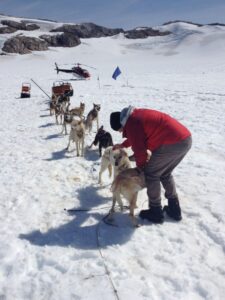 Juneau
Some of the popular and unique shore excursions here include: Helicopter tours of the Mendenhall Glacier, Dog Sledding on the Mendenhall Glacier and the Juneau Tram Ride. On both of our cruises we did helicopter tours. The first time involved a scenic helicopter ride up, over and through mountain peaks offering amazing views of the glacier from the air and landing on the Mendenhall Glacier at the dog sled camp. We met our dogs, took turns driving the sled then fed the dogs and played with some puppies before flying back down to the heliport. Our second time involved a similar scenic helicopter ride up to the glacier, landing and walking around the glacier with a guide then returning to the heliport. Both were amazing and, although not the cheapest shore excursion, well worth the experience.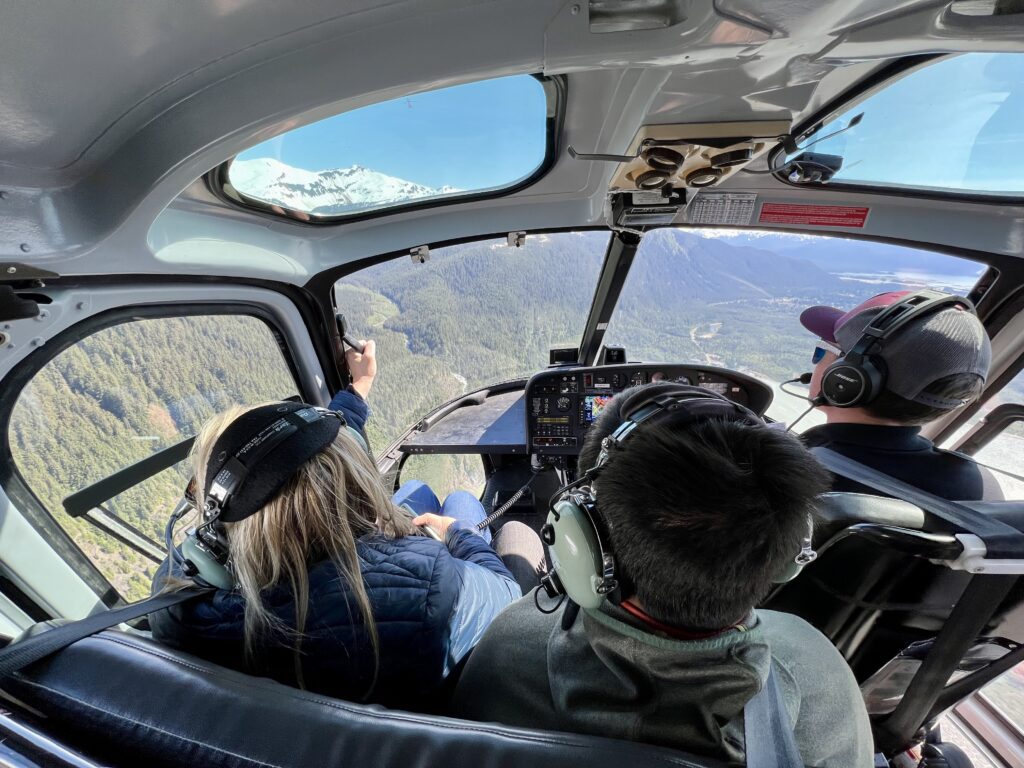 Ketchikan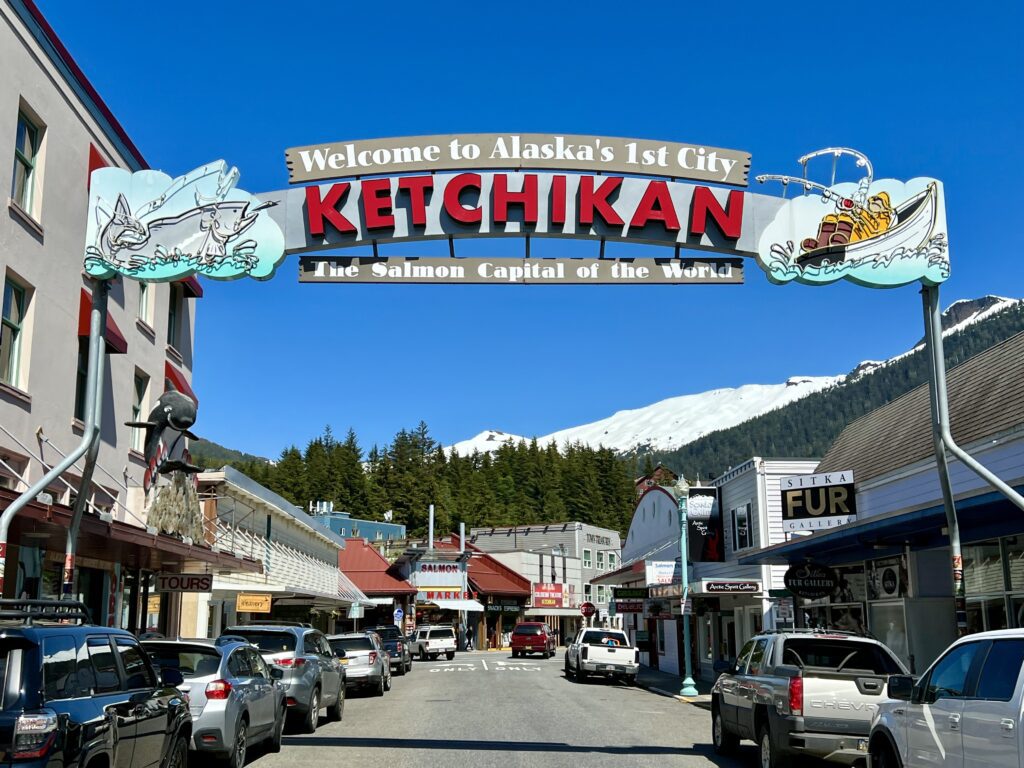 The town of Ketchikan is best known for the Great Alaskan Lumberjack Show and Creek Street. The lumberjack shows run throughout the day and last about 1 ½ hours so you can easily do one of these shows as well as another excursion while in port here. Creek Street used to be where all of the brothels were back in the gold rush days, but is now home to eclectic souvenir shops.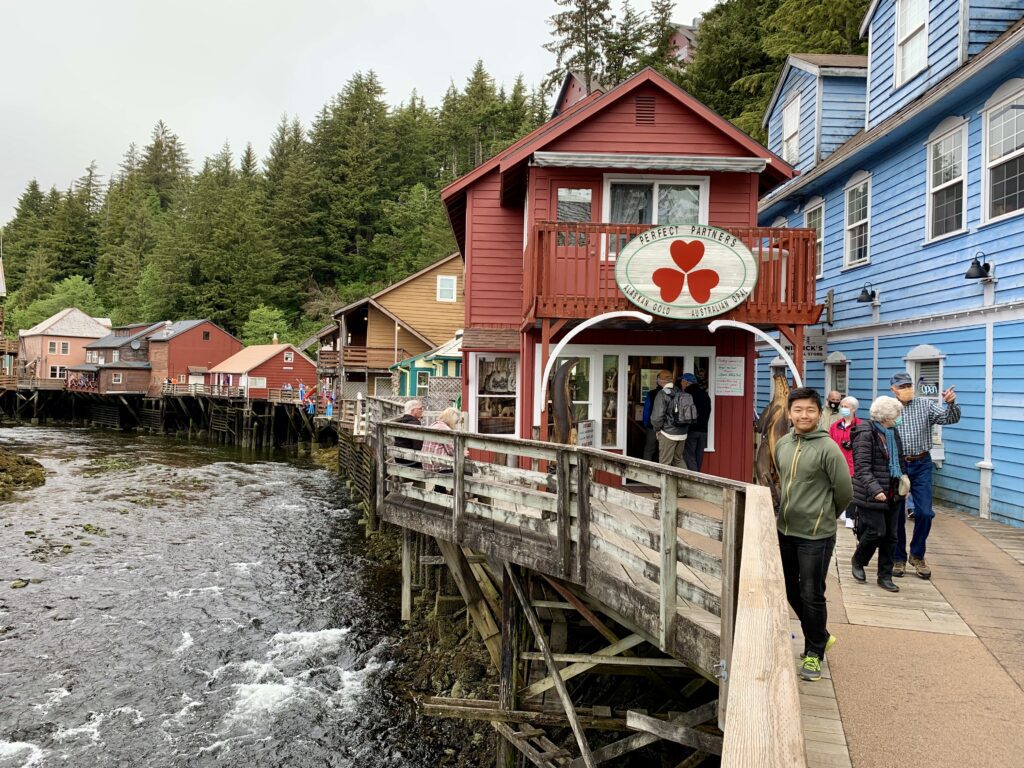 On our first trip here we went on an easy guided nature hike that culminated in all of us having a mother grizzly bear and her two cubs stroll past us about 20 feet (6 meters) away. On our second trip here we just explored the town, saw a number of native Alaskan totem poles and shopped in the numerous souvenir shops.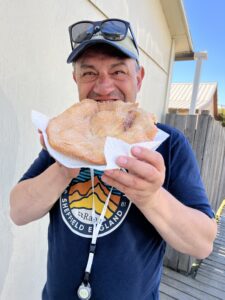 Skagway
Skagway was once the gateway to Alaska's gold rush and one of the more popular excursions here is the White Pass Scenic Railway tour, a 3 hour out-and-back trip along the side of a mountain with amazing views. The train convieniently departs from and returns to the pier entrance. On both of our trips to Skagway we took a smaller boat to Haines, which is where most of the wildlife activities are located. On our first trip we went to a native Alaskan village, watched a performance and made a souvenir drum using native Alaskan designs.  On our second trip here we did a jet boat wildlife viewing tour in the Chilkat Bald Eagle Preserve where we saw bald eagles and moose. On both trips we had time to explore the town a bit, do some souvenir shopping and try some traditional fry bread.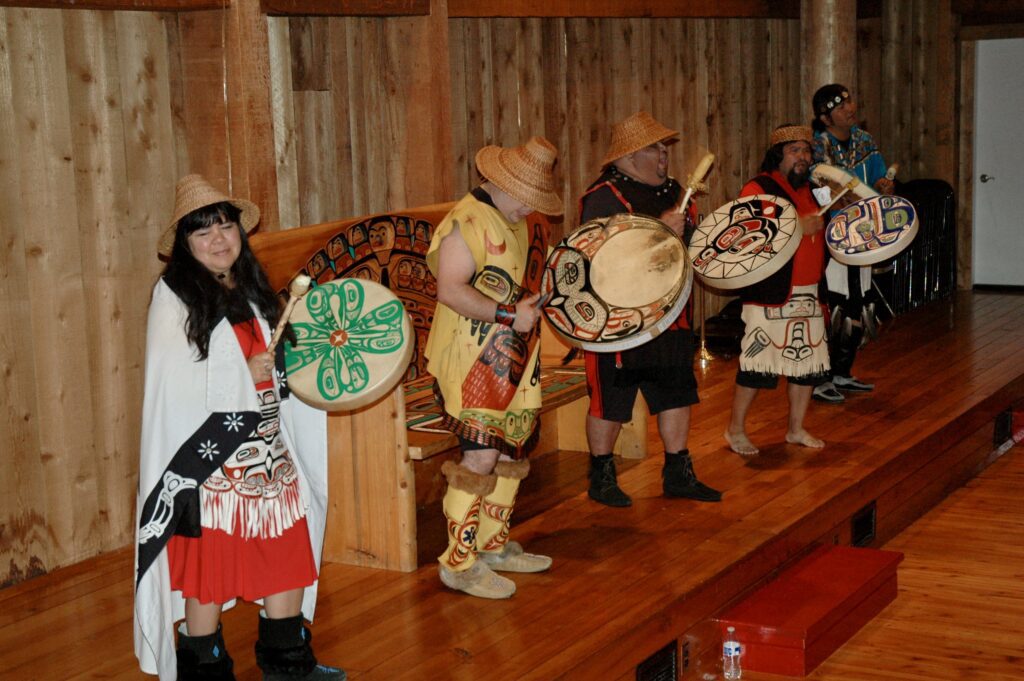 Add-Ons
Many cruise lines that do the one-way trips offer add-on trips, sometimes called cruisetours, of which the most popular is a trip to Denali National Park & Preserve. This can either be done before the cruise or after the cruise depending on whether you cruise north or south and involves taking a scenic train ride between Anchorage (Whittier) and Denali and staying at one or more lodges near the park.

Best Times to Visit
The Alaska cruise season is 5 to 7 months long depending on the cruise line, starting in April and finishing in October. June, July and early August are the most popular times to visit as that's when schools in the United States and Canada have summer vacation and it's also when Alaska experiences its longest days. Earlier in the season you are more likely to see new-born wildlife or hungry bears just coming out of hibernation. Different types of salmon make their upstream runs at different times throughout the season, but mid-July to mid-August is the best time to see grizzly bears catching salmon. Glacier calving occurs throughout the season, but occurs most frequently during the warmest months of June, July and August.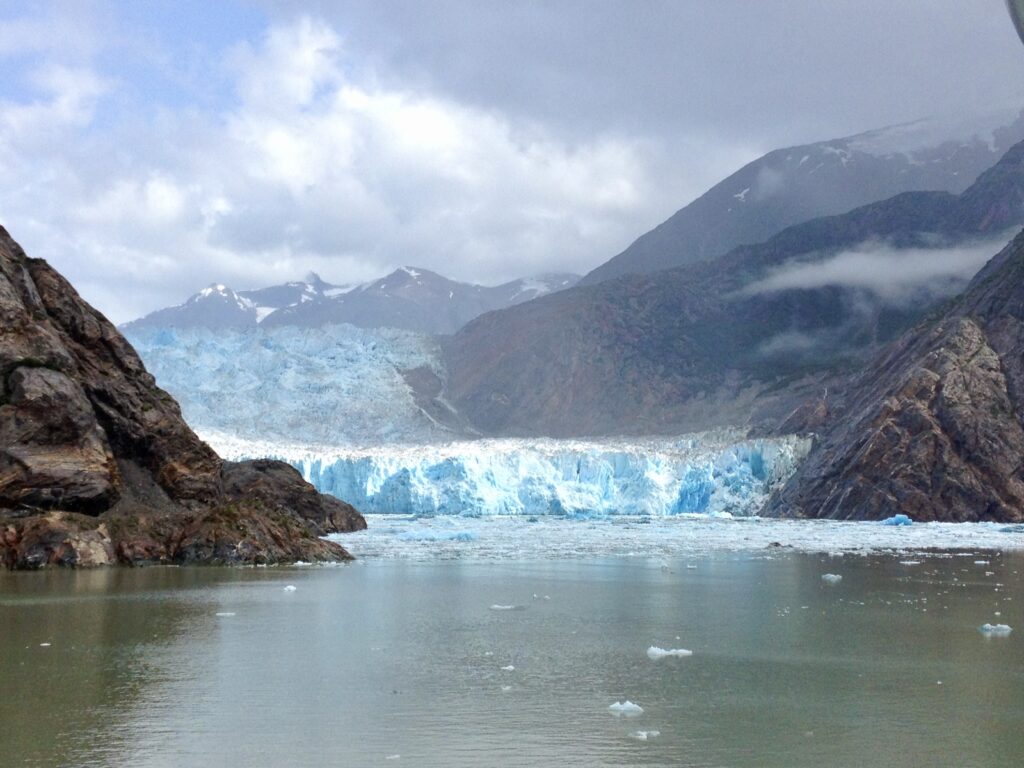 The inside passage area of Alaska is actually considered a temperate rain forest climate so you can expect at least some rain on an Alaska cruise. On average, the driest time is earlier in the season and the wettest is later in the season. Although when we went in late August we had amazing sunny weather every day except one so you never know exactly what you'll get. There is a chance you may see the northern lights if you go very early in April or very late in September or October, but there's no guarantee.