This article is about a scenic drive down the Hole in the Rock road (BLM-200) in the Grand Staircase-Escalante National Monument stopping at Devil's Garden, Twenty Mile Wash Dinosaur Track Site and Peek-A-Boo, Spooky and Dry Fork slot canyons.
---
We were camping a short drive outside of Bryce Canyon City. It was a good location for exploring Bryce Canyon National Park and Grand Staircase-Escalante National Monument. We had heard that there were some interesting slot canyons in Escalante, but didn't know how to find them so we went to the Burrow of Land Management (BLM) visitor center in Cannonville, Utah to get more information. The ranger told us that there were several popular slot canyons located down Hole in the Rock Road along with several other interesting sites to stop at along the way. However, the slot canyons were located 30 miles (48.25 km) down an unpaved washboard road. He gave us a map, cautioned us to have a full tank of gas, plenty of drinking water and enough food for the day and said that the road should be in good condition for any type of vehicle to get to the slot canyons and back.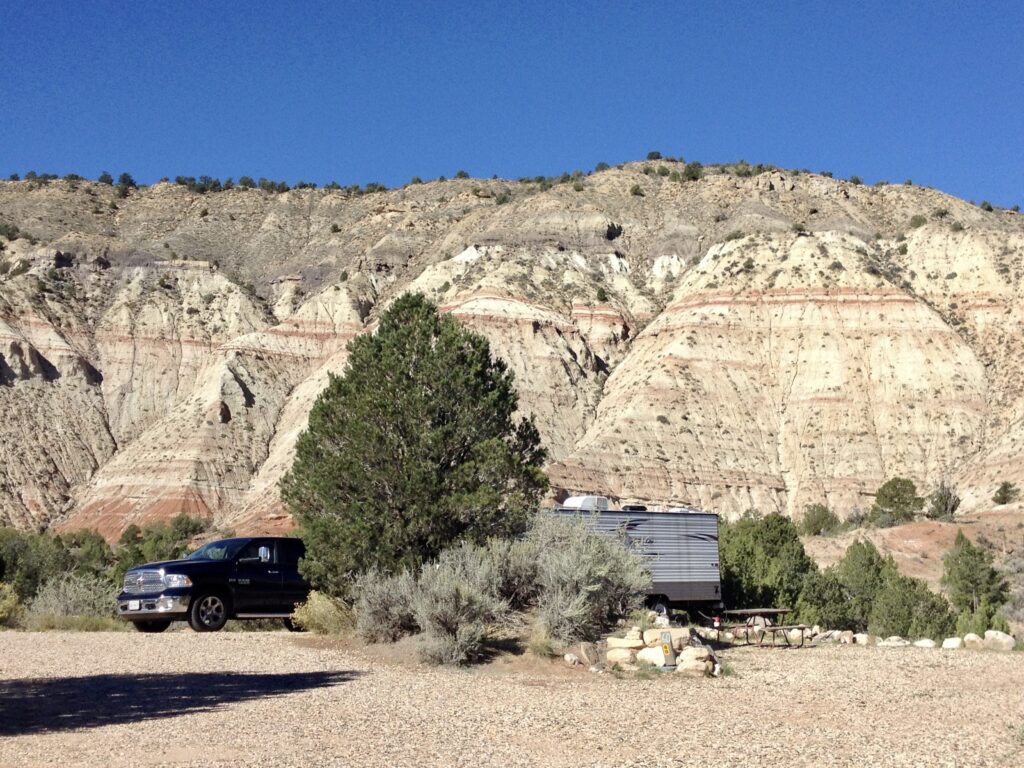 We had a full tank of gas, a cooler full of drinks and food as well as plenty of snacks so we headed off to find Hole in the Rock Road, also known as BLM-200. This road goes through the Grand Staircase-Escalante National Monument from Highway 12, just east of Escalante, to the Hole in the Rock trailhead located in the Glen Canyon National Recreation Area some 55.8 miles (89.8 km) to the south near the shores of Lake Powell. The first 35 miles (56 km) is usually passable with any vehicle while the remainder should not be done without a proper off-road vehicle, but its always best to check with the park rangers first. This road can be very dangerous when wet or snow covered and should not be attempted under these conditions.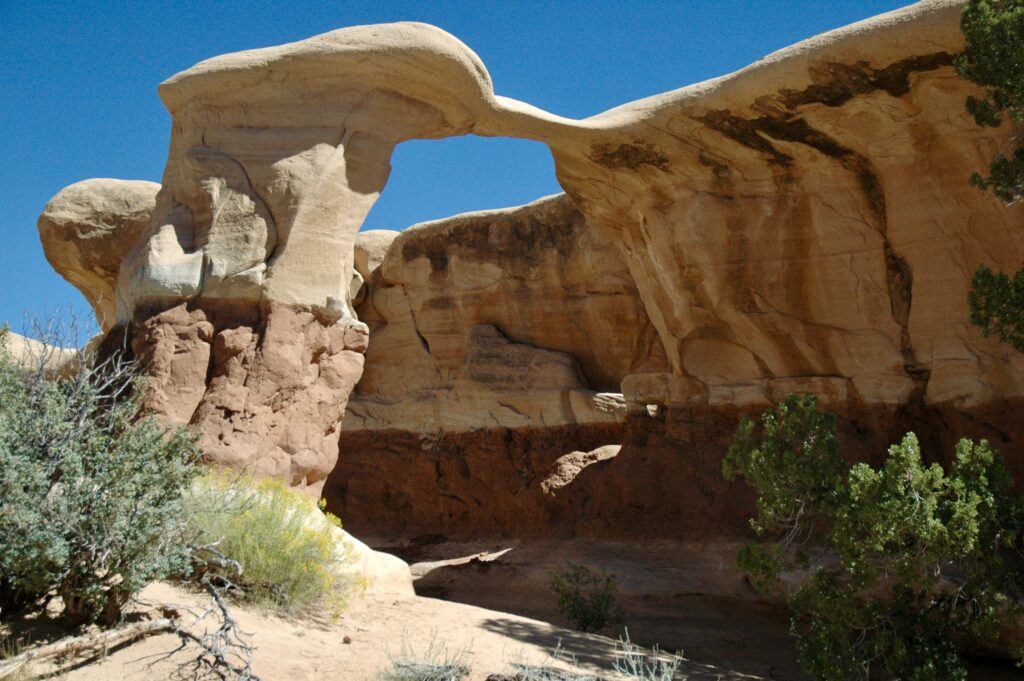 We did this trip with our two children aged 10 and 6 at the time and they both had a great time. The activities we did during this drive were not very strenuous and the weather during our visit in the fall was very warm, but not too hot. The best times to visit this area are spring (April through early June) and fall (September through October) when the temperatures are not too high. We did this drive in a standard 4WD truck. However, we didn't need to use 4WD nor did we need the extra ground clearance, but we only went 30 miles (48.25 km) down the road and not the full 55.8 miles (89.8 km).
Since sign posting can be inconsistent, places of interest are referenced by the distance from the start of Hole in the Rock Road so we'll be doing the same in this article. We recommend that you set one of your vehicle's trip odometers to zero at the start of Hole in the Rock Road making it easier to track the distance you've traveled. Just make sure you account for any side roads you take.
Devil's Garden
Distance from start: 12 miles (19.3 km)
After driving 12 miles (19.3 km) down a bumpy, dusty washboard road we arrived at Devil's Garden. This place has a number of unique rock features, a couple of arches, a picnic area and some pit toilets. The kids really enjoyed scrambling and exploring the rock formations. There is a hike that you can do, but we decided to just explore in and around the rocks. While exploring we found a few lizards and one non-venomous snake. Since we had gotten off to a late start so we decided to explore this area for a bit then have lunch at the picnic area here before continuing onward.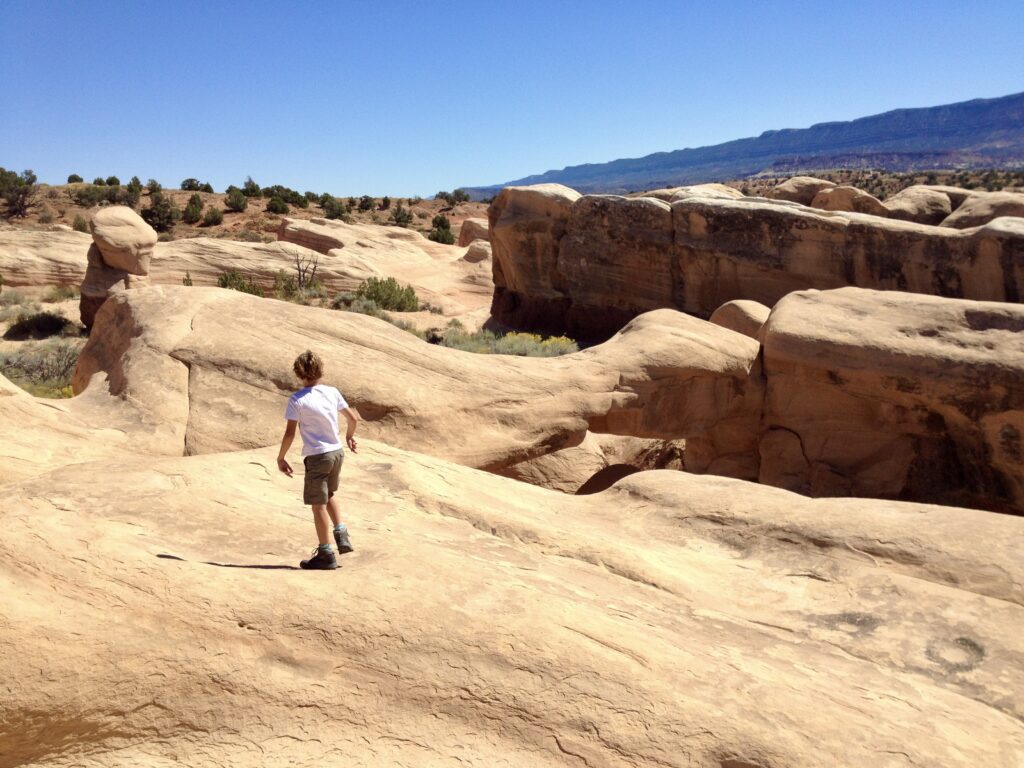 Twenty Mile Wash Dinosaur Track Site
Distance from start: 14.3 miles (23 km)
We just had to drive two more miles (3.2 km) down the road before turning off on Collet Top Road then another 2.4 miles (3.9 km) until we reached the smooth white rocks rising above the scrub brush. Collet Top Road was a little sandy, but we didn't have any problems and didn't need 4WD. We parked the truck and headed toward the rock face. There are a few signs, but you may have to look around a bit to find them.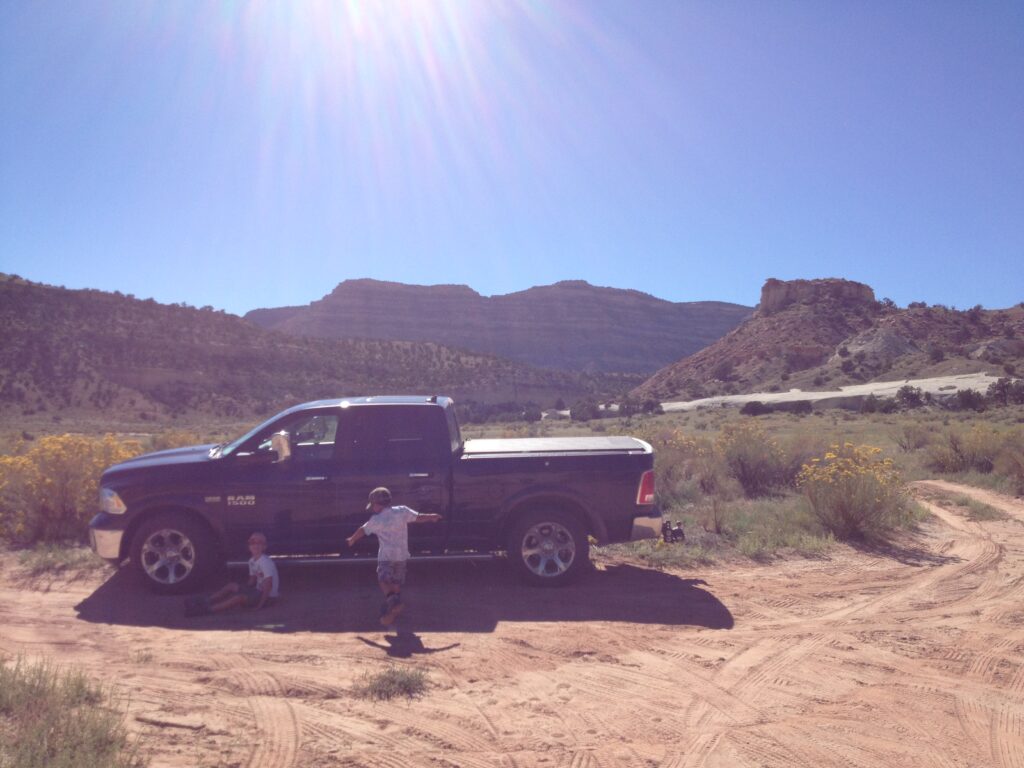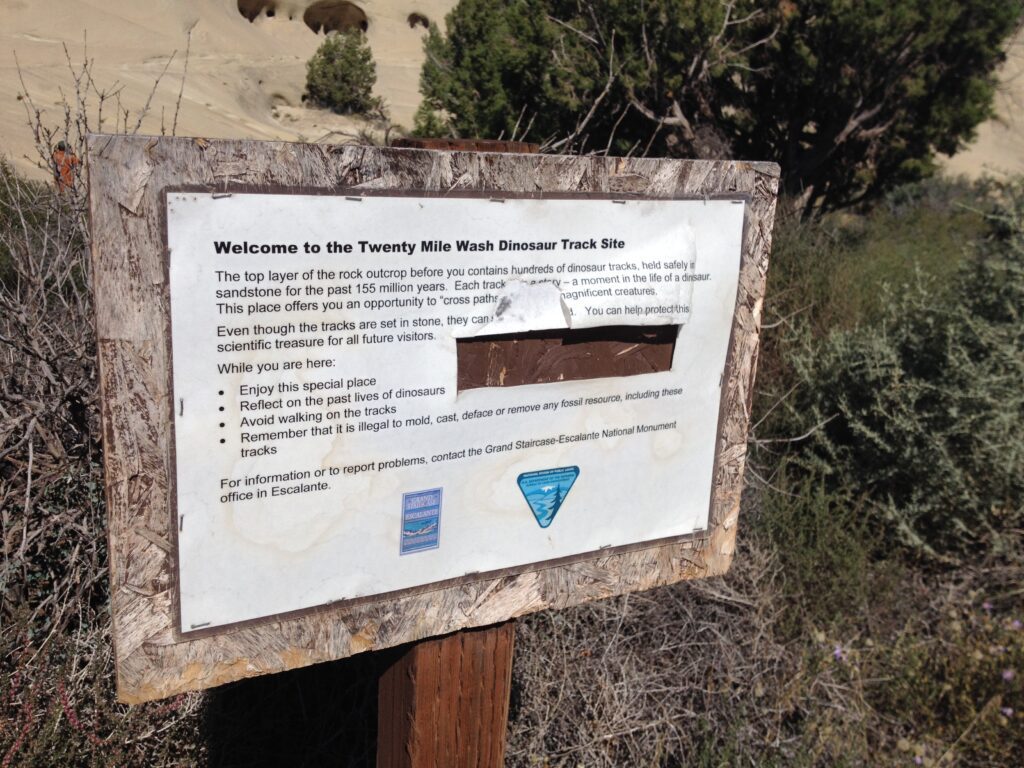 We climbed up the slick rock face and started looking for the dinosaur tracks. The landscape was surreal, walking on the white slick rock that, in places, had large round holes in it. The tracks were difficult to make out and we still are not sure if we were looking at dinosaur tracks or just indentations in the rock, but is was a fun place to explore anyway.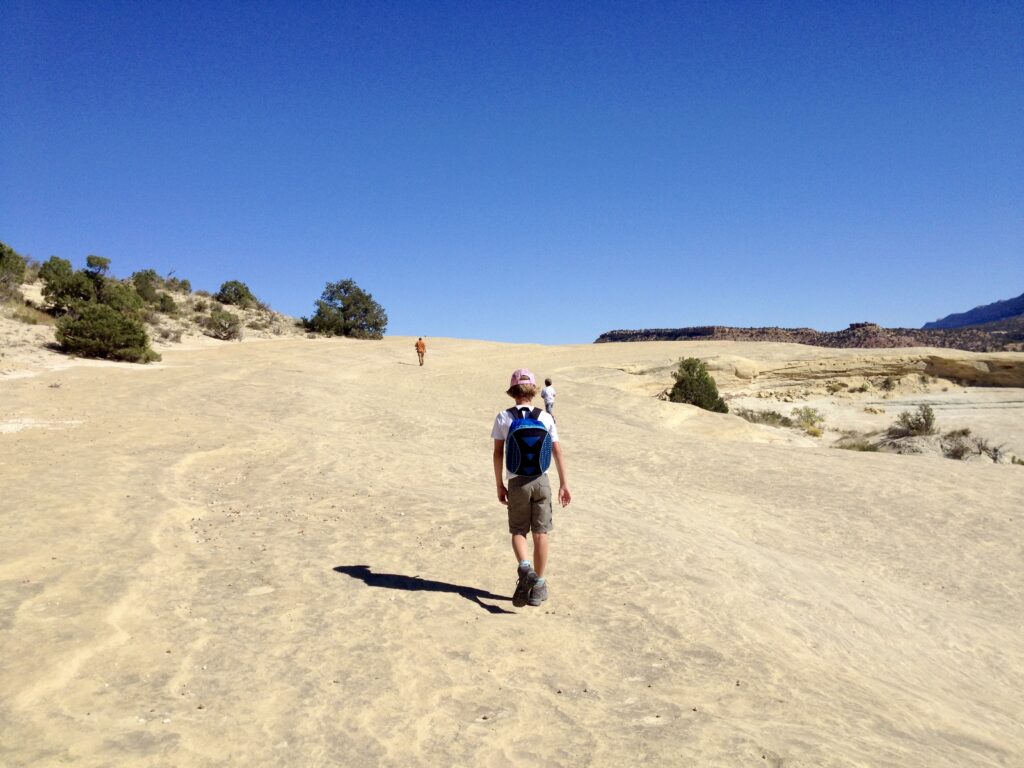 Slot Canyons
Distance from start:  26 miles (41.8 km)
We continued our drive south on Hole in the Rock Road until we reached mile 26 (41.8 km) or thereabouts, at which point we turned off onto a side road and headed toward the Dry Fork of Coyote Gulch, which is where Peek-A-Boo, Spooky and Dry Fork Gulch slot canyons are located. We were told to park at the first parking lot we came to, but when we noticed a Honda Civic continuing past this lot we figured our truck should also be able to make it. The road wasn't bad, it just made us tilt sideways a bit, but it cut about a mile off of our hike down into the gulch where the slot canyons were located.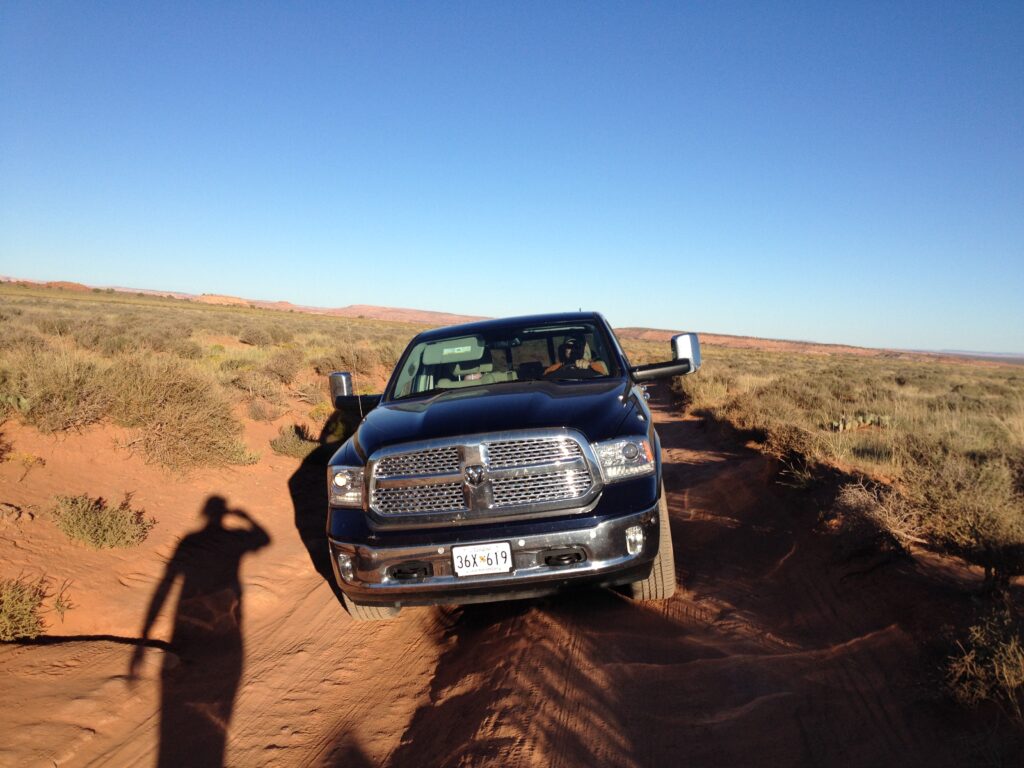 Once we parked the truck we hiked down into the gulch, which was not obvious to see from the parking area. Fortunately there were enough worn trails and trail markers around that we found our way over and down into the gulch.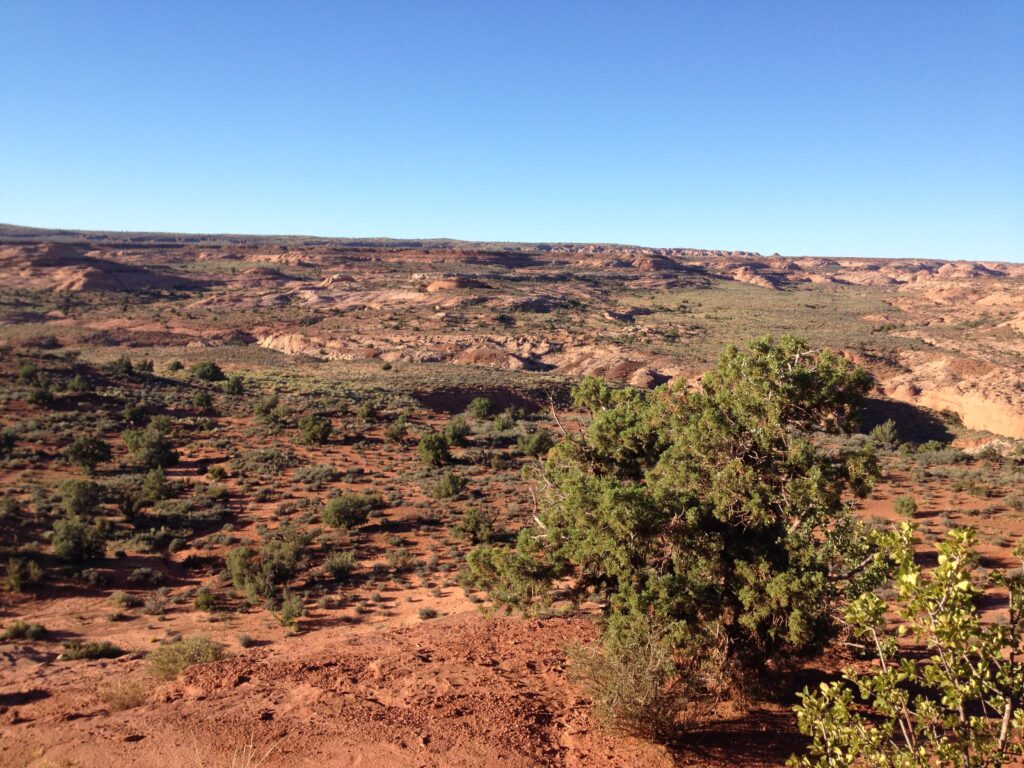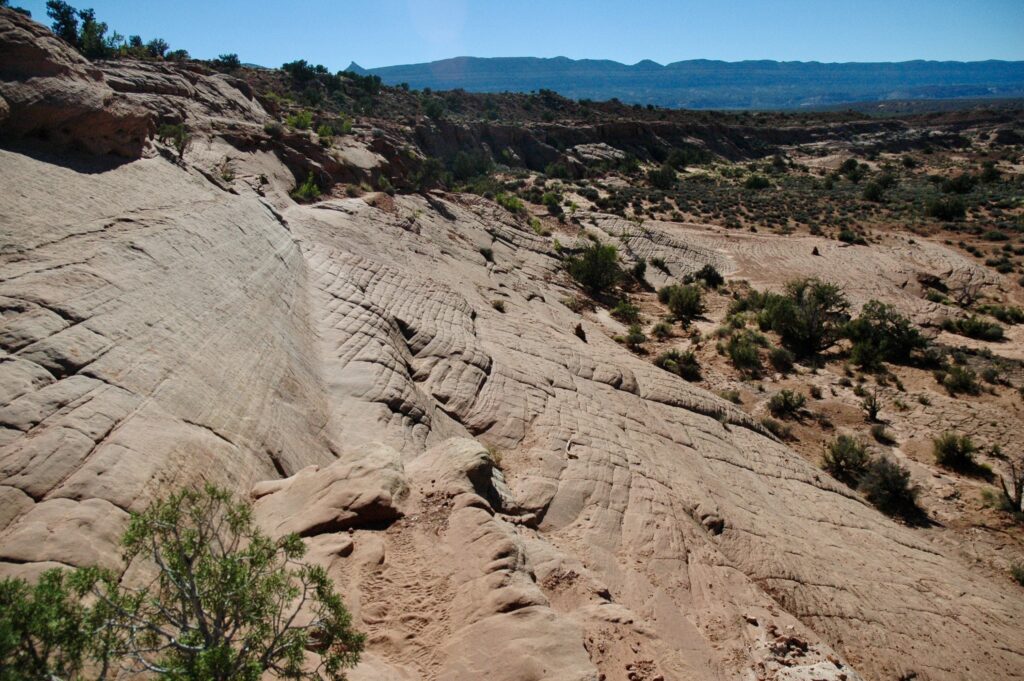 We were planning on doing a loop hike, starting with Peek-A-Boo slot canyon, taking the connecting trail at the end of Peek-A-Boo to the back end of Spooky, then back through Spooky and back to the parking lot. However, it was getting late in the day, we had young children and we didn't want to get caught out in the dark. We had a peek into Peek-A-Boo, but decided to explore Dry Fork instead.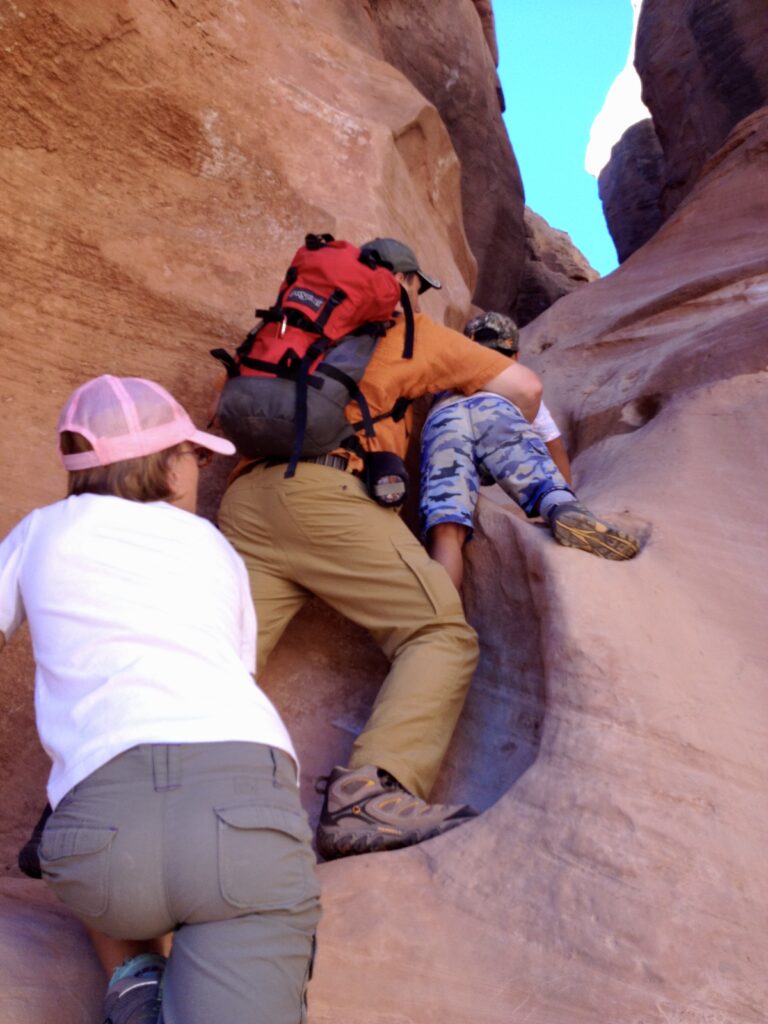 You'll notice that I'm wearing a backpack, which would have really gotten in the way if we continued exploring these slot canyons as both Peek-A-Boo and Spooky have some very narrow sections. Dry Fork is fairly wide for a slot canyon and easy to explore. We didn't actually go to the end since we wanted to get off of Hole in the Rock road before it got too dark.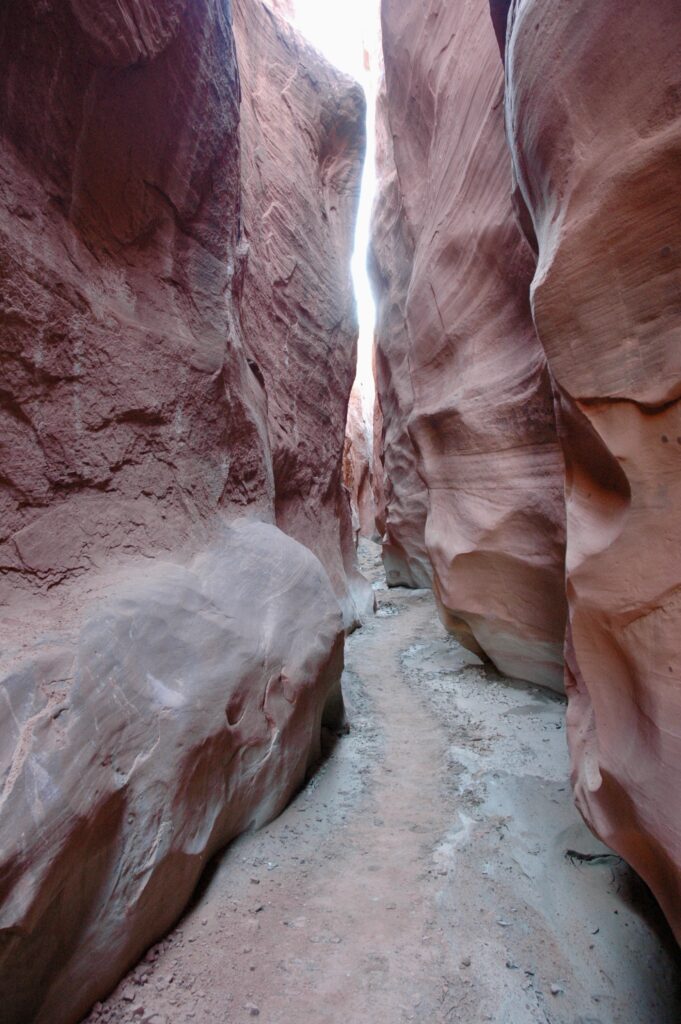 We had a fantastic day doing this scenic drive, but I know that we've only scratched the surface of what there is to see and do in this fantastic place. Since it is a National Monument it may not have as much infrastructure like restrooms, signs, well marked trails etc., but that's also what makes it so magical. Its almost like you are a real explorer here.
Related USATourist Articles
Utah Travel Guide