This article provides an overview of things to see and do as well as places to stay in the Bryce Canyon National Park and the surrounding area along with useful links to other websites for additional travel related information.
---
At a Glance
Bryce Canyon National Park, located at the upper north-west corner of the Grand Staircase-Escalante National Monument, is not just one canyon, but a series of bowls with the most magnificent hoodoos caved into their rock faces, which are the main attractions of this park. The hoodoos, rocks and floors of the canyon change color throughout the day from light pale salmons or pinks to darker oranges depending on the lighting. Sunrise and sunset are particularly good times to watch over the canyon and see how the colors change before your eyes as the sun rises or sets.
Bryce Canyon is located about 270 miles (435 km) north-east of Las Vegas, Nevada and about 270 miles (435 km) south of Salt Lake City, Utah. Because of this park's location it is often included in a driving tour of Utah's other national parks and monuments rather than a destination onto itself. People will often include this park, along Capitol Reef National Park, Grand Staircase-Escalante National Monument, Kodachrome Basin State Park, and Zion National Park on a 1, 2, 3 week or longer trip.
Below is a short 6 minute video courtesy of the National Park Service.

Activities
There are two main areas of this park to explore: the rim and hiking down into the canyon.
Exploring the Rim
Wildlife photography and bird watching are popular activities and of course landscape photography of the canyon from one of its many view points is popular as well.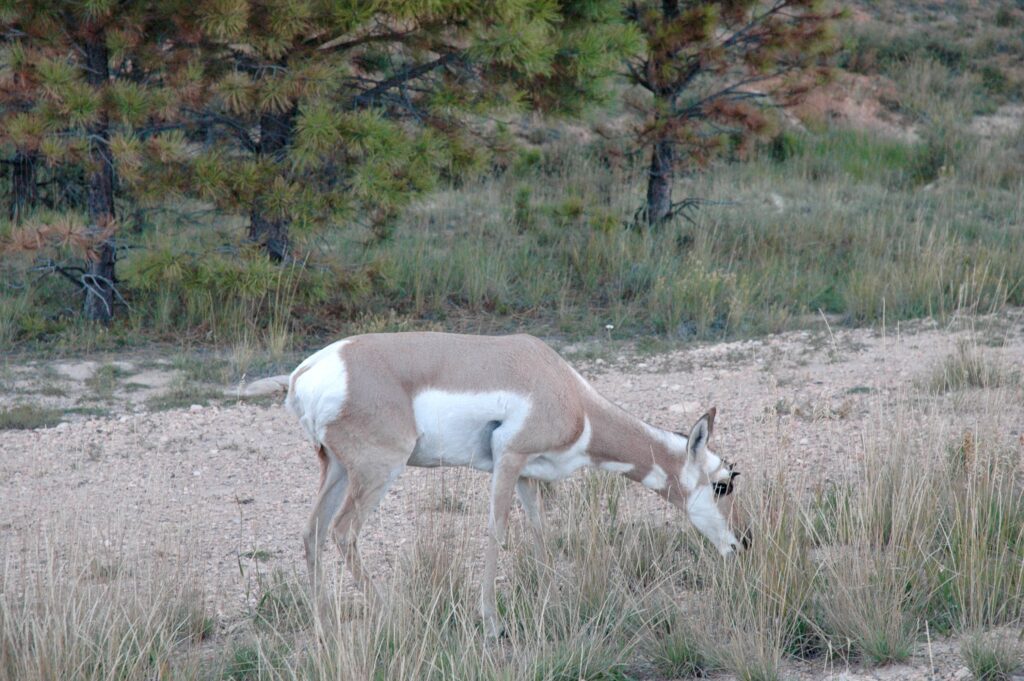 Scenic Drives
Route 63 is the main road through the park and is well worth the drive all the way out to Rainbow Point allowing enough time to stop at the various overlooks. This drive is also great for wildlife spotting especially during early morning or evening hours.
Bryce Point Access Road is another shorter drive out to Bryce Point and Route 12 also goes through the upper part of this park.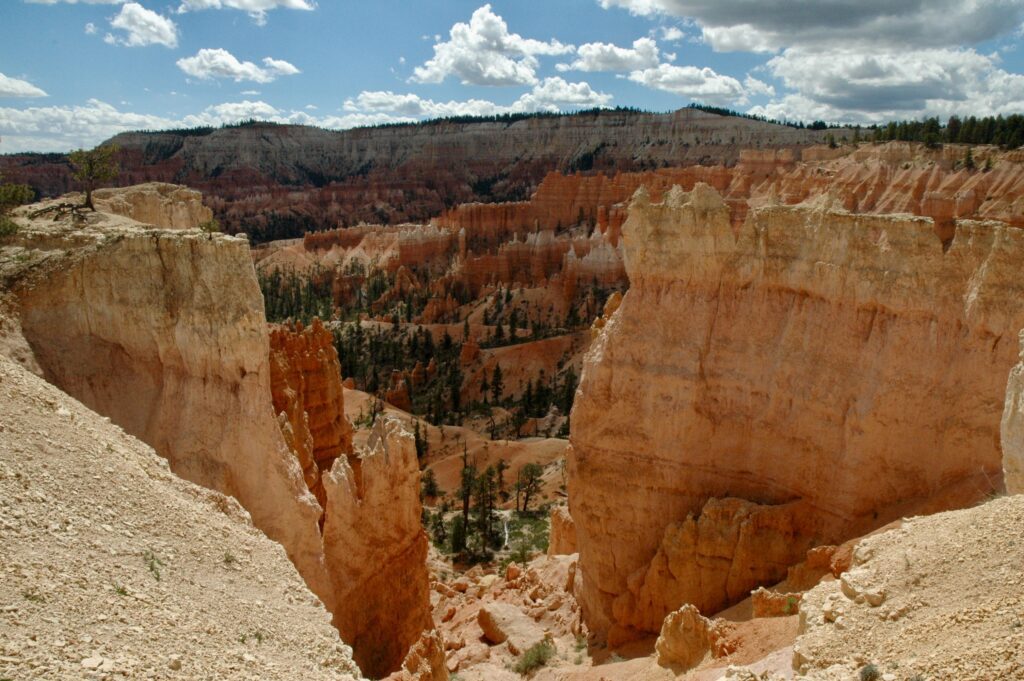 The park also runs free shuttle buses that make stops at all of the popular places along the canyon rim and even goes into Bryce Canyon City if you don't want to drive or use the shuttle to bet back to a certain area after a hike in the canyon. At the time of this article the busses were not mandatory, but during the summer months some of the more popular parking areas can fill up quickly.
Easy Hikes
There are several hikes on the rim that are rated easy because they are relatively flat and relatively short, although the rim trail is fairly long.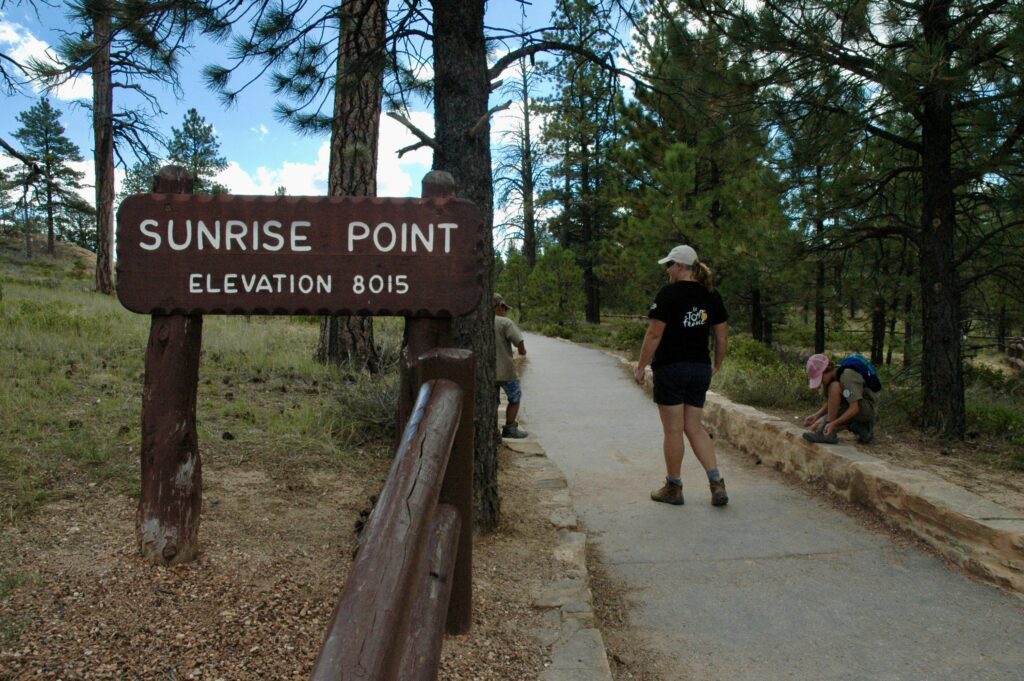 Hiking Down into the Canyon
Day Hikes
It isn't easy, but well worth it. Hiking down into the canyon is the only way to get in and amongst the Hoodoos and see this beautiful place from inside rather than above. There are 2 entry points from which you can descend into the canyon and explore the bulk of the trails: Sunrise Point and Sunset Point. Sunrise point provides the quickest access to the Queens Castle, Queen Victoria, Gullivers Castle, North Hall and Two Bridges rock formations. Sunset point provides the quickest access to Organ Grinders Monkey, The Gossips, The Pope, Mutt and Jeff, Carmel and Wisemen, and Silent City rock formations. There is a trail that connects these two areas found between Queen Victoria and The Pope.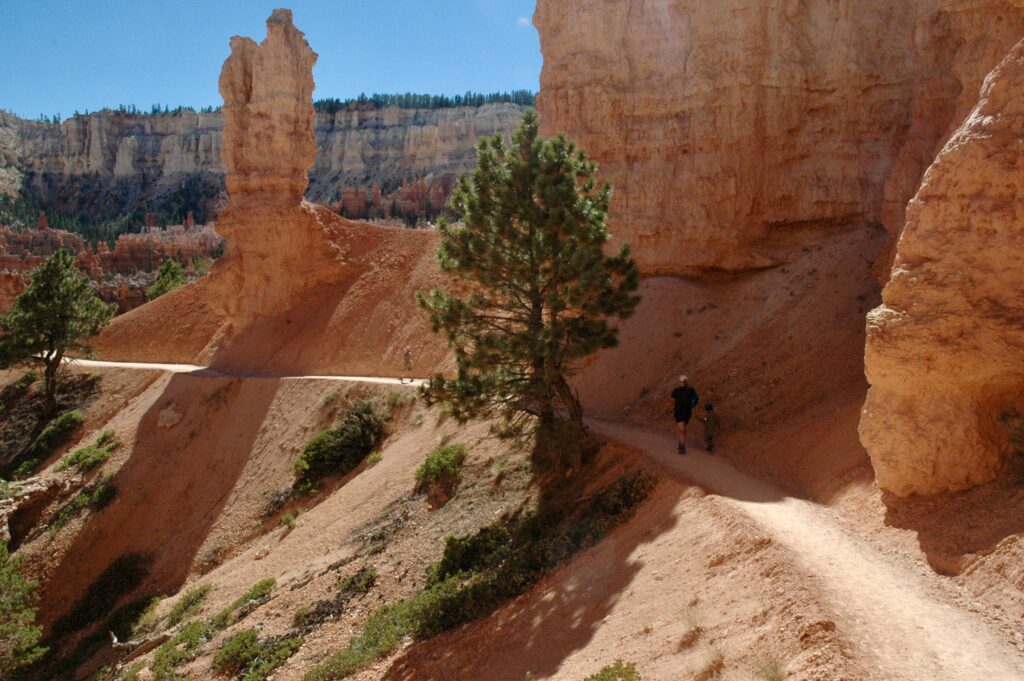 Bryce Point is another entry point located at the end of the Rim Trail and Bryce Point Access Road and provides the quickest access to Alley Top and Denny, Liberty Castle, Hindu Temples, The Cathedral and Fairy Castle rock formations, but is a longer and more strenuous then the previous two areas. There is a connection between this section and the previous two trail systems, which are considered more moderate. Whether you choose a the moderate or strenuous trails be prepared for the hike back up and out of the canyon.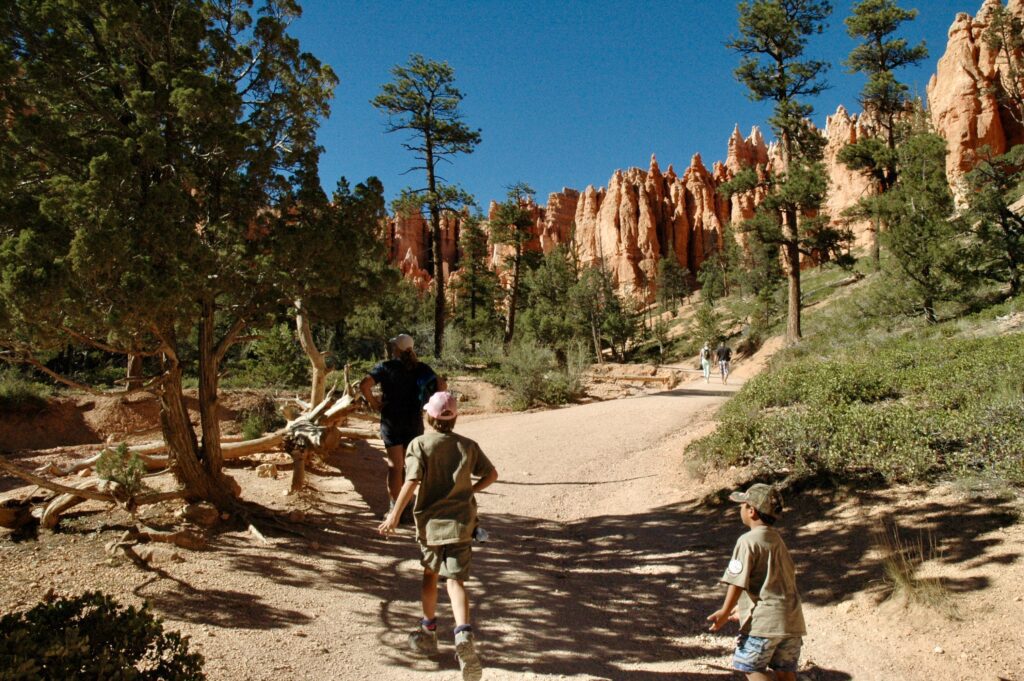 Another entry point, located at the end of Fairyland Road and called Fairyland Point, marks the northern end of the rim trail and an entry point into Fairyland Canyon. There is a strenuous trail that goes from this point over to the Sunrise Point area and a loop can be made by taking the rim trail back or vise-versa.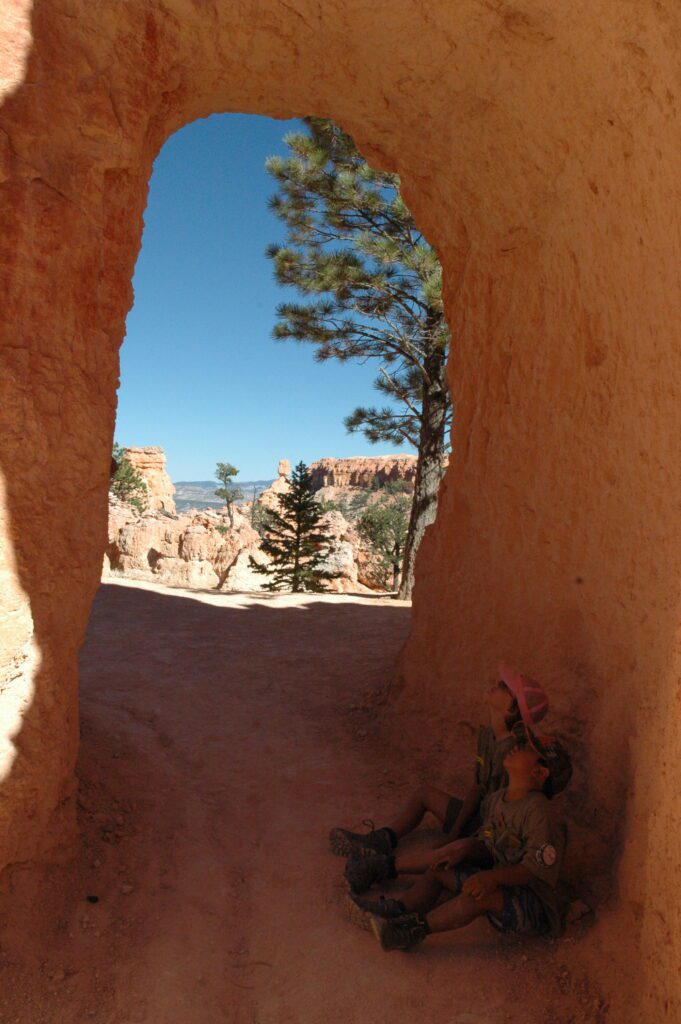 Rainbow Point, located at the end of Route 63, provides access to a few shorter moderate trails and a long strenuous trail that goes all the way to Bryce Point.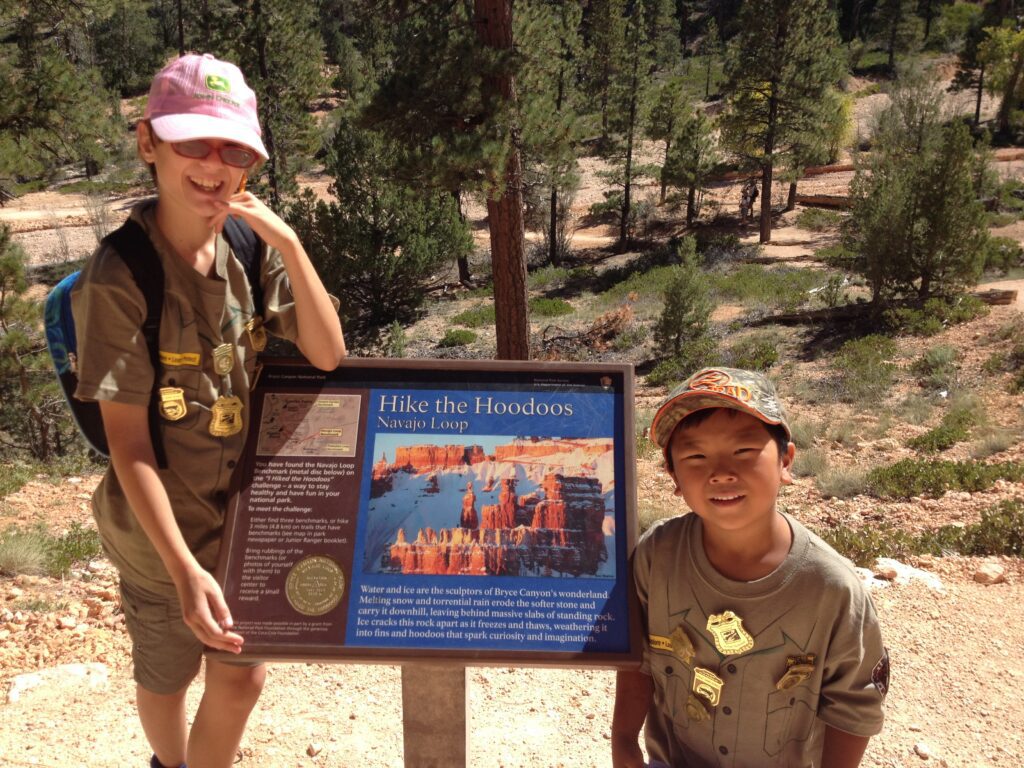 The park has an activity called Hike the Hoodoos where they placed a number of signs with a round metal symbols on them called benchmark survey markers. You can get some paper and a pencil from one of the visitor centers and if you get 3 or more rubbings you can receive a special patch. Be warned though these are not placed very close together so you'll have to put in some trail time in order to get at least 3. If you do get 3 it means that you hiked at least 3 miles into, through and out of the canyon.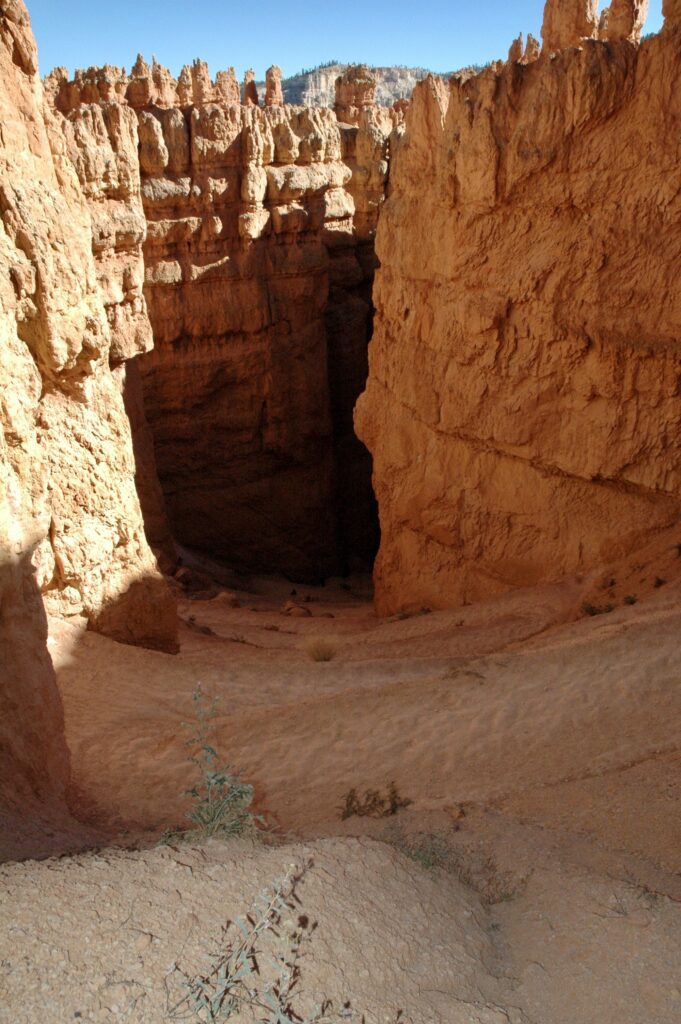 Backcountry Hiking and Camping
There are longer trails that can be done over several days. Camping is only allowed in designated areas, permits are required and can be purchased on-line at Recreation.gov – Bryce Canyon Park Backcountry.
Horseback Riding
There are a few trails in the canyon designated for both hikers and horses (or mules). There are guided 2 and 3 hour rides with horses provided or you can bring your own. Check the park's website regarding horseback riding for more details.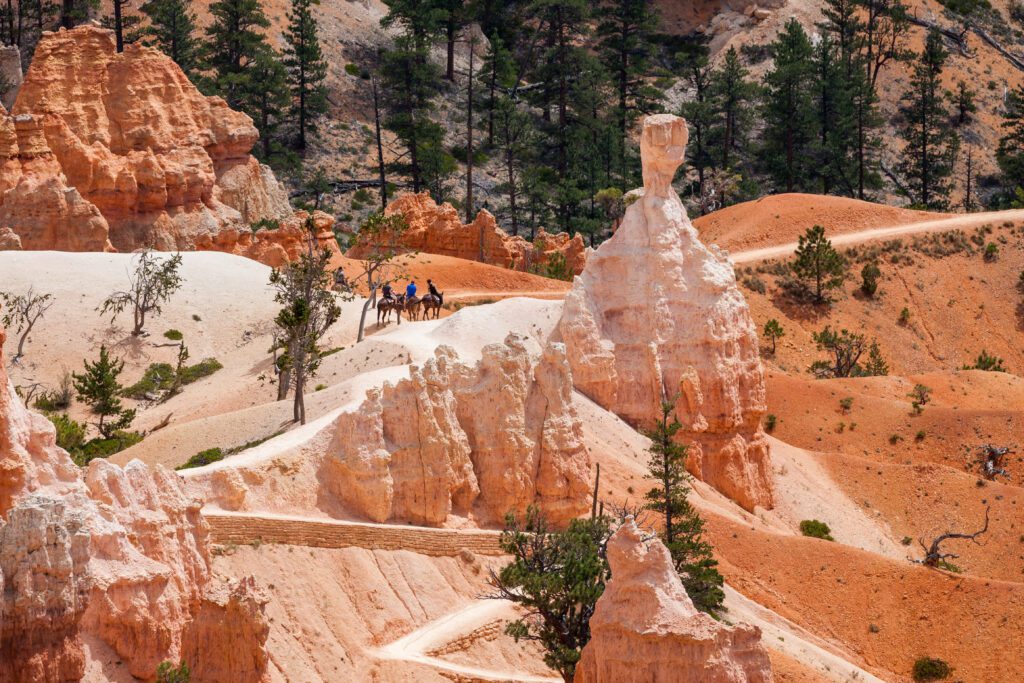 Getting There
There are 4 major cities with international airports that most people use when traveling to this area: Salt Lake City, Utah with Salt Lake City International Airport (SLC), Las Vegas, Nevada with Harry Reid International Airport (LAS), Phoenix, Arizona with Phoenix Sky Harbor International Airport (PHX) and Denver, Colorado with Denver International Airport (DEN). The Flagstaff Pulliam Airport (FLG) also has limited domestic and international flights and is a little closer then Phoenix.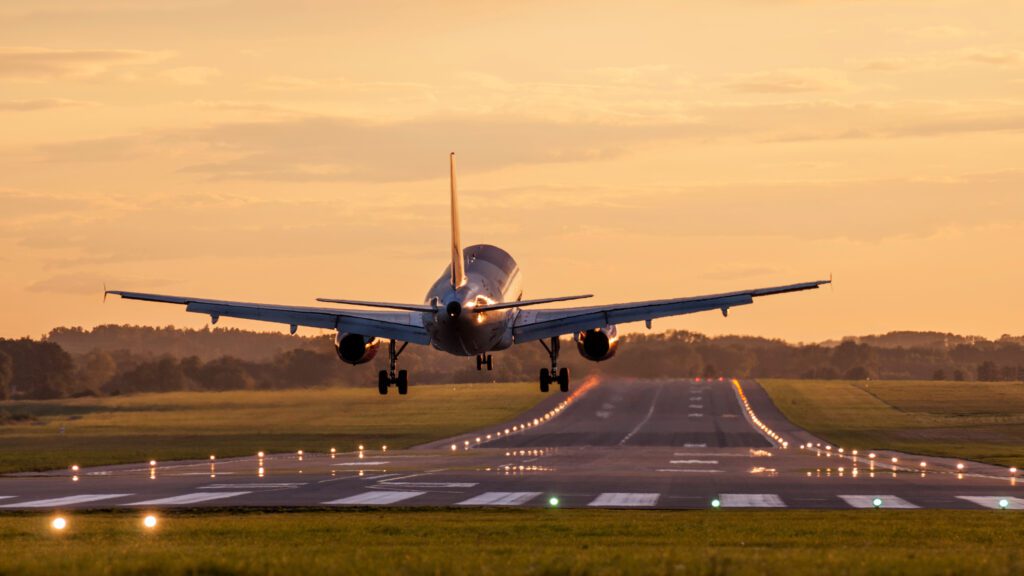 From Salt Lake City, Utah
The park is just over 4 hours from Salt Lake City, Utah taking Interstate 15 south then making your way over to Route 12. There are several ways to do this depending on whether you are in a hurry, want to take a more scenic way or are visiting other parks along the way.
From Las Vegas, Navada
The park is just over 4 hours north-east from Las Vegas, Nevada taking Interstate 15 east. From Interstate 15 taking Route 9 through Zion National Park is the most direct way and is a great opportunity to stop and explore Zion for a few days. Route 9 ends at Route 89, which you will take north to Route 12.
From Phoenix, Arizona
The park is 7 hours from Phoenix, Arizona taking Interstate 17 north to Route 89 north all the way to Route 12. Taking this route does allow for side trips to the Grand Canyon National Park, Vermilion Cliffs National Monument, Horseshoe Bend, Antelope Canyon, Page, Glen Canyon National Recreation Area and Lake Powell and Zion National Park.
From Denver, Colorado
The park is 8 1/2 hours from Denver, Colorado taking Interstate 70 west. From Interstate 70 there are several routes south that can be taken depending on whether you are in a hurry, want to take a more scenic way or are visiting other parks along the way.
Park Location
No matter which direction you come from the park is located off of Route 12 with Route 63 running through the park and along the ridge of the canyon.
Where to Stay
In the Park
The Lodge at Bryce Canyon and its surrounding motel-like buildings offer western themed cabins and lodge rooms as well as a dining room serving breakfast, lunch and dinner.
There are two campgrounds in the park, North Campground and Sunset Campground. Neither campground offers any hookups, but both have portable water available and both have a number of sites set aside and available on a first-come, first-served basis.
North Campground is located near Sunrise Point, has a dump station, flush toilets potable water and is open year-round although some of the amenities are only available seasonally.
Sunset Campground is located near Sunset Point, has portable toilets, potable water and is only open seasonally.
Nearby
There are various lodging and camping options just outside the park in Bryce Canyon City as well as options a little further out on Route 12 heading both east and west.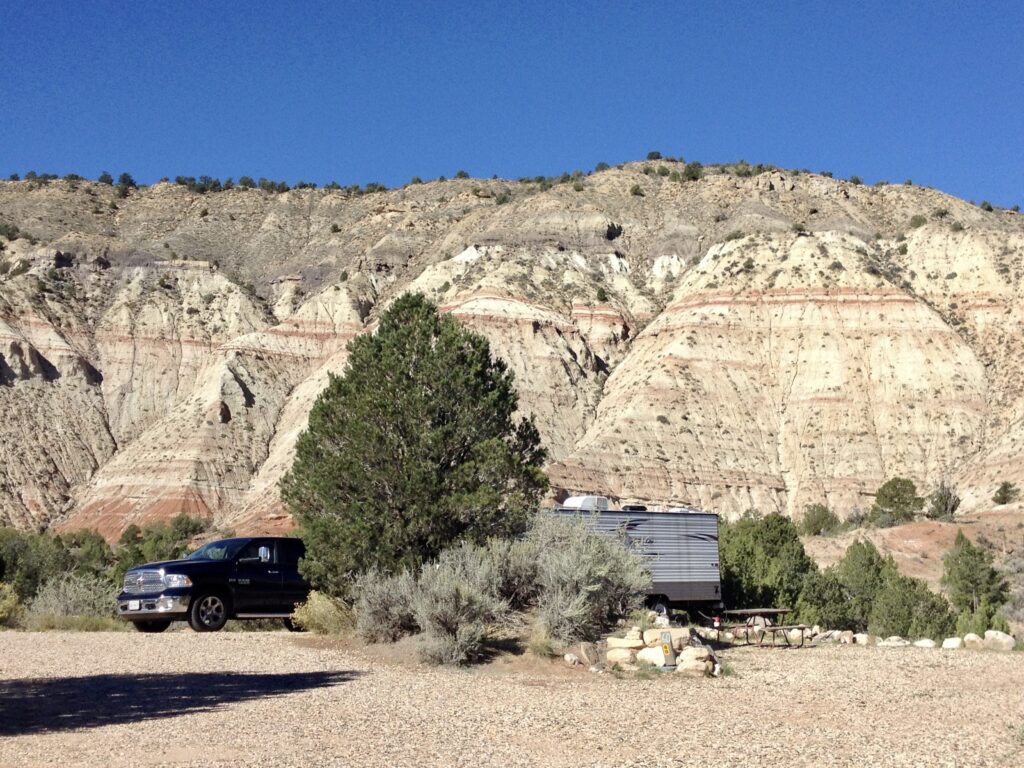 Kodachrome Basin State Park has three campgrounds in an absolutely beautiful setting with full hookups, flush toilets, hot showers and reasonable prices. They also have bunk houses that can sleep up to 6 people and make use of one of the campground's bath houses for toilets and showers. There is also a laundry facility here.
Additional Resources
VisitUtah.com – Bryce Canyon National Park has a good visitors guide with information about tours, things do see and do, accommodations, getting there and many other bits of useful information.
Recreation.gov – Bryce Canyon National Park has additional information about this park including maps, pictures, rules, fees and facility information. You can also book certain accommodations and pay certain fees here.
Related USATourist Articles
Utah Travel Guide