This article provides an overview of the Everglades National Park, Big Cypress National Preserve and the surrounding area known as the Florida Everglades along with useful links to other websites for additional travel related information.
---

At a Glance
Everglades National Park, along with Big Cypress Wildlife Management Area, Big Cypress National Preserve and several other smaller protected areas are commonly known as The Everglades. Almost the entire bottom of the Florida Peninsula from Lake Okeechobee to the southern coastline is covered by a vast marsh known as the Everglades. It is like a broad shallow flooded river stretching across a flat limestone shelf nearly 40 miles (60 km) wide and over 100 miles (160 km) long. Most of it is submerged in less than a foot (30 cm) of water covered with tall grasses and reeds. The Everglades is often called the "sea of grass".
A Sea of Grass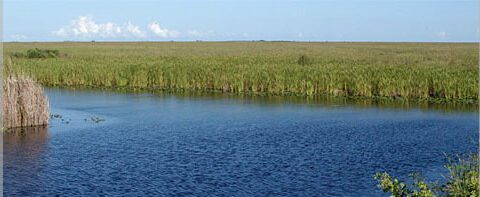 As you look out across the Everglades, you typically see an endless vista of tall sawgrass extending to the far horizon with only a few areas of open water and a few scattered islands of cypress trees. These wetlands are teeming with life. The vast expanse of vegetation hosts millions of birds as well as a multitude of insects. The waters are teeming with fishes and reptiles including numerous fierce American alligators. The coastal fringes are populated with crocodiles. Many of the dryer islands are inhabited with deer, wild pigs, panthers and a variety of small mammals.
Great tracts of these Florida wetlands have already been destroyed by drainage projects that reclaimed land for agriculture or commercial use. In 1947, the southernmost third of the Everglades wetlands, consisting of approximately two million acres (800,000 hectares), was protected as Everglades National Park.
All of Everglades National Park lies south of State Route 41, but an additional 720,000 acres (280,000 hectares) of wetlands are preserved in the Big Cypress National Preserve just north of that road. Several additional large tracts of these same wetlands lie in the Miccosukee and Seminole Indian Reservations.
Only Two Roads Cross the Everglades
There are only two roads that cross the Everglades from the Eastern Atlantic Coast of Florida to its western beaches on the Gulf of Mexico. U.S. Highway 41, known as the "Tamiami Trail", extends from the western suburbs of Miami on the Atlantic Ocean to Naples on the Gulf of Mexico. About 25 miles further north, Interstate 75, commonly known as "Alligator Alley", extends from Fort Lauderdale to Naples.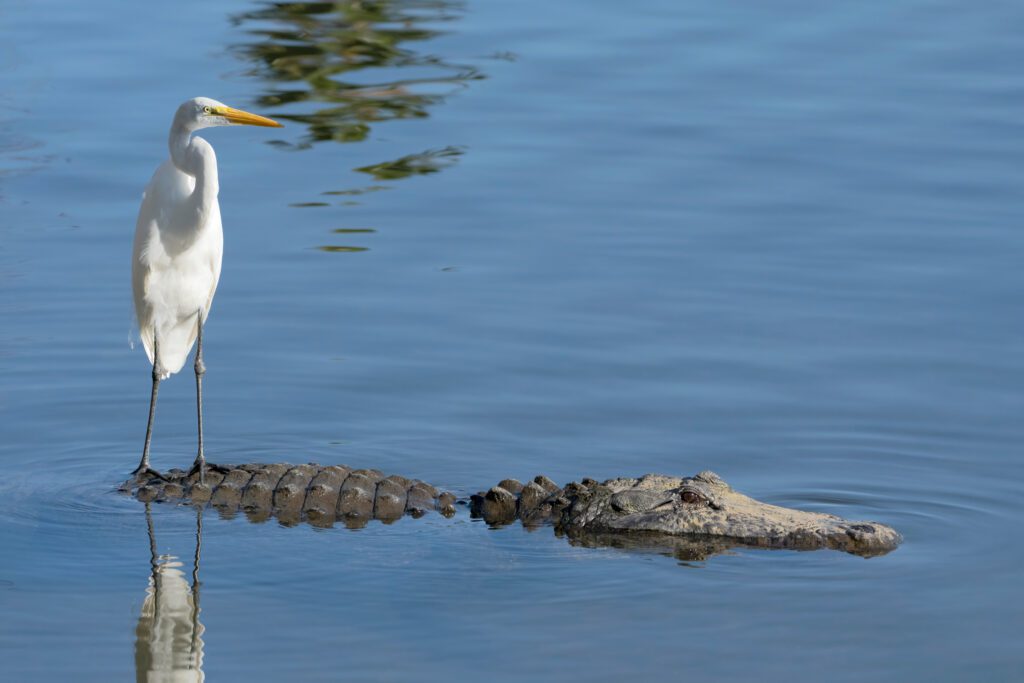 Interstate 75 is a newer more modern highway built on a wide causeway elevated just a few meters above the wetlands. It is a toll road that can take you from one coast to the other in 90 minutes or less. U.S. Highway 75 has many rest areas where you can stop to view the sea of grass, to observe the wildlife or even to try your hand at fishing. Near its center, State Route 833 branches to the north through the Miccosukee and the Seminole Indian Reservations. On the Big Cypress Reservation, the Seminole Tribe has constructed an Everglades attraction known as Billie Swamp Safari. It offers a unique opportunity to explore the interior of the Everglades via airboats and swamp buggies. The Seminole tribe has also constructed an interesting museum of their cultural heritage called Ah-Tah-Thi-Ki in the small reservation town of Okalee.
Stop at Shark Valley Visitor Center
The older Tamiami Trail (state route 41) is also a good road. It's a bit smaller, but has no tolls and offers a few more attractions. It skirts along the northern edge of Everglades National Park, passes through the center of the Big Cypress National Preserve and through the Miccosukee Indian Reservation. The Shark Valley Visitor Center of Everglades National Park is approximately 30 miles (38 km) west of Miami. It offers hiking, biking, tours hosted by park rangers and a tram ride into the wetlands. You can normally see a lot of wildlife there, including numerous alligators. Along State Route 41, you can also find airboat rides and alligator exhibits at the Miccosukee Reservation and at a private wildlife park.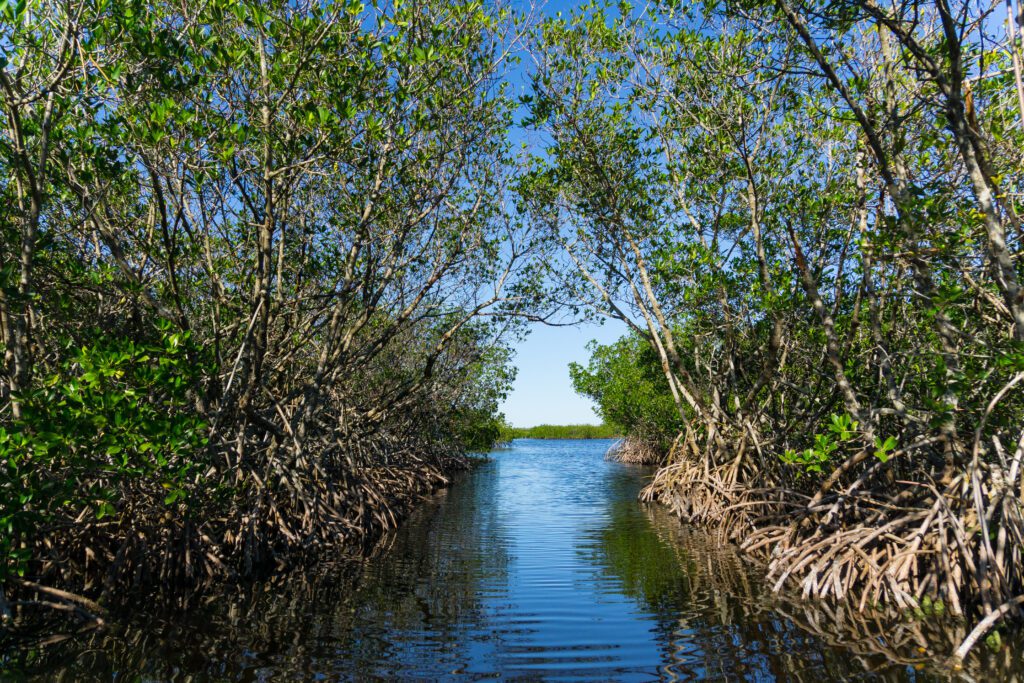 You can easily drive the loop from coast to coast and back again by crossing on one of these roads and returning on the other. It can be completed in one day, but if you stop to see all of the attractions, you might want to spend one night on the opposite coast in Naples, Miami or Fort Lauderdale.
Remote Outposts: Flamingo and Florida City
There are very few roads into the heart of the Everglades. State Route 9336 or Ingraham Hwy. goes from Florida City, south of Miami, to Flamingo on the southern tip of the Florida Peninsula. The 
National Park Service
 maintains a 
visitor center
 in that remote outpost and 
Flamingo Adventures
 offers camping, boat tours, kayak or Canoe Rentals, bike rentals, power boat rentals and house boat rentals. They are currently in the process of building a lodge and restaurant, but they are not finished yet. The Everglades Alligator Farm is located near Everglades City and it offers many alligator exhibits as well as airboat rides.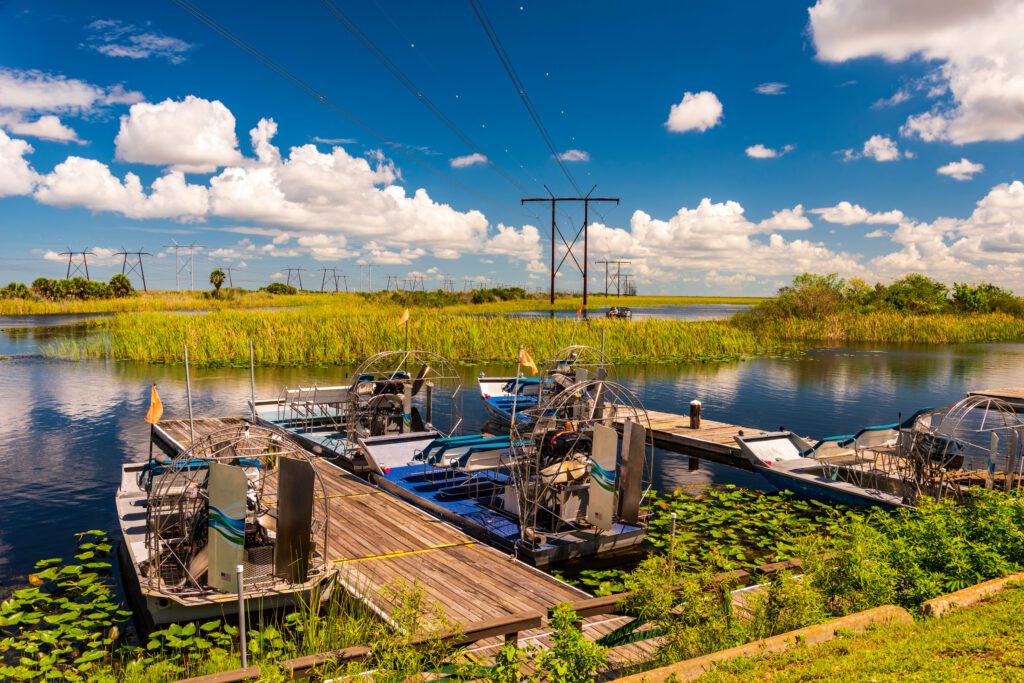 Likewise, State Route 29 goes south from the Tamiami trail near Naples to the remote town of Everglades City. This little fishing village is located on the edge of the Everglades National Park in the mangrove jungle area known as the Ten Thousand Islands. It is a favored vacation spot for sports fishing. Everglades City offers a few restaurants and hotels plus some tourist activities such as airboat rides, fishing charters, canoe and kayak rentals.
Best Times to Visit
Southern Florida and the Everglades have a wet season that extends from May through November. During these months of nearly daily rain showers and high humidity, mosquitoes and other insects are a real nuisance. In the dry season from December through April, the climate is very pleasant and the insects nearly disappear. During the dry season, water levels in the wetlands drop and wildlife congregates near the pockets of deeper water where they can be easily viewed. Unfortunately, tourists flock to The Everglades during this hospitable period and attractions often become crowded.
Where to Stay
There are not many accommodations within the Everglades, but Miami and Fort Lauderdale are conveniently situated along the eastern edge, while Naples and Marco are at its western fringe. Each of these cities offers a wide variety of hotels and vacation rental units in all price ranges. From any of these locations, it is less than an hours drive to the sea of grass.
For information about camping in and around this park see our article: Where to Camp in and Around Everglades National Park and Big Cypress National Preserve.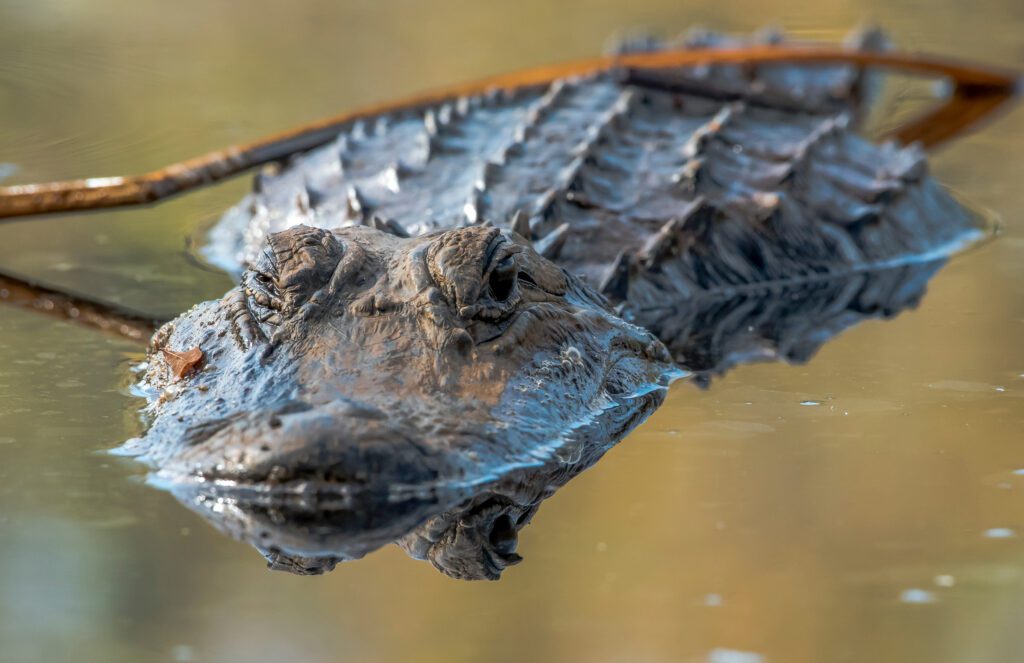 Additional Resources
Related USATourist Articles
Florida Travel Guide