This article provides an overview of things to see and do in Fort Lauderdale, Florida along with useful links to other websites for additional travel related information.
---
At a Glance
Fort Lauderdale is located on the southeastern coast of Florida just thirty miles north of Miami. It has beautiful broad beaches, an affluent waterfront neighborhood along its Intracoastal Waterway, a vibrant downtown commercial district and vast areas of suburban neighborhoods. Fort Lauderdale is very similar to nearby Miami, but smaller and less congested. Its beaches are a bit more approachable with ample parking and affordable accommodations.
The Venice of America
The Intracoastal Waterway, that navigable series of rivers, bays, canals and channels that extends along the entire eastern seaboard of the United States, divides the beach areas from downtown Fort Lauderdale. It has been carved into an intricate series of man-made canals and channels that are now bordered by lavish homes with expensive yachts moored in their backyards. This neighborhood is the primary reason Fort Lauderdale is called the "Venice of America."
Its Port Everglades harbor basin handles commercial shipping vessels as well as cruise ships and charter fishing boats. It hosts everything from small cruise ships offering day-trip gambling excursions and short-stay cruises to the Bahamas up to large cruise liners offering extended trips to Mexico and the Caribbean Islands.
Approachable Beaches
On the eastern side of the Intracoastal Waterway lies a narrow shoreline connected with the mainland via several drawbridges. Its broad beaches of powdery sand are edged with stately palm trees. The hotels along this beachfront are a bit more affordable than those in Miami and tend to appeal more to family vacationers. Interspaced between the hotels are public parks with ample access to the beaches. Across the avenue from the beaches, are modestly priced motels, restaurants, shops and parking lots. Miami and South Beach may attract the international jet set, but Fort Lauderdale attracts families with children, conventioneers, students and bargain-seeking vacationers. It has long been a favorite destination for "spring break" student revelers during late March. Check out these live webcams of various beaches in Fort Lauderdale.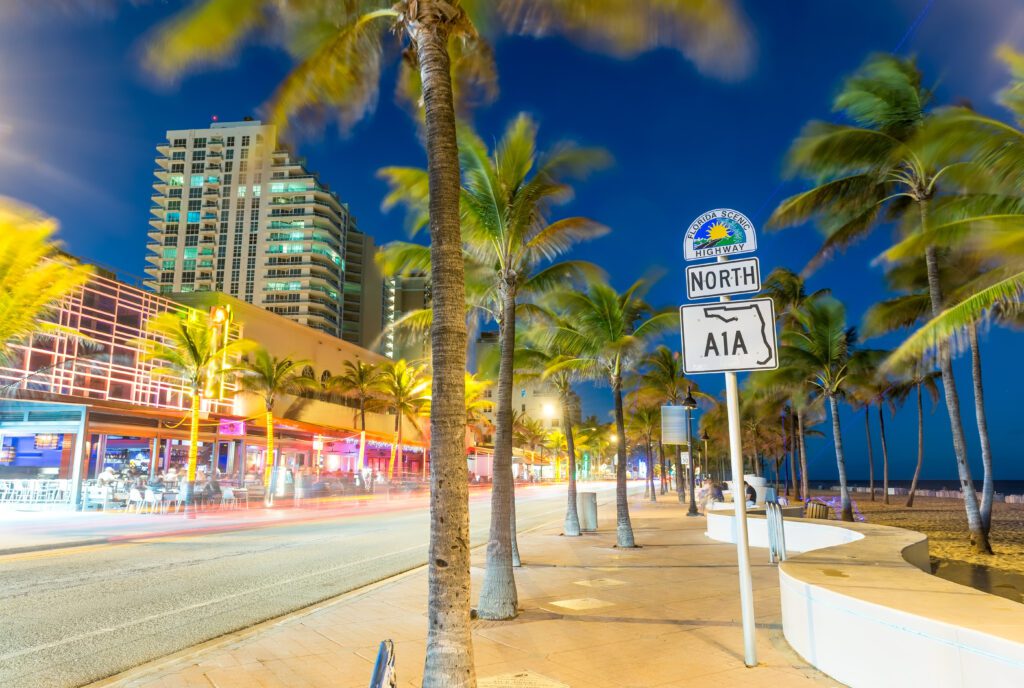 Las Olas Boulevard extends from the beachfront westward through the affluent "Venice" area into the heart of downtown. For several blocks near downtown, it is lined with an assortment of boutiques, specialty shops, art galleries, restaurants and nightclubs. It skirts the picturesque Riverwalk along the banks of the New River with its shopping mall and entertainment venues.
The western neighborhoods of Fort Lauderdale extend over the flat coastal plain to the very edges of the great Everglades wetlands. They are typically middle class suburban bedroom communities interspersed with, shopping centers and commercial areas. The population is a diverse mixture of working class families, retirees from northern states, and a variety of immigrants from the Caribbean Islands, South America and Europe.
Getting There
By Air
Fort Lauderdale-Hollywood International Airport (FLL) is located just 5 miles (8 kms) south of downtown. It offers domestic airline flights to many major US cities. Miami International Airport (MIA), with its wide selection of international flights, is less than an hour southwest of Fort Lauderdale, while Palm Beach International Airport (PBI) is less than two hours to the north.
By Car
Route 95, the great Atlantic Coastal Highway that begins at the Canadian border far to the north and ends in nearby Miami, passes through Fort Lauderdale. Route 75 extends due west from For Lauderdale across the Everglades to Naples on the Gulf of Mexico then northward to Tampa.
By Rail
Amtrak offers four passenger trains a day out of Fort Lauderdale to destination throughout Florida and up the Atlantic Coast to New York City and Boston. Connection with the Sunset Limited Line in Orlando, allows you to travel by train through New Orleans and El Paso, Texas all the way to Los Angeles on the Pacific Coast.
Brightline also offers passenger trains between Miami and Orlando International Airport (MCO) stopping at Aventura, Fort Lauderdale, Boca Raton and West Palm Beach along the way.
By Water
Since Fort Lauderdale has so many navigable waterways throughout its eastern sectors, it provides a water taxi to commute between various neighborhoods. This inexpensive mode of transportation is a very efficient way of traveling between locations and is surely the most scenic method.
Related USATourist Articles
Additional Resources
Florida State Tourist Office (Visit Florida – Fort Lauderdale)
Nearby Attractions
The Everglades
The great wetland of the Everglades covers the entire center of the Southern Florida Peninsula to the west and southwest of Fort Lauderdale. Route 75, known as "alligator alley" crosses the northern part of the Everglades to Naples on the Gulf Coast. You can easily drive across this scenic highway in less than two hours. You can also return on a southern route via route 41, known as the "Old Tamiami Trail", but it will take over three hours.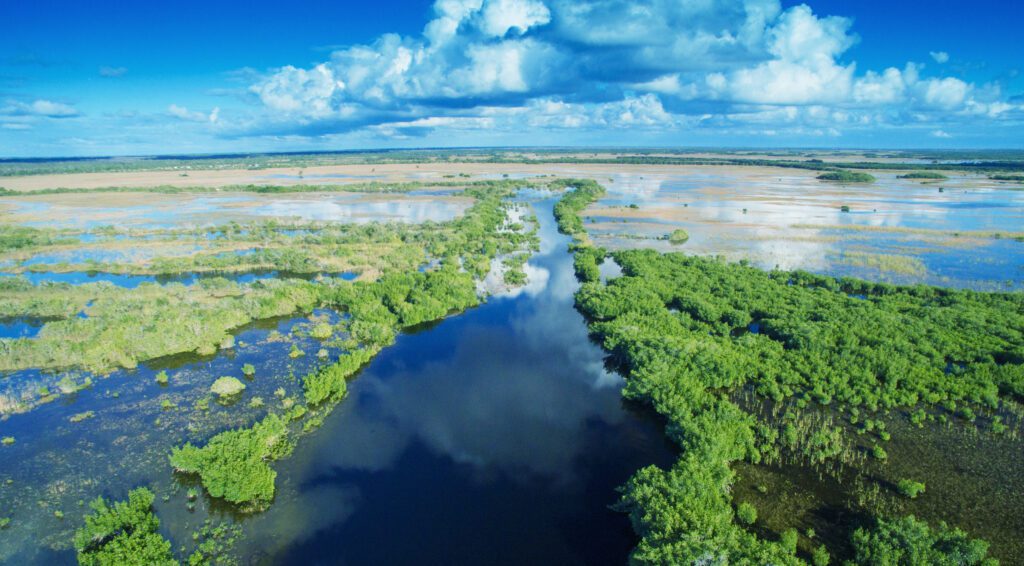 The Seminole and Miccosukee Indian Reservations are located along these routes. Billy's Swamp Safari, a unique opportunity to experience the Everglades close to hand, is located on the Big Cypress Reservation about ten miles north of the halfway point on route 75. The Shark Valley Nature Center of the National Park Service is located about 50 miles west of Miami along route 41, and it offers great opportunities to view the scenery and see many wild alligators. The Miccosukee Indians offer airboat rides nearby. If you begin early in the morning, you can drive the entire loop in one day but you won't have sufficient time to visit all of the attractions.
Miami
Fort Lauderdale is only 30 miles (50 kms) north of Miami, Florida. You can drive there in less than an hour to visit its beautiful Art Deco neighborhoods at South Beach, its many restaurants and nightclubs along Miami Beach or its museums and amusement attractions throughout the city.

Homestead is a southern suburb of Miami just an hour and a half drive from Fort Lauderdale. It offers many unusual attractions like the coral castle, the monkey jungle and the tropical fruit gardens.
Florida Keys
If you venture two hours south, you will be on Key Largo the northernmost of that long string of islands known as the Florida Keys. A few hours further south on the Overseas Highway brings you to Key West over 90 miles (150 kms) from the mainland. The drive through the keys is picturesque and the roadside attractions include fishing, snorkeling, scuba diving, boating and swimming with dolphins.