This article provides an overview of things to see and do in Memphis, Tennessee along with useful links to other websites for additional travel related information.
---
At a Glance
Memphis is situated on a bluff overlooking the Mississippi River at the western border of Tennessee. Like its ancient namesake in Egypt, this city lies above the apex of a mighty river delta. It forms a gateway between two radically different regions of the USA. To the south, lie the poverty stricken farms of the delta, the swampy bayous of Louisiana and that great European flavored port city of New Orleans. To the north and west are the rich farms of the Midwestern plains and the northern industrial cities like Chicago and Detroit.
Perhaps this strategic location has helped form the unique cultural heritage of Memphis. A genteel atmosphere of southern aristocracy has blended with the intensely spiritual soul of its African American community. This is the birthplace of the Blues and the birthplace of Rock and Roll. It was also the home of the king of rock and roll, Elvis Presley. Memphis has also played an important role in the civil rights movement within the United States and is where Dr. Martin Luther King Jr. was assasinated.
May is a great time to visit. The Beale Street Music Festival is held the first full weekend of May. It is one of the best Blues festivals found anywhere. The Southern Cooking festival and the World Championship Barbecue contest are held later in May. The weather is usually very pleasant in the spring and fall. Temperatures can become quite hot and unpleasant during mid-summer. Winters are usually mild and snowfall is rare.
Downtown Memphis
Downtown Memphis, stretches along the bluff overlooking the Mississippi. Main Street has been converted to a pedestrian mall with antique trolleys and horse drawn carriages providing convenient transportation to the entire downtown area.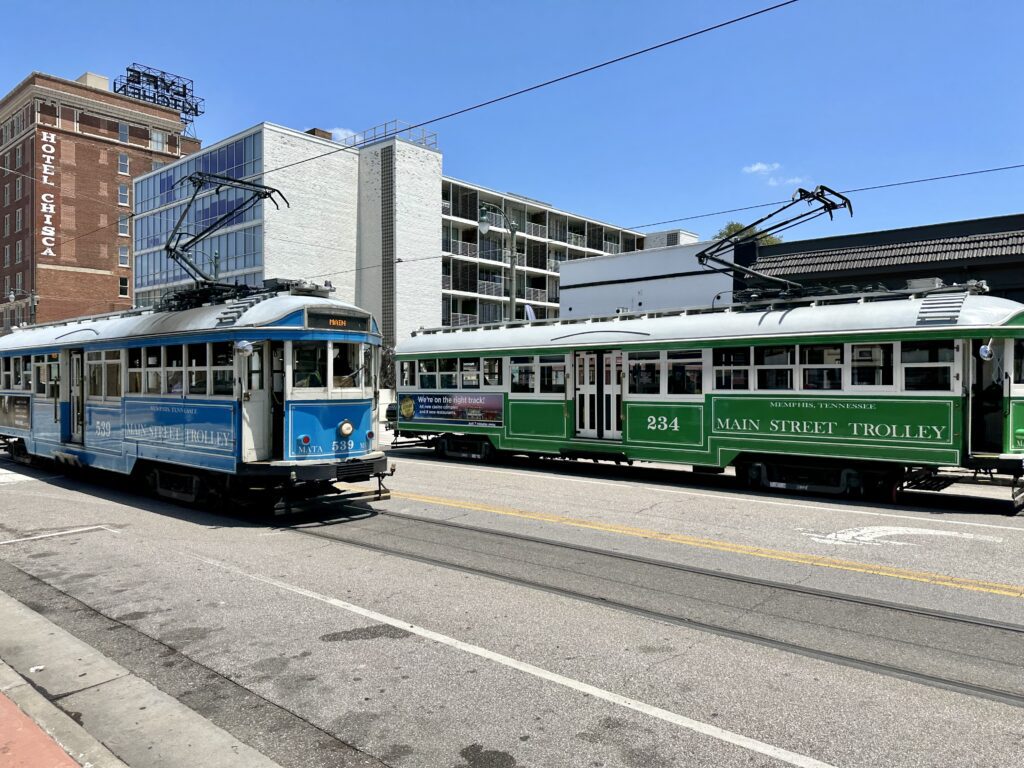 The historic Peabody Hotel, located near the midpoint of the downtown district has a unique tradition. Every day at eleven AM and at five PM, the Peabody ducks parade to and from the lobby fountain with the accompaniment of an orchestral march. A giant steel pyramid, housing the largest Bass Pro Shop, is at the north end of downtown. Just south of the pyramid a walkway leads to Mud Island, containing a river museum complete with a working model of the lower Mississippi and the Memphis Belle, a world war II, B-17 bomber made famous in the movie of the same name. The Memphis Riverboats depart from a pier on the riverfront just south of Mud Island. They offer a variety of sightseeing and pleasure cruises on the Mississippi.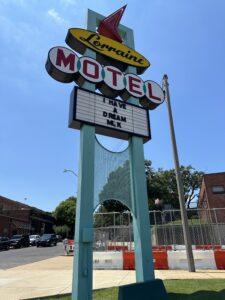 Civil Rights in Memphis
Just a few blocks to the south of the Peabody Hotel is the old Lorraine Motel, where Dr. Martin Luther King Jr. was assassinated and now houses the National Civil Rights Museum. This museum chronicles the struggles of African-Americans from the early slave trade up through the turbulent 1960s and 70s and beyond and reminds us of just how far the United States has come, but also how far there is still to go.
Birthplace of the Blues and Rock-n-Roll
Beale Street
After the civil war, many African-Americans were attracted to the thriving river economy of Memphis. Beale Street, near the southern end of the downtown district, became the center of a vibrant community of black business owners and professionals. At night, it was infamous for its raucous entertainment in its many saloons and sporting houses. W. C. Handy penned the music for Saint Louis Blues, the first commercially successful Blues songs, in one of the Beale's Street bars in 1912.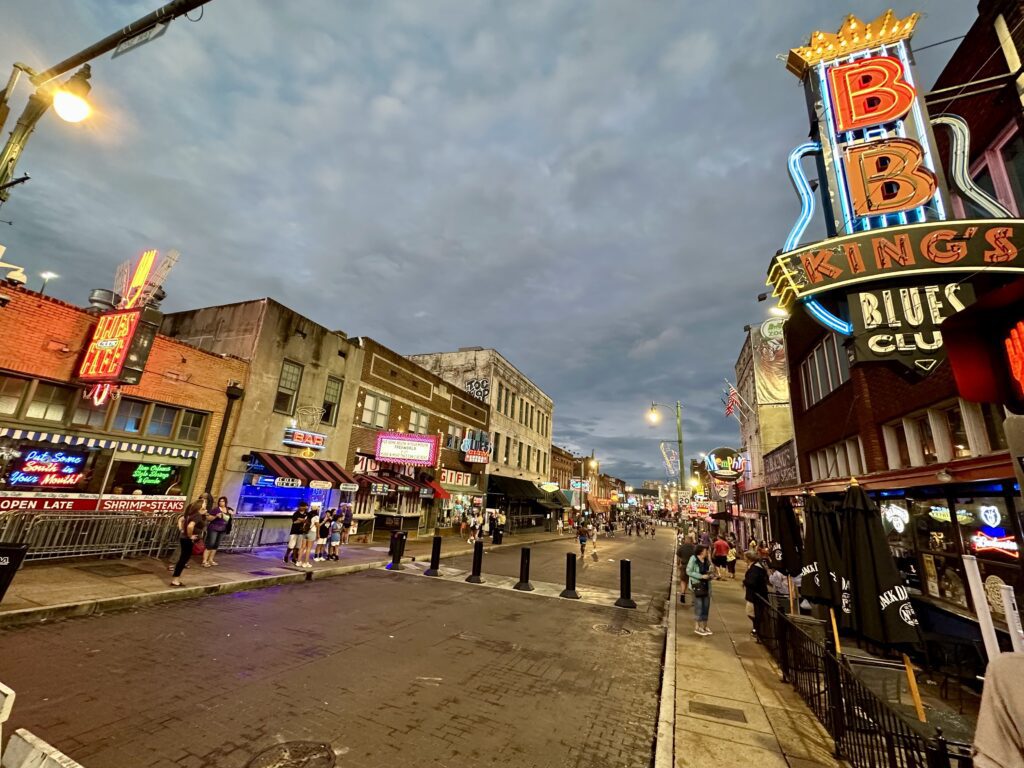 Today, the clubs on Beale Street is still host live bands nightly. About three blocks of the old district are packed with blues clubs, restaurants and small bars. On any given night and especially on Saturday nights, you can hear dozens of top quality blues performers. You can also hear rock and roll, jazz or a bit of country, but mostly you will hear authentic delta blues. Many of the clubs also offer some great delta cooking like Bar-B-Q Memphis ribs, fried catfish and Cajun gumbo.
Memphis Music Hall of Fame and Rock 'n' Roll Museum
The Memphis Music Hall of Fame is located downtown across from the Peabody Hotel. It has many artifacts and memorabilia from famous blues and rock and roll performers.
The Memphis Rock 'n' Soul Museum is located at the corner of Beale Street and B.B. King Blvd. It covers the history of Rock and Soul music and contains many artifacts and memorabilia.
Sun Studio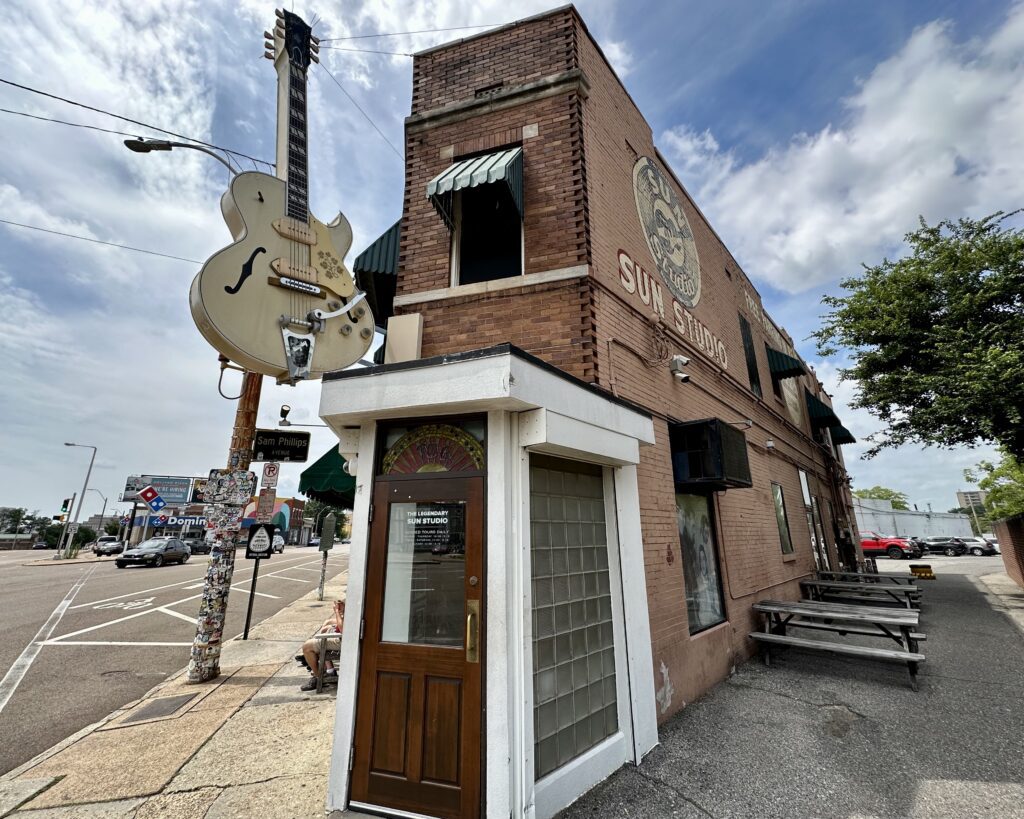 Historic Sun Studio is just a few blocks east of downtown and the tour is well worth it. You will stand in the very room where Sam Philips recorded and produced the likes of Muddy Waters, Ike Turner, Aritha Franklin and Howlin Wolf and where a young electrical worker named Elvis Aaron Presley cut his first demonstration tape and recorded his first hit, "That's all right". You will even hear the famous recording of Elvis, jamming with Carl Perkins, Jerry Lee Lewis and Johnny Cash.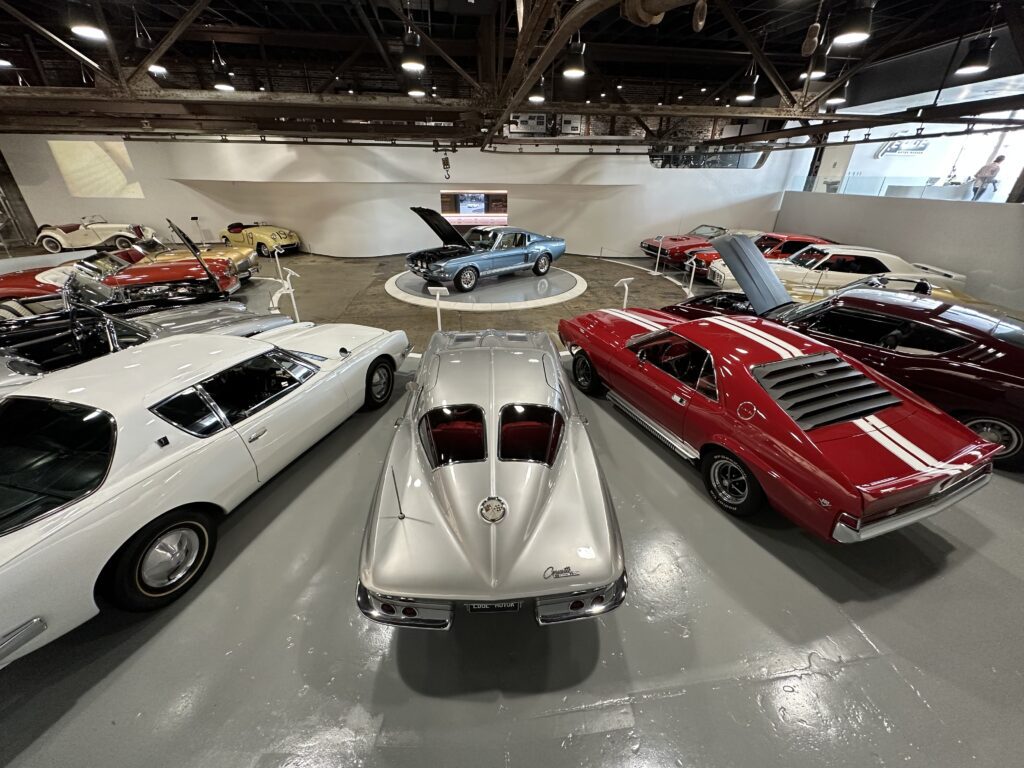 Just a few doors down from Sun Studio is the Edge Motor Museum, which has a small but interesting muscle car collection. If you visit Sun Studio first, ask them for a discount coupon for the Edge Motor Museum to get $2.00 off admission.
Other Attractions
Soulsville and Stax Museum of American Soul Music
The Stax Museum of American Soul Music chronicles the history of Soul music from its early influences of Gospel and Country up through the 1960s and 70s along with the history of Stax records. Soulsville refers to an area of Memphis were Aretha Franklin, Memphis Slim, Memphis Minnie and Booker T. Jones had lived and was home to two famous recording studios, Stax and Royal (home of Hi Records). Soulsville is also home to Stax Music Academy and The Soulsville Charter school.
Other Attractions
The Children's Museum of Memphis has lots of hands-on exhibits and programs geared toward children between the ages 2 and 10.
The Memphis Museum of Science and History has various exhibits on science and history as the name suggests, but also has a number of exhibits on guitars and music as well.
The Memphis Botanical Gardens sites on 96 acres and contains 30 specialty gardens and a level 4 arboretum as well as a sculpture and art collection. My Big Backyard section is especially fun for children.
The Shelby Farms Park is a little farther out of town sitting just east of Interstate 240 and south of Interstate 40. The park has trails, lakes and playgrounds and offers bike rentals, boat & board rentals, horseback riding and lots of other activities. There is also a restaurant, snack bar, vending machines, and food trucks on the weekends.
Elvis Presley's Graceland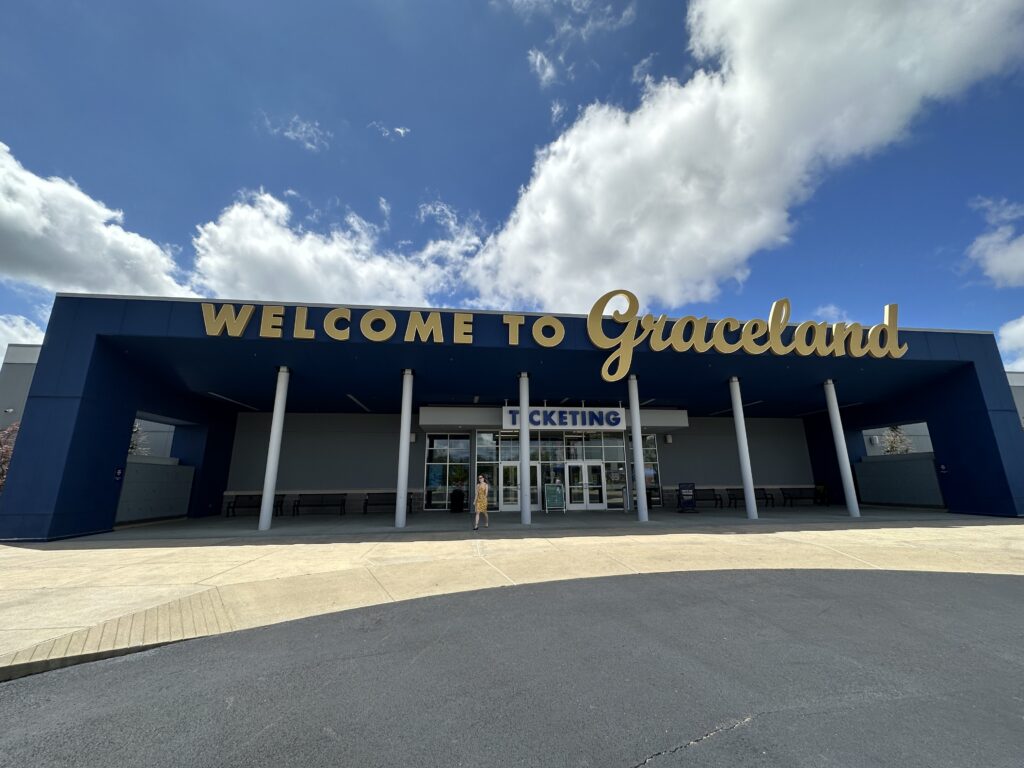 Graceland, Elvis' famous estate is located on Elvis Presley Blvd., is about 15 minutes south of downtown Memphis. Unfortunately, the neighborhood is no longer as exclusive as it was when Elvis lived and Elvis Presley Blvd. is lined with strip malls, small shops and industrial sites nearly to the doorstep of Graceland. A very large visitor's complex has been built across the street from Graceland as well containing many exhibits, places to eat and several souvenir shops. There are various tours that you can take to see the mansion, the collection of Elvis' costumes and awards as well as artifacts from several movies and TV series about Elvis. You can also purchase a tour of two jet airplanes built for Elvis, see many of his cars and motorcycles and buy lots of Elvis souvenirs in this neighborhood and at the Graceland visitor's complex.
Getting There
By Air
You can fly into Memphis International Airport (MEM), which is only 15 to 20 minutes from the downtown area.
By Car
Memphis sits at the intersection of many interstates connecting it to Little Rock, St. Louis, Nashville, Birmingham and New Orleans.
By Rail
Amtrak provides regular rail service to Memphis on their New Orleans/Chicago line.
By Water
American Queen Voyages has a number of Mississippi River Cruises that stop at Memphis.
Additional Resources
Memphis Tennessee Visitor's Guide (Memphis Travel)
Tennessee Tourism Office (tnvacation.com)
Nearby Attractions
The towns of Florence and Muscle Shoals, Alabama are 2 ½ hours drive to the east of Memphis on Highway 72 and is home to FAME Recording Studios, Muscle Shoals Recording Studios and the Frank Lloyd Wright Rosenbaum House among other things. Check out our article: Spending a Day in Muscle Shoals and Florence, Alabama to find out more.