This article provides an overview of things to see and do as well as places to stay in Arches National Park and the surrounding area along with useful links to other websites for additional travel related information.
---
At a Glance
Arches National Park is one of the most popular national parks in Utah. In fact, the park requires reservations between April 1st and October 31st and can be made through the Recreation.gov website. there are still lines of cars waiting to enter throughout the day.
Arches National Park is of course famous for the red sandstone arches that occur there in great profusion. The visitor centre sells a map showing the location of over 1000 of them, ranging in size from Landscape Arch (with an 89-metre span) to small openings one metre across. However, there are also many other striking rock formations scattered over the Park's 73,000 acres, and to see the whole area would take several days.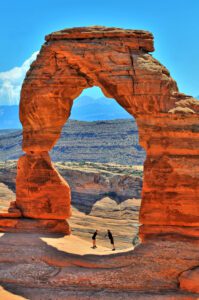 The park road climbs up a steep cliff with several sharp switchbacks and then winds for 25 miles (40 km) through the sculptured red rocks passing close to many of the major features. The road passes Park Avenue and Courthouse Towers, monolithic spires and ridges of rock standing isolated in largely flat desert terrain. These have been featured in several cinema films, most recently Thelma and Louise. The Windows Section contains a major concentration of arches and other formations, which have self-explanatory names such as Double Arch, Cove Arch and Balanced Rock. Everything in this area can be seen either from the road or along short hikes.
From Wolfe Ranch, a 1.5 mile (2.4 km) foot trail crosses the creek via a small, swaying suspension bridge and leads across smooth exposed slick rock to the especially scenic Delicate Arch. This is the most famous arch in the park and has been adopted as the state symbol, appearing on Utah Centennial vehicle registration plates.
Because of deep sand and steep grades, a 4WD vehicle is required to visit other areas, which include Klondike Buffs, a scenic concentration of arches and fins towards the northwest of the park. As with most other areas in south Utah, summer temperatures in Arches Park can reach 110 F (43 C), which can restrict hiking. The winter weather is not severe, although snowfall is possible.
Activities
Most people enjoy this park by simply driving through and enjoying the views from the road or taking short walks to get a closer look at some of the rock formations. The second most popular activity is hiking as there are a number of trails of varying lengths suitable for day hikes. There are also a number of unpaved roads that can be explored if you have an appropriate off-road capable vehicle, but check with the park rangers to see if any special permits are required first. Other activities include road biking, camping, canyoneering, photography, rock climbing and stargazing.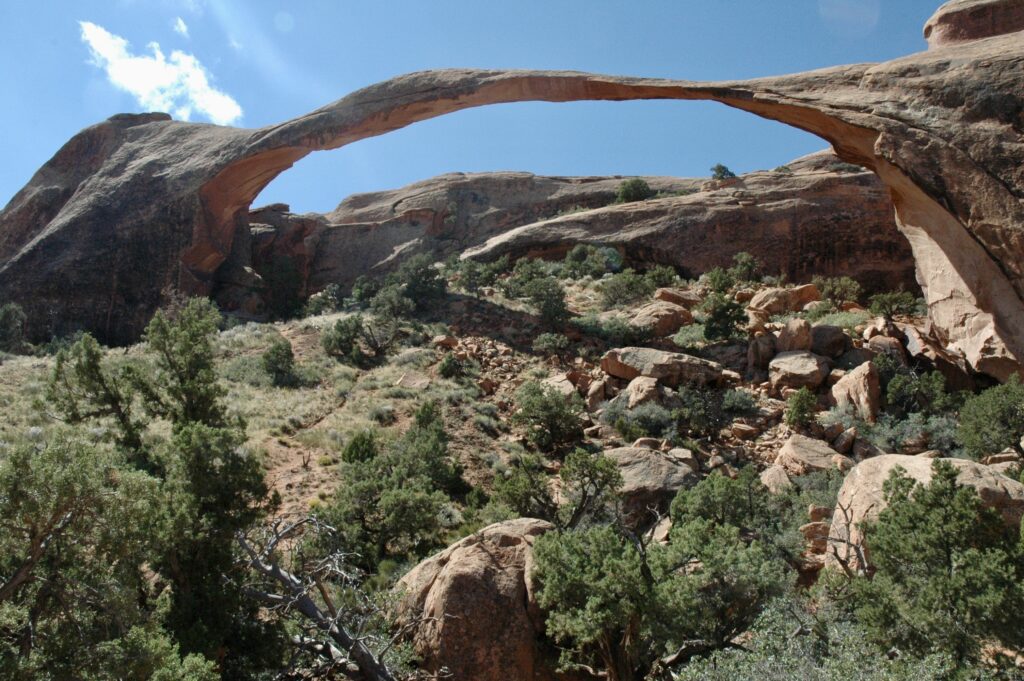 Getting There
There are 4 major cities with international airports that most people use when traveling to this area: Salt Lake City, Utah with Salt Lake City International Airport (SLC), Las Vegas, Nevada with Harry Reid International Airport (LAS), Phoenix, Arizona with Phoenix Sky Harbor International Airport (PHX) and Denver, Colorado with Denver International Airport (DEN). The Flagstaff Pulliam Airport (FLG) also has limited domestic and international flights and is a little closer then Phoenix.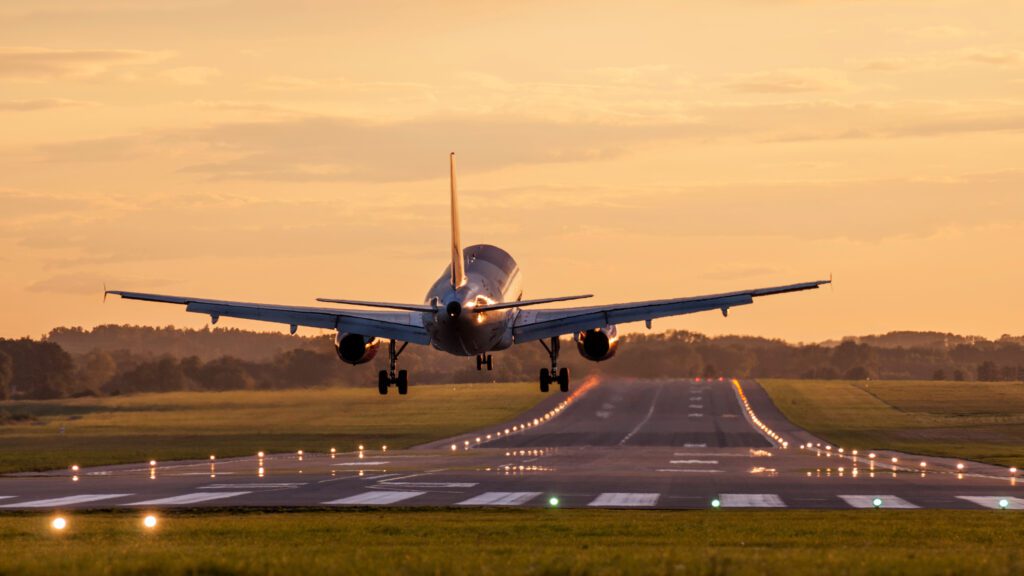 From Salt Lake City, Utah
The park is just over  3 ½ hours from Salt Lake City, Utah taking Interstate 15 south to Route 89 south to Route 6 south to 191 south. Route 191 south ends at Interstate 70, which  you will take east for about 23 miles (37 km) the continue south on Route 191. The park entrance is a few miles north of the town of Moab on Route 191.
From Las Vegas, Navada
The park is just over 6 ½ hours north-east from Las Vegas, Nevada taking Interstate 15 northeast to Interstate 70 east to Route 191 south. The park entrance is a few miles north of the town of Moab on Route 191.
From Phoenix, Arizona
The park is 7 ½ hours from Phoenix, Arizona taking Interstate 17 north to Route 89 northeast to Route 160 north to Route 191 north. The park entrance is a few miles north of the town of Moab on Route 191.
From Denver, Colorado
The park is just under 5 1/2 hours from Denver, Colorado taking Interstate 70 west to Route 191 south. The park entrance is a few miles north of the town of Moab on Route 191.
Where to Stay
In the Park
The only option for staying in the park overnight is the Devils Garden Campground, which offers flat paved sites in and amongst the amazing red rocks. Each site has a picnic table and fire ring, but not much else as there are no hookups, potable water, dump station, camp store or internet. Firewood and trash collection are available year around and there are both flush and vault toilets, but now showers. However, even with the limited amenities available, this campground is typically completely booked well in advance.
Moab
There are various lodging and camping options in and around Moab from campgrounds to basic motels to hotels to AirBnBs.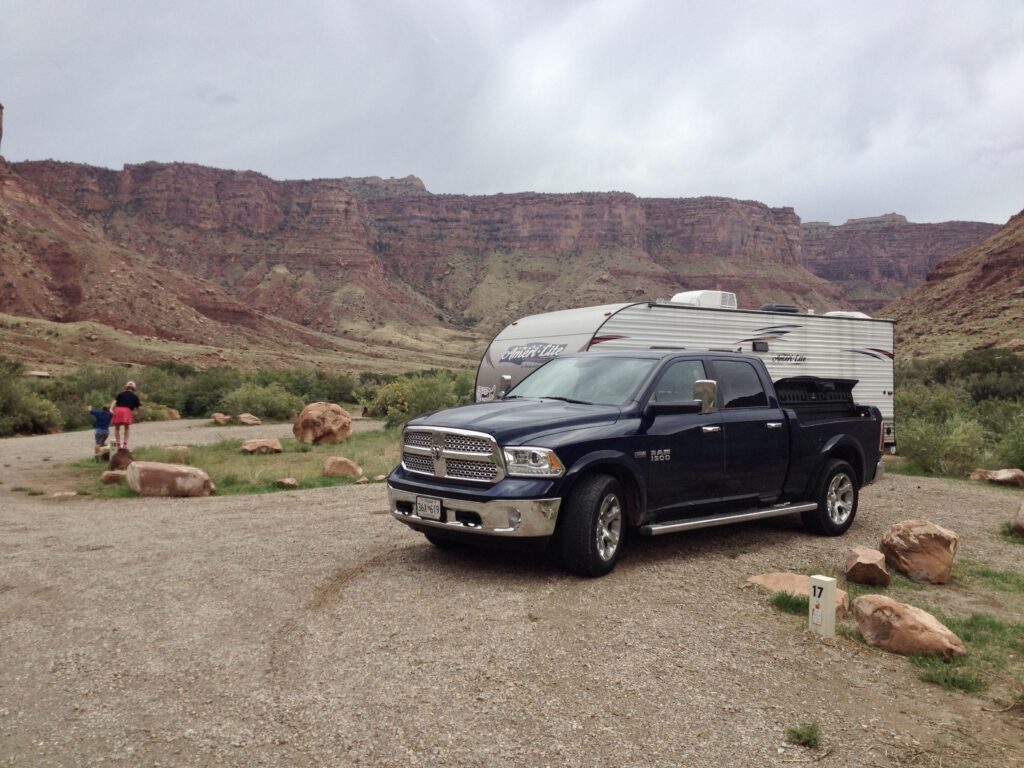 BLM Land
Bureau of Land Management (BLM) land is another option for campers and RVers who don't mind spending a few nights without any hookups, but in magnificent locations. Highway 128 is a very scenic road that intersects Route 191 in Moab and heads north to Interstate 70. There are a number of first-come first-served campgrounds located along this amazing road, which closely follows the Colorado River. These campgrounds will only have vault toilets and payment is on the honor system, but the setting is spectacular is the nightly cost is very inexpensive.
Additional Resources
Recreation.gov – Arches National Park has additional information about this park including maps, pictures, rules, fees and facility information. You can also book certain accommodations and pay certain fees here.
VisitUtah.com – Arches National Park has a good visitors guide with information about tours, things do see and do, accommodations, getting there and many other bits of useful information.
Nearby Attractions
Canyonlands National Park Travel Guide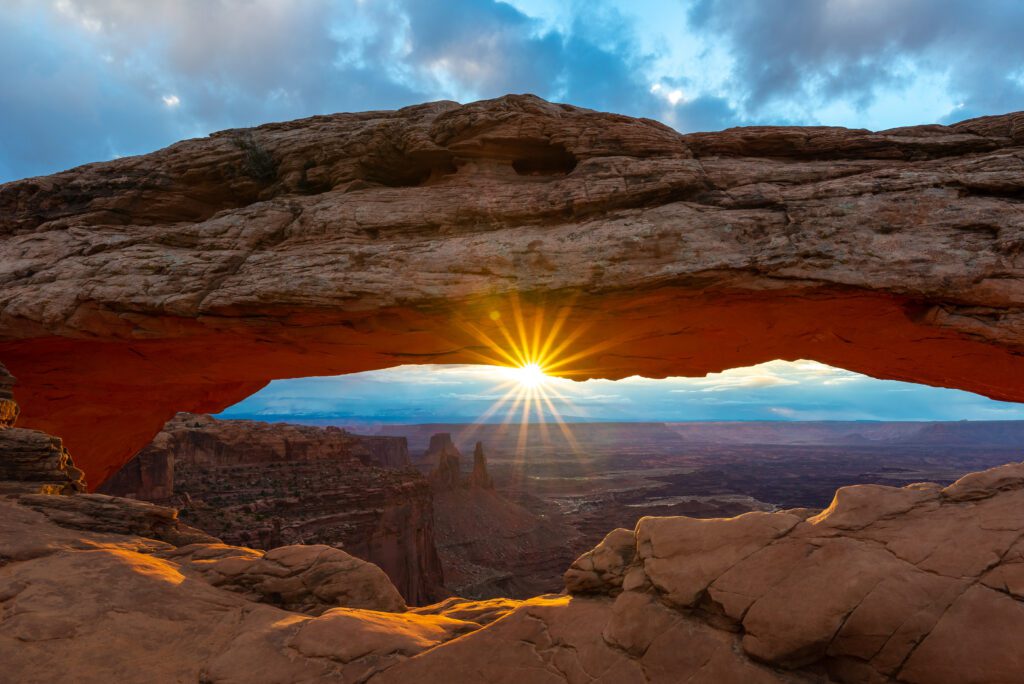 Related USATourist Articles
Utah Travel Guide