Looking for fun things to see and do within a two hour drive of the Orlando and Kissimmee, Florida area?  We have some great suggestions when heading northeast on Route 528 or Interstate 4 towards Daytona Beach. We don't include the major theme parks (i.e. Disney, Universal & SeaWorld) as we have articles about them already.
---
Day Trips East of Orlando and Kissimmee
This section follows State Route 528 east towards the Atlantic Coast and Cape Canaveral.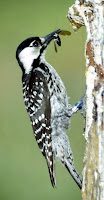 Approximate driving time from Kissimmee: 45 minutes.
If you're looking for something a bit more relaxing after spending days in Disney or Universal this park is close, just off State Route 528 heading east from Orlando and just southeast of Wedgefield. This nature preserve boasts pine palmetto prairies, bogs, wildflowers and nature viewing. It is a wonderful place to go for an afternoon picnic and a hike and you may even spot one of the parks most famous residents: the red-cockaded woodpecker.
Approximate driving time from Kissimmee: 1 hour and 15 minutes.
The Kennedy Space Center at Cape Canaveral is located east of Orlando and south of Daytona Beach.  If you are into space travel then this place is an absolute must see. You can easily spend an entire day here and still not see everything. A few of the experiences included in the standard admission are the Rocket Garden, the Kennedy Space Center Bus Tour, Apollo 8 and the Firing Room, Moonscape, Lunar Theater, the Saturn V Rocket, the Space Shuttle Atlantis and so much more. There are also interesting add-ons like the Launch Director Tour of Space Shuttle Atlantis and the Kennedy Space Center Explore Tour. For a first-hand account of our trip to this wonderful place take a look at our article: Spending a Day at the Kennedy Space Center in Cape Canaveral, Florida.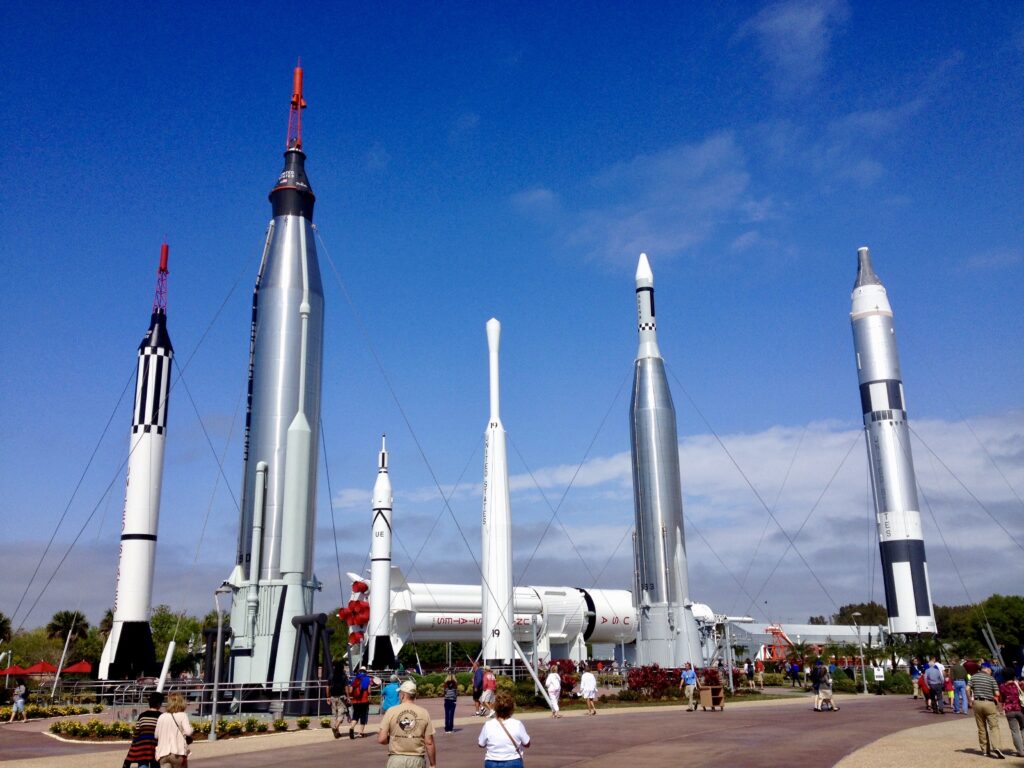 Day Trips Northeast of Kissimmee
This section follows Interstate 4 north toward the Atlantic Coast, Sanford and Daytona Beach.
Approximate driving time from Kissimmee: 15 minutes.
International Drive, also known as I-Drive or the I-Drive District, runs in a north to south direction paralleling Interstate 4 starting up near the intersection of Interstate 4 and State Route 91 and ending at State Route 536. Currently, the section with the most attractions and restaurants is north of State Route 528 and south of State Route 91.  International Drive was always known for its cheesy attractions like the WonderWorks Upside Down Museum and reasonability priced dining options (note: the largest McDonalds in the world is here). However, new attractions have been built like ICON Park and sections have been re-developed adding more up-scale dining options.
Approximate driving time from Kissimmee: 1 hour.
Wekiwa Springs State Park is a world away from the hustle and bustle of Kissimmee, Orlando and the theme parks. There are many activities you can do here including hiking, bicycling, paddling, fishing, birding, horseback riding, picnicking, mountain biking and swimming in the hot spring. Florida hot springs are not as hot as many hot springs, the water temperature here is a refreshing 72 degrees Fahrenheit (22 degrees Celsius) all year around, but it is crystal clear. You are allowed to bring a personal floatation device and snorkel, but no life guards are on duty so swim at your own risk. There are two options to get here: you can take Interstate 4, which can be very busy with traffic, or you can take State Route 429.
Approximate driving time from Kissimmee: 1 hour.
Rock Springs Run State Reserve is located just to the north of Wekiwa Springs State Park. Although the two parks are adjacent, their entrances are not convenient to go between. Rock Springs doesn't offer quite as many activities as Wekiwa, but it does have 14 miles (22.5 km) of hiking and biking trails and 17 miles (27.5 km) of equestrian trails in addition to great bird watching opportunities.
Approximate driving time from Kissimmee: 1 hour.
This park has an entrance just a few minutes down the road from Rock Springs Run State Reserve. It offers birding, hiking, biking and horseback riding trails as well as access to the Wekiva River at Katie's Landing for kayaking, canoeing and paddle boarding. The Preserve's blackwater streams and wetlands are habitat for much wildlife so keep your eyes open for the river otter, American alligator, sandhill crane, and indigo snake.  The self guided 2.5 mile (4 km) Sand Hill Nature Trail is a a great way to take in some Florida nature.
Approximate driving time from Kissimmee: 1 hour and 15 minutes.
Blue Spring State Park is a short drive north of Lower Wekiva River Preserve State Park. The activities here are similar to those at Wekiwa Springs State Park. There is a gift shop, restaurant and, if you visit between mid-November to March, you can see manatees congregate in the clear water from a boardwalk. Visitors are not allowed to swim with the manatees, but swimming, snorkeling and scuba diving are allowed in other areas of the park. Blue Springs Adventures operates within this park and offers a variety of activities like the St. Johns River nature cruise, kayak or canoe rental and guided Segway tours.
Approximate driving time from Kissimmee: 1 hour and 15 minutes.
This park is just north of Blue Spring State Park. It's unique in that it can only be accessed by boat as it sits on an island between three rivers: the St. Johns River to the northeast, the Hontoon Dead River to the west, and the Snake River to the south. Activities include hiking, bicycling, boating, paddling, fishing and picnicking as well as a Native American historical site.
Approximate driving time from Kissimmee: 1 hour and 30 minutes.
Daytona Beach is located on the Atlantic coast of Florida north of Orlando on Interstate 4. It can be divided into several areas: the Boardwalk Area, Historic Beach Street, Main Street, Midtown, Ormond Beach Main Street, Ponce Inlet, Seabreeze Historic District and the Speedway Gateway District. Daytona Beach may be best known for the Daytona 500 race and Daytona bike week, but there are so many other things to see and do in and around Daytona Beach that you can easily spend a day here and only experience a small part of this city. The beaches here on the Atlantic Ocean tend to have more wave action than the beaches on Florida's gulf coast and can even have waves large enough to surf.

This article was originally published on the Your Florida Vacation Villa Blog and is being republished here with their permission.
Related USATourist Articles
Orlando, Florida Travel Guide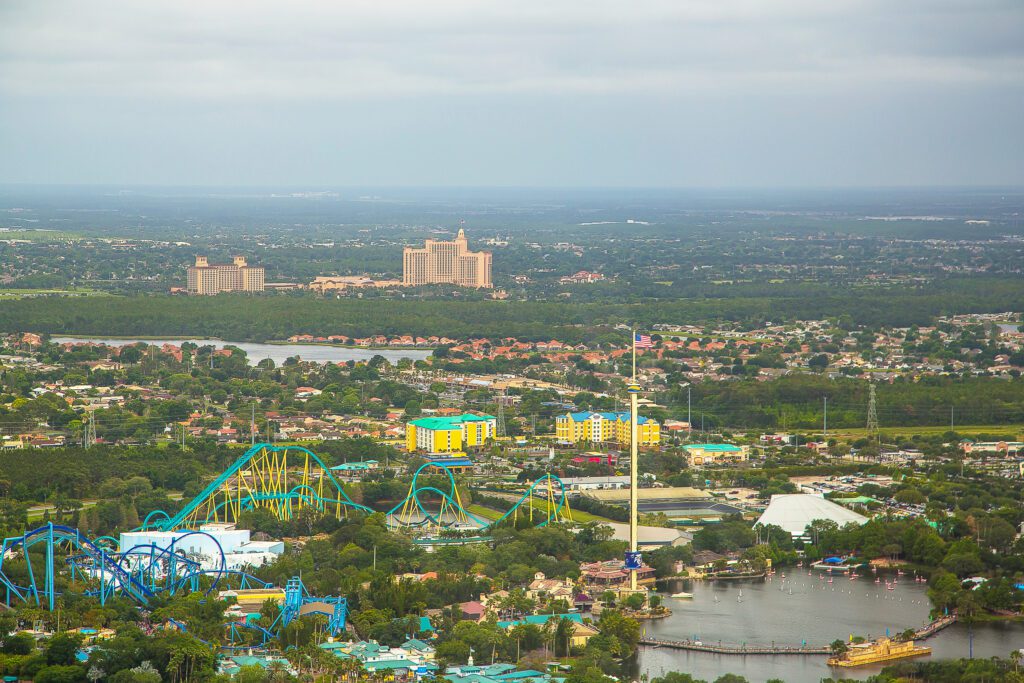 Florida Travel Guide

Florida Beaches Travel Guide